Enhancing retail environments with aquatics.
By Jack O'Neal
Retail facilities looking to differentiate themselves among the myriad of options available to consumers are incorporating place-making water features to enhance and redefine the consumer shopping experience. The incorporation of water features is not new to retail facilities; however, technological improvements in their performance and new approaches to their inclusion have transformed the value that aquatics can add to the consumer shopping experience.
One of the critical items to consider when adding amenities such as a fountain to a retail facility is the cost of operation and maintenance. While facility management and developers are often experts on many facets of design, construction and operation, few are experts in aquatics. Not unlike HVAC systems, there is a range of performance in aquatics. Aquatics equipment and components are available in budget options, but those are often low-performing and carry more limited or no warranty coverage. Many times higher capital costs will yield long term savings. These life cycle cost analyses are most valuable to owner-operators of retail facilities.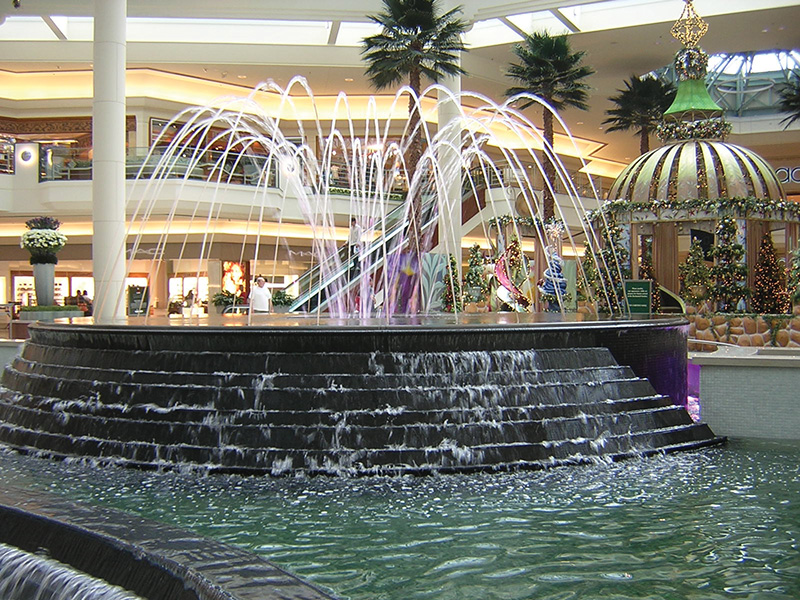 A good example of taking the long view in equipment selection is in the style of filter a facility chooses. Every aquatic body that will recirculate water will utilize a filter. Within filter selection alone, operators can experience savings of as much as $100,000 over a 10-year period. An outdoor mall recently wanted to investigate the cost of a sand filter in comparison to a regenerative media filter for a large interactive feature at their facility. They found that while the capital cost for the regenerative media filter was about $10,000 higher, the facility would experience a return on investment in just 18 months. Additionally, the feature would produce a nearly 90% reduction in water usage and a 21% reduction in electrical usage. There are dozens of performance-related choices just like this one involved in every water feature. Understanding the performance of a water feature is critical to adding a valuable amenity to a retail facility, and it is important that facility management is being guided through this process by a knowledgeable consultant.
Beyond the operating costs, retail facilities must contemplate the demand that a fountain will create for the maintenance staff. Will additional training be provided? Does someone need to turn the fountain on and off? What happens when a nozzle does not work properly? These are all important considerations. Quality equipment and warrantying includes training for site personnel. For many higher-end water feature designs, fountains can be completely controlled by an easy-to-use consumer interface like an iPad. Chemical deliveries happen once a week and the chemical treatment is automated. In fact, many property managers are requesting that automated updates are emailed to them directly every day.
Just as technology has improved the ease of maintenance for aquatics, it has also improved their ability to seamlessly integrate with the rest of the site. Through Building Management System integration, water features can now be controlled in the same system as the facility lighting, ambient music and more. This integration allows for the water feature to participate in site-wide color schemes and moods, helping to enhance the overall mall ambiance.
 The focus on the role of the water feature within the larger context of the guest experience is one of the big shifts in retail facility programming. There was a point at which fountains were an afterthought inclusion, but now retail facilities are taking a much more mindful approach to the ways that a water feature can impact the consumer experience.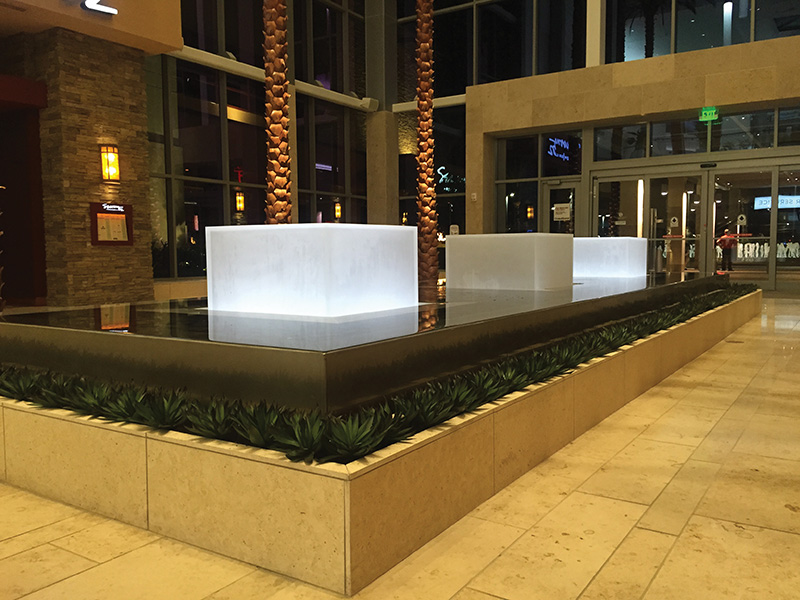 The supreme achievement of the mindful retail facility is to cohere the seemingly disparate experience of a traditional shopping mall. When a retail facility functions as a blank slate on which Gap, Sur La Table, Cinnabon and the Sunglass Hut create experiences for consumers, the inevitable result is a consumer experience that is disjunctive. The abrupt experiential change from retailer to retailer is probably rarely experienced at a conscious level; however, it seems naïve to pretend that there is no effect at all. To help synthesize these varied consumer experiences, malls have, for as long as they have been in existence, taken steps to streamline the shopping experience.
The streamlining of the shopping experience is present in even the most haphazardly assembled facilities. Similar exterior facades, consistent wayfinding and site landscaping are all low-level efforts to unify the facility into a whole. Superior retail facility managers and developers go beyond these baseline solutions and incorporate the consultancy of architects, landscape architects, lighting designers, interior designers, marketing professionals and a range of other professionals to further enhance the overall experience a consumer has in their facility. The time spent working toward a cohesive consumer experience in the face of the disparate environments of individual vendors ultimately adds to the bottom line.
Aquatics can add tremendous value for retail facilities that adopt a mindful approach to the overall design of the space. The haphazard placement of an interactive water feature, koi pond or entry fountain only creates another cacophonous addition to the retail facility. In contrast, many retail facilities today are incorporating place-making water features that help define and articulate the shopping experience for consumers.
The presence of a central choreographed show fountain casts the consumer as a spectator — the facility is a place the consumer (and their children) can experience wonder, can see something special. The placement of a tranquil body of water with the light sound of running water as a centerpiece to seating creates a place for consumers to rejuvenate in the midst of their shopping experience (so that it may continue). The presence of an entry feature that has been designed as a connection from the exterior world to the retail facility engages consumers and transitions them into the retail facility environment. When water features are mindfully developed as integral to the retail facility experience, they can not only enhance the consumer experience, but they can redefine it.
One such example is the new Yas Mall in Abu Dhabi, United Arab Emirates, one of the largest retail and entertainment venues in the region with more than 300 stores. For this project, a series of water features were designed that helped tell a story. Each of these water features has a specific purpose for the function of the area of which they are a part. One such area is the town square, featuring a series of fountains that all complement a central three-story water wall. The water wall functions as the centerpiece of the place and the surrounding features act as its complement. Adjacent is a fully automated fountain that features more than 100 'pop jet' nozzles that subtly dance. The goal of this space was to create a tranquil retreat at the center of the retail facility.
Malls throughout the United States and abroad are taking advantage of the improved performance of water features by approaching their inclusion in new and exciting ways. By creating a retail facility that is wholly distinct at an experiential level, facilities can not only differentiate themselves, but they can redefine the expectations consumers hold for their shopping experiences.
— Based in Dallas, Jack O'Neal is the regional manager for Aquatic Design & Engineering, a specialty water feature design firm. The author may be reached at [email protected].