Orlando, Fla. — Sonny's BBQ has launched Flybuy and Koala technology across all of its locations to help improve the guest's off-premise experience. The move marks another important milestone in the brand's evolution, on top of last year's decision to optimize its restaurant prototype and invest in new technology to accommodate for changing customer preferences.
"Since our founding, we have remained committed to providing the highest quality of customer service for our guests," says Billy Brewer, COO of Sonny's BBQ. "The implementation of Flybuy and Koala technology allows us to meet the shifting needs and preferences of our guests, while upholding our southern hospitality roots."
In July, Sonny's BBQ began piloting Flybuy technology in 19 restaurants. Initial results saw curbside check times improve by nearly 2 minutes, while speed of service complaints decreased by 19% over the same period compared to Sonny's BBQ locations not utilizing the technology. Pilot locations also had an improved order accuracy compared to other locations. The supplemental implementation of Koala further enhances the guest experience by preference learning and suggestive selling. Full system-wide integration with Sonny's BBQ's current Olo system for online ordering and deliveries is now complete, allowing for the seamless adaption for franchisees and the ability to view critical data and insights related to the guest experience.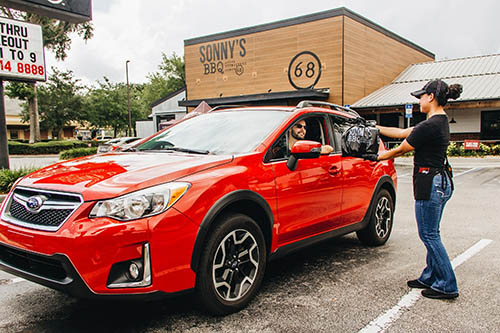 Sonny's BBQ has plans to implement further changes to both on-premise and off-premise dining. Currently, new self-serve kiosks and digital menu boards are being tested at the Apopka, Fla., restaurant location, and the company is designing a new restaurant prototype to help streamline operations. For off-premise dining, in addition to the implementation of Flybuy and Koala technology, Sonny's BBQ is developing a new website and mobile app to enhance the customer experience for online ordering and pickup. The role of technology in each restaurant location has gone under careful consideration to ensure the brand maintains its community connection while also strengthening its customer relations and refining operations.
With nearly 100 locations spanning the Southeast, Sonny's BBQ® is one of the largest barbecue restaurant brands in the country. Founded in 1968 in Gainesville, Fla., Sonny's BBQ has grown to eight states. For more information, visit www.SonnysBBQ.com and https://franchise.sonnysbbq.com/.
SOURCE: Sonny's BBQ