Shimin Luo, President
AHI Technologies, LLC
Keeping up with the Joneses is necessary in retail, but it can also be costly. How water heaters can help.
Relevancy means everything in today's very difficult retail environment. Relevant prices, relevant ads and displays, relevant assortment, and a relevant shopping experience are all key to winning shoppers and shopping trips. Has relevancy really changed that much during these difficult times? Many grocers will tell you that they have been caught off guard by how fast relevancy has shifted over the past 2 years.
So how do you stay relevant? Many times, it involves upgrades and remodels — all costly ventures, both in terms of the expense of the project and in terms of lost revenue when a portion of your store is under construction. Some remodel projects are simply for building a better experience for shoppers, while others are vital to the properly run operations of a grocery store.
Hot Water – A Retail or Grocery Store Must!
It practically goes without saying — hot water is a necessity in retail stores, especially grocery stores. The deli department needs it. The pharmacy needs it. And most recently, the trendy sushi department needs it, as well. And if you've ever had to run up and down the aisles looking for a specific ingredient, you know all too well that grocery stores can be pretty spaced out. So, is there a better way to get hot water to all these departments within one store? Yes, thanks to the emergence of tankless water heaters.
The Norm Isn't Good Enough
Tank water heaters are the standard. For most retail stores, hot water usage is limited — it's mainly used in the public bathrooms and perhaps a small kitchenette. Maintaining a tank that heats water 24×7 means a lot of energy wasted. When it comes to grocery stores, they have more issues in terms of hot water. First, water needs to be hot on-demand to meet corporate energy management and the health department's hot water delivery requirements. But a tank system that maintains hot water 24 hours a day is not the ideal solution for cost or environmental reasons. Plus, these systems take time to actually deliver hot water. You know the drill — you turn the faucet on and watch as water, and money, runs down the drain while you wait for it to get hot. Depending on how far away you are from the tank, the wait time could be as long as one minute. Lastly, the recirculating loop that is required to deliver hot water with a centralized hot water supply consumes an additional 20 to 25% of hot water heating energy. As you can see, financial, environmental and timeliness factors associated with traditional on-demand tank systems can be a burden for grocery store managers. Thus, the norm simply isn't good enough.
Aiming for a Better Solution
Jerry Farmer of Gulf State Plumbing in Texas knows his hot water heaters. He has been in the business for over 25 years and is the local "guru" for grocery store plumbing design. National store chains and big box retailers, such as Kroger and Target, as well as regional stores, rely on Gulf State Plumbing to design, install and maintain hot water supply systems for their stores in Texas.
At a recent grocery store remodel, Farmer and his team decided to go with an electric tankless water heater installed close to the fixture. After two tries with two different brands of electric tankless, Farmer couldn't get the results he needed to meet both the customer's corporate energy management goal and the health department's requirement at the same time. "Those two other brands I tried resulted longer than required delivery time by the health department," Farmer says. "The coil units also took about 4 seconds longer delivery time after 3 months of usage because of the lime scale buildup on the coil heating elements."
The Future of Water Heating
The team ultimately installed a tankless unit in the grocery store's meat department. This resulted in reduced kW needed and delivery of hot water at 12 seconds, meeting all requirements Gulf State Plumbing has to meet for the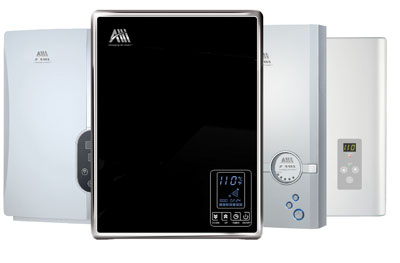 supermarket customer, who in turn has to meet health and corporate department requirements. The store's energy manager is happy with what Farmer has been able to achieve using a tankless solution, including the fact that all the lock-enabled units are capable of preventing unauthorized changes in temperature setting. That provides the peace of mind so the store manager knows the hot water temperature will comply every time for the health department's inspection. Farmer is now specifying for three new stores with total of 35 units of various tankless models. He believes that this particular technology is the future of water heating — it doesn't scale up, doesn't need maintenance, maintains high efficiency, and delivers hot water more quickly.
It's Not Just About the Energy Savings
The key here is not just the savings in terms of energy costs related to water. Before the system is even installed, there is the upfront savings related to installation. With traditional tank water heaters, many large installations install circulating hot water systems and loop the water throughout the building. Plus, industry experts estimate that a typical store requires remodeling 10 years after opening and every 7 years thereafter. Given the amount of remodels that occur in grocery stores, it's unimaginable to have to constantly re-pipe and reroute the circulating water system. With a point-of-use unit such as the ones discussed above, you simply move the unit from one location to the next. The same goes if one of the units goes down. Rather than shutting down your entire hot water system to fix one unit, you simply fix the problem at its core. In this case, the whole does not affect the sum of its parts.
Conclusion
The solution for quick, cost-efficient upgrades within a grocery store or a retail space — at least when it comes to a hot water solution — is a tankless water heater. They can be moved without disrupting the entire store for quicker remodeling jobs. And in the long run, they're more energy-efficient and deliver hot water faster, which keeps corporate — and the health department — happy.
— Shimin Luo is president of AHI Technologies, LLC. She may be reached at [email protected].