Choosing a power-sweeping contractor can be difficult; these tips can make it easier for property managers to make a decision
When it comes to making a good first impression, few decisions property managers (PM) will make are as important as the company they choose to handle the exterior maintenance of their property. This is especially true when it comes to hiring a sweeping contractor. In addition to being in the forefront of making sure a client property looks as good as it possibly can, sweeping contractors are typically doing their job in the middle of the night when no members of the PM's management team are onsite.
This article is designed to help property managers assess the value received from a sweeping contractor, with the goals of maximizing property cosmetics while minimizing liability exposure and overall CAM costs.
There are no specific, state-mandated regulatory requirements for sweeping companies. As a result, the professionalism and capabilities of service offered by sweeping contractors varies widely. Firms span from single-machine operators to multistate firms with many dozens of sweepers. In short, it can be hard to assess any given company.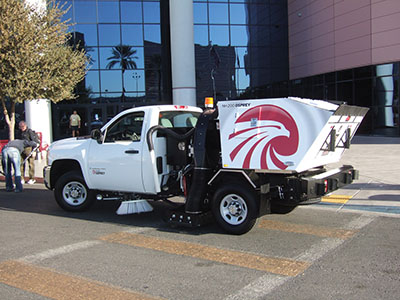 Fortunately, the World Sweeping Association (WSA) has a program in place to assist in assessing a company. As a requirement prior to membership in WSA, a principal of a prospective member firm must affirm, in writing, that the company complies with WSA's "Ethics in Power Sweeping" initiative. Provisions include that the contractor is insured, is in compliance with the workers' compensation laws of its state(s) of operation, has all needed business licenses, and that the company disposes of client waste in a legal manner.
Property managers can find the tenets of this program detailed at the WSA website, www.WorldSweepingPros.org. The site includes a members-only U.S. Contractor Locator link. However, that's just for starters. The following are some tips for assessing needs, as well as the sweeping companies in a property's area.
Elements to Consider When Selecting a Sweeping Company
All reputable sweeping contractors should be able to provide clients with a current list of references. When asking for references, be sure the provider includes clients that have facilities similar to the property in question; then, check the references and ask about aspects of service that are important to the owners and pertinent to the specific property.
A sweeping company should have a website that provides, at a minimum, information about the equipment being used, range of services provided, service area and the people who operate the firm. If their office location is a significant distance from a property, chances are the price of fuel will make them less competitive unless they have a client route already established near the property.
Where does the company propose to dump collected debris? Often, dumping into a container on the site is the best choice. Remember, if a contractor dumps debris illegally, the property manager will end up with liability.
Does the contractor offer a way to reach them 24/7/365? Only PMs know if that is important to the property and owners.
Initiate several contacts with any firms under consideration. Do the companies respond promptly; are they proficient with email and professional in their responses? Do they appear to be easy and likeable to work with and who will do what they say? In the long run, those are much more important than having the lowest price.
Through the 25 years I have been reporting on the power sweeping community, another rule of thumb I've learned is to give priority to companies that put their name and contact information on the side of their sweepers. Too often, the only reason not to use that free billboard space is if the company management does not want people to identify their firm while on a jobsite. In the event of a problem — for example, when someone notifies you about something to do with a sweeper on your property — you want a positive identification to be easily available.
Always find out what type of sweeper(s) will be used to sweep a property. If the properties are located in a snow-belt state, the sweeping company will need a twin-engine air sweeper to handle spring cleanup. These have more pickup ability, although they do cost a bit more to purchase and to operate. In locales where snow is not an issue — and for the rest of the year in snow-belt areas — a single-engine air sweeper (where the sweeper is operated via hydraulics powered by the chassis engine) will work fine.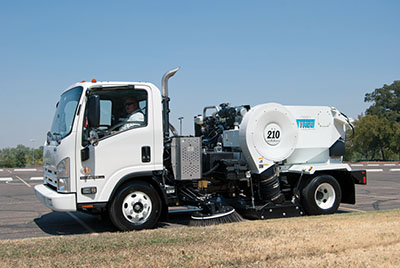 During the recession, tow-behind sweepers have gained in popularity due to its lower cost of operation. However, although these machines do a good job of picking up visible litter and other debris, because it operates via a mechanical, paddle-type system they will not remove the 'fines' like an air-based sweeper. If a contractor proposes to sweep with any type of mechanical sweeper, make sure they also have at least one air sweeper in their fleet. Then, arrange in the contract for the provider to sweep with the air sweeper on at least a bi-weekly basis.
Here's why: An air sweeper is needed to remove sand and other grit particles that will contribute to increased wear on a parking area's seal-coating and striping. If not removed on a regular basis, these smaller particles will also get tracked into the building and require more frequent refinishing of the interior floor surfaces. Finally, and perhaps most importantly, an accumulation of sand and grit can become 'ball bearings' that will create a higher likelihood of slip-and-fall accidents.
Now, let's address the all-important issue of pricing. The fact is, the lowest bidder is often not the company that will provide the client with the best overall value. Especially in this economy, there are contractors that will try to 'buy' business by bidding at a price point where it is not reasonable that the proposed level of service can actually be provided. Once the sweeping contractors have the contract, they will cut corners by not sweeping on the agreed-upon schedule and/or frequency. Because the sweeping contractors are not making a reasonable profit, they will not be able to train their employees, keep their sweepers in good repair, etc. Any time a contractor's price is markedly below the other bids — or sounds too good to be true — then choose another provider.
When developing a scope of work for a sweeping contractor, consider a building's perimeters. Especially if there is a chain link fence surrounding the property, owners want to make sure any material that is blown against it is removed, no matter if it's actually on the owners' side of the fence or the other side. Any debris that is visible from the property can and will negatively affect its overall image.
Hiring a sweeping contractor that uses GPS tracking is a definite plus. There are a variety of reasons why owners might want to know, positively, when the sweeper was on the property. When choosing a sweeping contractor with GPS tracking, property managers have the capability of requesting a readout detailing the exact times a property was being swept.
In the busy world we inhabit these days, most property managers prefer a sweeping contractor that can also handle at least some of the other exterior maintenance and service issues that crop up. At a minimum, these should include trash can liner change-out; using a backpack blower and/or handpicking to remove debris from shrubbery, walkways and other areas; the availability of providing day porter services; and, removal of large items too big for a sweeper.
In addition, many sweeping contractors now offer 'one call does it' exterior maintenance services. These often include line striping, pressure washing, signage installation/repair, graffiti removal, tenant space cleanouts, pothole patching and more. Make sure to choose a sweeping contractor that includes, as a component of its service proposal, that it will be a property manager's 'eyes and ears' for the property.
Whether or not the contractor can provide any of the fixes needed, sweeper operators are in an excellent position to spot areas on client properties that require attention. Notifications should include when lights are burned out, pavement is in need of patching, loiterers or homeless are using your property at night, signs are down, etc. Early notification and action on these types of issues will reduce both liability and the cost of repair.
Top echelon sweeping companies will usually propose notifying clients via e-mail within 24 hours of having spotted a problem; typically, one or more photos that illustrate the problem will be attached. Although owners cannot expect the company to have liability for not notifying of an issue, property managers will find that professional sweeping companies have sweeper operators trained to provide customers with this information. If the issue is one that the contractor can handle, the notification will probably be submitted with an estimate for repairing the problem.
When choosing a sweeping contractor, use the information here to assess the property needs as well as the companies that vie for a property manager's business. Then, choose the contractor that appears to meet the requirements and that will provide the efficiency, professionalism and value to maximize a property's upkeep and visible attractiveness. Remember: This choice will determine the first — and lasting — impression people will have of a property's exterior.
— Ranger Kidwell-Ross is a graduate economist and award-winning journalist who has reported on the power sweeping industry for 25 years. He was the founder of American Sweeper, the first magazine for power sweeping. In 2005 he moved that venture online to WorldSweeper.com. Kidwell-Ross is also the executive director of the World Sweeping Association. You may reach him at [email protected].