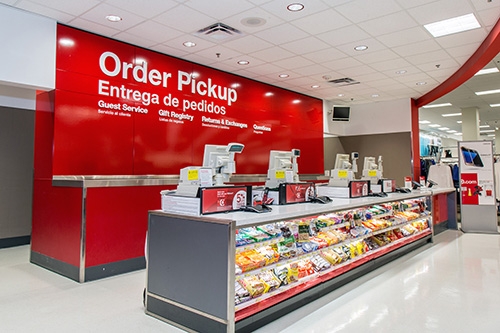 Minneapolis — As part of several initiatives in its accelerated multiyear strategy, Target Corporation will nearly triple the size of its remodel program in 2018, updating more than 300 stores around the country and making sizeable investments in key cities like Chicago, Los Angeles, Minneapolis-St. Paul and New York.
In addition to updating more than 300 stores around the country with elements of its next-generation store design, Target will open approximately 30 stores this year, the majority of which will be small-format stores in urban and dense suburban neighborhoods and near college campuses. Target will open its doors to guests in early March in four communities, including small-format stores opening in the Boston, Chicago and Washington, D.C., areas.
In addition, as part of Target's ramped up multiyear strategy:
Free two-day shipping is now available on purchases over $35 on Target.com. No membership or annual fee required.
Drive Up, a service through the Target app that enables guests to have their online orders brought out to their cars by a store team member, will expand from 50 to nearly 1,000 stores nationwide by year-end. It will begin rolling out in April.
Target's service that delivers guests' in-store purchases later the same day for a flat fee, currently offered in four New York City stores, will expand this year to all five New York boroughs and select urban stores in Boston, Chicago, San Francisco and Washington, D.C.
To provide an elevated experience for guests, Target is raising its minimum hourly wage to $12 in 2018, part of a previously announced commitment to raising it to $15 by the end of 2020
"We're making Target America's easiest place to shop. That means blending the best of our physical and digital assets to create new experiences for our guests and reimagining our network of stores into hubs for commerce and community — inspiring showrooms, service centers and neighborhood-based fulfillment centers," says Brian Cornell, Target's chairman and CEO. "Target has been on a multiyear journey to modernize every dimension of our enterprise, and in 2018, you will see us accelerate our pace."
In addition, the company recently announced plans to offer same-day delivery of groceries, essentials, home goods, electronics and other products through Shipt. The service is already available at more than 440 stores across the Southeast and in the Twin Cities, and it will expand to the majority of Target stores and all major markets by the 2018 holiday season. And, after a successful 2017 launch of Target Restock, the company will expand the next-day home delivery service of essentials to more than 30 new cities, serving nearly three-fourths of the U.S. population by the end of 2018.
Minneapolis-based Target Corporation serves guests at 1,822 stores and at Target.com. For more information, visit Target.com/Pressroom.
SOURCE: Target Corporation
Tagged under