New York City — The Dolly Llama, based in Los Angeles, is coming to New York. The popular waffle and artisanal ice cream shop will debut in the East Village on March 11th.
"Always on the hunt for new business opportunities, I stumbled across The Dolly Llama and it immediately piqued my interest due to the vibrant, fun branding of the unique concept," says John Harper, franchisee of the Dolly Llama East Village. "The East Village neighborhood is an eclectic mix of incredible restaurants and an abundance of nightlife, basically offering something for everyone. The location is central to NYU, The New School, several other educational institutions, and New York tech offices, making it ideal for a concept like The Dolly Llama."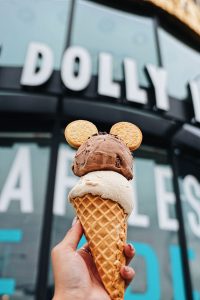 "We are thrilled to bring The Dolly Llama desserts to a brand new state and celebrate its grand opening with the East Village community!" says co-founder Eric Shomof. "John's entrepreneurial background, having previously owned a small coffee shop in the East Village, and his corporate background in content, branding and marketing makes me confident that our first Manhattan storefront will be very successful and is in the best of hands."
The Dolly Llama currently operates seven locations in Los Angeles; Dallas; Jacksonville (Ponte Vedra Beach), Fla.; Las Vegas; and Orlando (Winter Garden), Fla. The Dolly Llama is also expanding through Texas with an opening in McAllen on March 4th and plans to open two locations in Houston by the end of March.
The New York East Village location is the first location in New York state, with more locations slated to open in New York soon.
The Dolly Llama was founded by Shomof and Samuel Baroux in 2017. In 2020, The Dolly Llama began franchising and has currently sold 50 units in major media markets across the country. For more information, visit https://www.thedollyllamaus.com/ and https://thedollyllamaus.com/franchise/.
SOURCE: The Dolly Llama