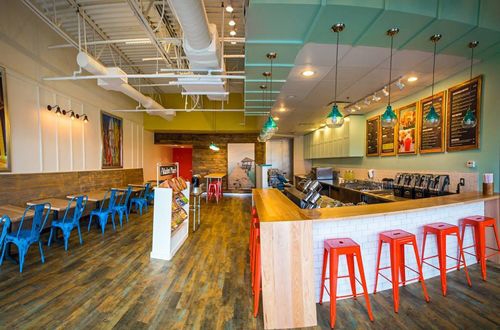 Atlanta — Tropical Smoothie Café will open the state of Michigan's 50th location in Portage on March 4, 2017. This restaurant, located at 230 W. Milham Ave., will mark the second location in the region for franchisees Eduardo Ramos and Corina Groeger, as well as a milestone achievement for area developers Craig and Dianne LeMieux, and Debbie King, who have successfully helped to expand the brand's presence throughout Michigan since 2005.
"Michigan is one of Tropical Smoothie Cafe's fastest-growing markets in the country and that growth would not be possible without the continued passion and dedication of our existing franchisees like Eduardo and Corina, who continue to demonstrate their confidence in our brand," says Mike Rotondo, CEO of Tropical Smoothie Cafe.
The Ramoses joined the Tropical Smoothie Cafe team back in 2015 with the opening of their first location in Kalamazoo, Mich.
Over the past 3 years, Tropical Smoothie Cafe has sold over 450 franchises nationwide. The opening of this new location in Portage continues to solidify Michigan as the third largest market for Tropical Smoothie behind Florida and Virginia. On the heels of one of the strongest years in the company's 20-year history, the award-winning brand successfully propelled its expansion and grew its presence in key markets nationwide, including Charleston, S.C.; Albuquerque; Dallas; and Southern California.
This year, the food and smoothie franchise plans to open 100 restaurants nationwide and currently has franchise opportunities across the U.S. in markets such as Indianapolis, Nashville, Houston, Dallas, Cincinnati and Minneapolis, among others. By 2020, Tropical Smoothie Cafe plans to have 1,000 stores open across the U.S.  
Celebrating its 20th anniversary in 2017, Tropical Smoothie Cafe is a fast-casual restaurant concept inspiring healthier lifestyles across the country, with over 540 locations nationwide.
SOURCE: Tropical Smoothie Cafe