College Station, Texas — In addition to its exponential growth in new markets, Layne's Chicken Fingers has acquired the original three locations in College Station, Texas. Prior to the acquisition, the restaurants were owned by Mike Garratt, who was the sole owner of Layne's before its foray into the franchise space. When the brand made this transition, Garratt maintained licensure in College Station and continued to run the three original restaurants as he served alongside the franchise leadership team. At the time of his recent retirement, the Layne's corporate team chose to acquire his restaurants.
"I've had these restaurants for 30 years now, and it's really all I've been doing since my sophomore year of college," says Garratt. "We've grown, the brand has gained recognition, we've built up a base of loyal fans in College Station, and now we're bringing Layne's to people throughout Texas and beyond."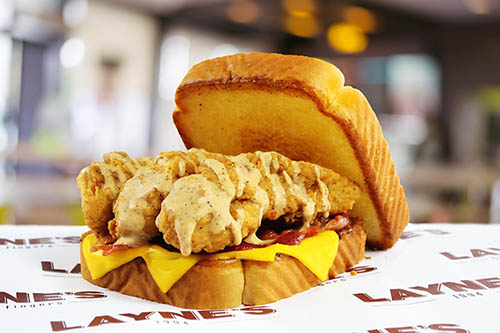 "Mike has decided that he is ready to retire and head off to his ranch — literally — and we thought that presented a good opportunity to bring the original stores in College Station to alignment with our current brand standards," says Garrett Reed, CEO. "We'll preserve and encapsulate the brand at that original location, and the other two stores will be refreshed to meet our updated brand standards."
Because Garratt had entered into a licensing agreement rather than a traditional franchise agreement, he held a protected territory within a 50-mile radius of the original store and was not required to implement new technology, menu additions or rebranding efforts that the Layne's corporate team initiated. This allowed him to maintain the mom-and-pop feel of the restaurants that was present when he took over three decades ago.
Though Garratt will no longer be operating the three College Station restaurants, he remains a partial owner in the company and will continue to serve on the board, sharing his Layne's expertise in a new way as he takes on retirement.
When Garratt took ownership of the flagship restaurants, they were a quintessential mom-and-pop businesses. In the near future, College Station fans might notice a branding refresh inside and out, and there may be a few additions to the menu.
"This is our history; this is where our story starts," says Samir Wattar, chief operating officer. "Right now, the plan is to make these locations a shining example of the brand that honors where and how everything began while making sure they represent the brand as we take the entire system to the next level."
Now that Garratt is no longer the exclusive owner of the territory surrounding the College Station restaurants, the Layne's team can also consider establishing new restaurants that will fill the gaps, so to say, between existing locations in College Station and those in Houston and Austin, for example.
"As we have the ability to grow within that 50-mile radius and our existing Texas franchisees can grow towards it, we can increase the concentration of Layne's in the area," says Reed. "That will also boost brand recognition and loyalty."
In addition to the acquisition, Layne's is set to open five more restaurants by the end of the year, a year-over-year growth rate of 50%. The pipeline is already loaded for 2024 with about 15 more restaurants on deck — a 100% year-over-year growth rate.
SOURCE: Layne's Chicken Fingers