Anaheim Hills, Calif. — WaBa Grill, one of the nation's leading healthy rice bowl chains, has recently inked a multi-unit development deal that will significantly expand its presence in Arizona. Signed by longtime WaBa Grill franchisee Jerry Bajwa of Bajwa Group of Companies, the new Arizona development deal paves the way for 10 WaBa Grill locations to open throughout Maricopa and Pima counties within the next 7 years.
Bajwa, who currently owns and operates 19 successful WaBa Grill restaurants in Southern California, plus the brand's lone Arizona location in Tempe, now has exclusive territory rights to develop the brand throughout the two Arizona counties. The first of the 10 restaurants included in the new agreement will open in Glendale later this year. It will be followed by locations in Gilbert, Surprise and Chandler.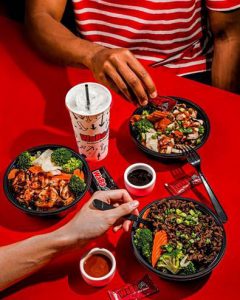 "Our WaBa Grill location in Tempe has experienced tremendous success, which makes us extremely eager to introduce this healthy rice bowl chain to new markets in the state, including Arizona communities with limitless growth potential that also embrace a health-conscious lifestyle," says Bajwa.
"Having developed successful WaBa Grill restaurants alongside Jerry Bajwa for many years, we are immensely proud of his brand custodianship and remain confident that Jerry and his hardworking team will continue representing WaBa Grill as he always has during this period of significant expansion in Arizona," says Steven Wang, director of real estate, development & construction at WaBa Grill. "Development throughout Arizona has been booming in the last decade, but the Grand Canyon State still does not have the significant presence of a healthy rice bowl brand like WaBa Grill, which is why we are so excited to expand our access to Arizona locals, travelers and anyone seeking a healthy and convenient meal."
Founded in 2006, the nearly 200-unit brand is primed to continue expansion, having identified ideal markets throughout the West and is seeking new franchise partners looking to expand their portfolios. For more information, visit www.wabagrill.com/franchise.
SOURCE: WaBa Grill