San Francisco — Williams-Sonoma, Inc., a digital-first, design-led and sustainable home retailer, has been recognized by Barron's as one of the 100 Most Sustainable U.S. Companies 2023. The annual list honors the top 100 of the country's 1,000 largest publicly traded companies for their achievements and efforts related to various environmental, social and governance (ESG) metrics. Williams-Sonoma, Inc. has been recognized by Barron's every year since the inception of the list 6 years ago and is the only exclusive home-furnishings retailer to be included.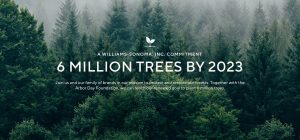 "Our commitment to sustainability is one of our core values and the progress we have made through our ESG efforts continues to differentiate our company amongst our competitors," says Laura Alber, president and CEO of Williams-Sonoma, Inc. "By being exemplary within our industry we can continue to inspire and push for progress while making a positive impact on our planet."
The 100 companies featured on the list achieved the highest scores across 230 ESG metrics, ranging from workplace diversity to greenhouse-gas emissions.
For more information, visit: https://sustainability.williams-sonomainc.com/.
Williams-Sonoma, Inc. operates several retail brands: Williams Sonoma, Pottery Barn, Pottery Barn Kids, Pottery Barn Teen, West Elm, Williams Sonoma Home, Rejuvenation, and Mark and Graham.
SOURCE: Williams-Sonoma, Inc.