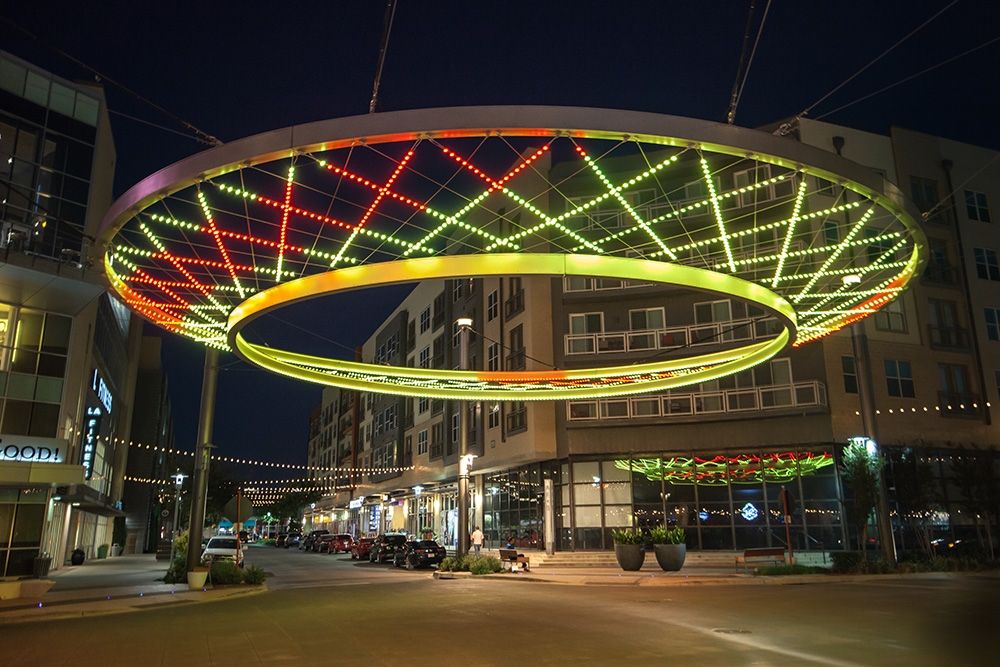 Fort Worth, Texas — The recently completed "Iconic Ring" was part of a $4 million placemaking development in the mixed-use corridor of West 7th in Fort Worth, Texas. When BuyLEDs, a division of WLS Lighting, was brought in by Vestar's property manager to be the LED lighting design partner, construction of the ring had just been completed and they were brainstorming the best way to illuminate the structure.
There were a few challenges:
• There was minimal space for running cables and power supplies.  
• The ring is above a busy four-way intersection, so reliability and little to no maintenance was paramount.  
• A light source was needed that could be used for both flexible and straight runs, was rigid, yet flexible, and was available in customized lengths.
• The light source had to be impactful at night, yet virtually invisible during the day.

WLS/BuyLEDs designed an LED lighting system using Riga-Flex, a custom version of Color Kinetics iColorFlex LMX, manufactured by RGBLights. Rigi-Flex is a semi-rigid, thin and lightweight modular linear LED system using LMX strands to provide highly customized strips of RGB LED nodes. These strips are capable of delivering dynamic video, graphics and lighting effects in straight runs, sweeping contours or complex bends. Each strip is a series of clips mounted on stainless rods allowing you to snap in LMX LED nodes in precise, on‐center spacing.
The ability to choose a transparent wire and fixture housing was perfect for 505 Designs, the Iconic Ring designer, as aesthetically, the light source would not be seen unless the lights were on. A Pharos Control system was chosen due to its reliability, and gave WLS/BuyLEDs unlimited possibilities for creating LED light shows. A variety of shows and effects are possible, with a calendar for automatic launch of daily and holiday light shows, and a web interface that enables the client to control their lights real-time when they have special clients, or events in the area. 
The stability of the state-of-the-art Philips Color Kinetics LED technology provided the entire team with the peace of mind that they were installing an LED system that was reliable, could withstand harsh weather conditions and would function for years to come — especially important since the lights were being installed over a busy intersection.
WLS/BuyLEDs handled the installation and designed a system of racks to house the power supplies and data components, which hang inside the 40-feet-tall steel columns that hold up the ring. The WLS/BuyLEDs Iconic Ring LED Lighting system produces visually striking LED light shows, which provides a fun and exciting destination experience for patrons.  
There are a total of 2,760 individually addressable LED lights, using 8,280 DMX Channels, and 17 DMX Universes. Total energy use: less than 2 X 20-Amp circuits. Estimated annual cost to run lights: $1,645.
SOURCE: WLS Lighting
Tagged under