By Michael Fenner and Stanley P. Graveline
Inside Target's sustainable roofing program.
Target Corporation invests in the health and sustainability of its communities across the country. Since 1946, Target has given 5% of its income to the cities and towns it serves, which today equals more than $3 million a week. The company also focuses on making environmental commitments for its guests, team members and communities. In developing its stores, Target pursues sustainable design and construction practices, minimizes the use of resources, focuses on energy efficiency and is committed to reducing its overall carbon footprint.
A key element of Target's smart development strategy is material management. As a retailer that owns the majority of its stores, Target has a long term interest in designing and operating efficient buildings. One area of focus for the Target team is roofing, including material selection and the re-use and recycling of materials.
Target takes a proactive approach to roof asset management to mandate roof membrane replacement in advance of roof system failure, which allows reusing insulation and cover boards. Since 2007, Target has worked with a Massachusetts-based manufacturer of thermoplastic PVC roof membranes. Through this partnership, Target recycles its thermoplastic PVC membranes into new roofing membrane at the end of its service life. The approach has diverted an estimated 1 million cubic feet of insulation and cover board, and more than 2 million pounds of roof membranes, from landfills.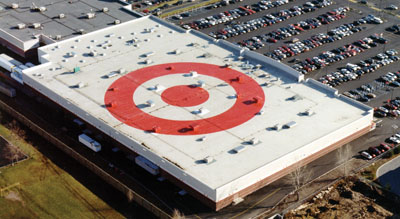 Sustainable Roofing Program
Roofs are a critical element of large, single-story retail buildings. Roof leakage can damage inventory and interior finishes. Although this is an issue in any business, the impact is particularly acute in the competitive retail sector.
In a typical Target store, the roof represents more than three-quarters of the building's envelope. Roofing system selection has a significant impact on construction cost, ongoing maintenance and energy expenses, and replacement costs. Approximately 20 years ago, Target began using thermoplastic polyvinyl chloride (PVC) roofing membranes on its stores and warehouses. Over the years, PVC was found by Target to provide the greatest durability and ease of maintenance. Using a single membrane type has reduced costs and improved quality.
A strong institutional knowledge of PVC membrane was created, facilitating maintenance and repairs across Target's more than 1,800 facilities. Additionally, this contributed to a high degree of accuracy in Target's end-of-service life projections.
With such extensive experience with PVC, Target was also at the leading edge in recognizing the energy saving potential of light colored PVC roofs. In 1999, it participated in a study jointly funded by the U.S. Department of Energy (DOE) and Environmental Protection Agency (EPA) that was conducted by Lawrence Berkeley National Laboratory (LBNL). This study was among the first to quantify energy savings from cool roofs.
Recognizing roof systems' importance to its overall operations and costs, Target has developed a comprehensive life cycle asset management system:
• Preventive maintenance roof surveys are conducted on every building multiple times each year;
• All observed defects, repairs and follow-up action are logged in a central database;
• The remaining service life of each roof is estimated, within 2 years, using predictive analysis tools; and
• Roofs deemed to need replacement are subjected to an additional inspection before a final decision is made.
This systematic, proactive management of roofing assets provides numerous benefits: interruptions to store operations are minimized; roof service life is maximized; and roof replacements are budgeted before system failure occurs.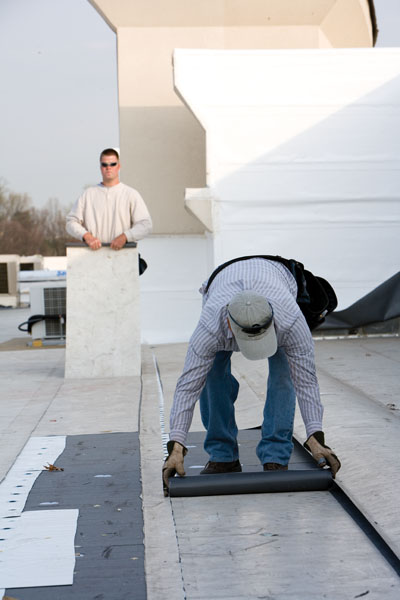 When a roof is replaced, the thermal insulation and cover board (where installed) are typically in a good serviceable condition. The removal of the mechanically attached PVC membrane does little damage to the boards below. Any mechanical or moisture damage that may exist is typically limited to small localized areas. Most, if not all, of the insulation can be left in place, with any damaged or wet material removed and replaced with new. Additional insulation or cover board can be added to meet current code requirements, as required, before a new membrane is installed.
This approach results in significant cost savings, with insulation typically representing more than half of the material costs in a typical mechanically attached PVC roof membrane assembly. Labor costs to remove the old and install new insulation and cover board are also avoided.
Approximately 26,000 cubic feet of waste is diverted from the landfill every time Target replaces a membrane without having to replace the insulation in one of its stores. From a building code perspective, the buildup is generally considered a single roof system, allowing Target to simply re-cover the entire roof in the future, should the need arise for any reason.
Target operates a sustainable model in its roofing operations: using light colored membranes to minimize cooling costs; selecting the longest lasting thermoplastic membranes; maximizing service life through a comprehensive maintenance program; and salvaging insulation and cover boards. One area where Target saw an opportunity for improvement was with recycling. Until 2007, all the membrane material being removed from the roof was being sent to landfills.
Membrane Recycling
In May 2007, Target's store in Silver Spring, Maryland, was scheduled to be re-roofed. Target looked at the remodel as an ideal opportunity for the company's first membrane recycling efforts. They worked with the vendor to recycle the old roof membrane prior to the installation of the new PVC membrane.
Recycling thermoplastic PVC roofing membrane is not a new concept. End-of-service-life recycling of PVC membranes goes back many years. European PVC membrane manufacturers began doing so in the early 1990s.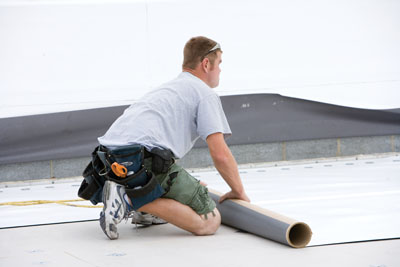 In a typical tear-off on a mechanically fastened single-ply, the old membrane is cut along the edges of each row of fasteners, rolled or bundled and tossed into a dumpster with all the other tear-off debris. On a recycling project, the membrane must be separated from the waste materials and prepared for shipping to the processor.
For a building owner or contractor, the process is simple and can be done at little cost. Through the test, Target found that the slight amount of additional labor cost involved for the contractor to remove, consolidate and prepare the material for shipping is offset by the reduction in dumpster and disposal costs.
After leaving the construction site, the membrane is shipped to the processor where it is pulverized into a very fine powder for recycling. The powder is sent to the membrane manufacturer where it will typically be recycled into one of three products: thick, textured walkway membrane; protection sheet for vegetated roofs; or new roofing and waterproofing membrane. These products can be recycled an infinite number of times, creating a closed-loop process for the raw materials that were originally used in producing the membrane.
Until recently, this process did not have third-party certification. Underwriters Laboratories stepped in with the creation of UL Environment (ULE). ULE provides services like Environmental Claims Validations.
Since the successful Maryland project, Target has worked on additional roofing projects. Approximately 4 million square feet of PVC membrane that had reached the end of its service life has been recycled, representing about 1 million pounds of material that just a few years ago would have gone to landfill.
The program continues to grow and ongoing efforts are focused on reducing the field handling and improving shipping efficiencies. Target will build on the success of former projects to meet aggressive goals for recycling waste materials on roofing projects.
— Michael Fenner is group manager, construction, for Target; he is responsible for managing the life cycle of exterior building assets for Target. Stanley P. Graveline is vice president, technical services, Sika Sarnafil, a division of Sika Corp. in Canton, Massachusetts.