— By Jessy Perone —
Filta takes care of fryer oil management for more than 50 Dairy Queens — personalizing plans and service for each franchise owner to meet specific needs.
More than 50 Dairy Queen restaurants nationwide rely on Filta Environmental Kitchen Solutions for fryer oil management so their restaurants can consistently produce delicious, golden brown fries and chicken tenders for customers while keeping employees safe, keeping restaurants clean and sustainable, and boosting profitability.
From Connecticut to Georgia and South Carolina to New Mexico, the majority of these 50 restaurants are owned and operated by individual local franchisees, entrepreneurs like the Filta owners themselves in markets nationwide. Individual owners all want something slightly different and because Filta owners are able and willing to customize service for each Dairy Queen in an ala carte type fashion, the brand can satisfy each restaurant's individual service needs, setting everyone up for success.
National Capability, Localized Service
Yes, Filta has proven systems and processes to service thousands of commercial kitchens nationwide making them faster, greener, safer and cleaner, but individual Dairy Queens rely on Filta's personal service for their individual restaurant's needs.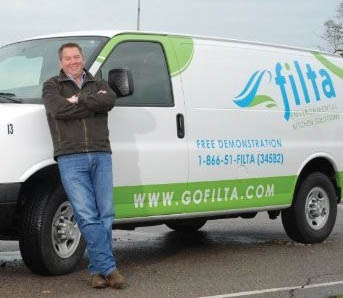 Take Terry Walkerly, for example. His northern Ohio Filta franchise serves nine Dairy Queens. He's had one restaurant for nearly 15 years and another location he just began servicing this summer, providing each location personalized attention. At all nine restaurants, Terry's team microfilters existing oil to extend its life (FiltaFry) and picks up waste oil to be recycled for biodiesel fuel (FiltaBio).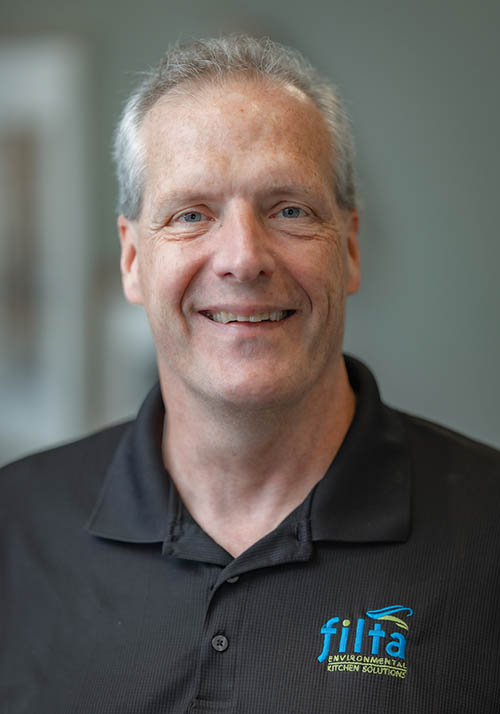 This is the same level of service that Filta franchisee Steve Bral provides to the Dairy Queen in his Detroit-area territory, coming in twice weekly to clean two 50-pound fryers and microfilter and remove the waste oil. Because Filta can be agile and meet individual customer wants and needs through local ownership, the brand delivers customized attention.
"We'll adjust service based on seasonality, usage and basically any type of service the individual Dairy Queen wants," says Melissa Smith-Hignite, Walkerly's vice president of sales and marketing.
Improved Taste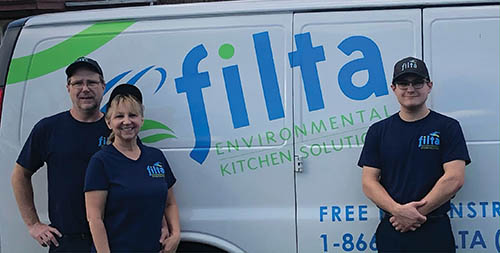 David and Laurie Hoover are south-central Pennsylvania Filta franchise owners who, along with their son Zach, have served the Dairy Queen in Steelton for 3 years. At the height of the pandemic in fall 2020, Filta's corporate office provided a lead and Zach visited Dharmesh Makwana, owner of the Dairy Queen Grill and Chill in Steelton, Pennsylvania.
"Zach came in and offered a trial," says Makwana. "They cleaned the fryer once and the chicken strips were coming out golden brown instead of dark. I never have bad reviews, and sales for my fried products have doubled since I started working with Filta."
The Hoover's team cleans Makwana's two, 50-pound fryers and takes away the oil (FiltaBio) twice a week during the summer. During the slower winter months, the Hoovers roll back to servicing once a week to save Dairy Queen money, as does Walkerly in his territory.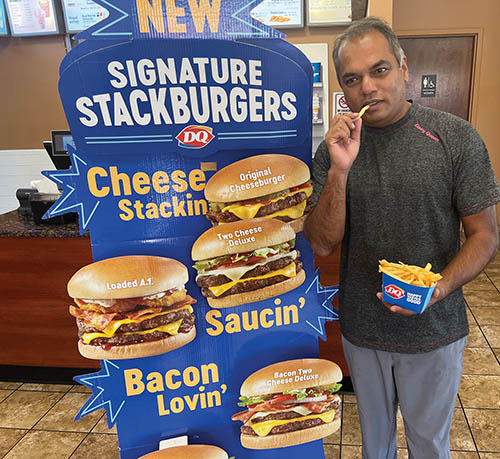 "His fryers were in rough shape but once we got all the carbon off and he wasn't burning his fries anymore and actually frying them, his product improved," says Zach Hoover. "He loves his French fries and he's adamant about getting the absolute best flavor."
Faster and Safer
In Michigan, Bral's team, which now totals 15 employees up from the two he began with 5 years ago, has been working in the Romeo Dairy Queen for just a few months, after pursuing a lead generated by the sales team in the Filta headquarters office.
"The biggest pain point for this particular owner was that he personally was cleaning the fryers," says Bral. "He actually told me, 'I've had it with this … my time can be much better used managing the stores and not cleaning the fryers.' He loves what we do, there are no more nasty bins or constant spills because we remove the oil safely. We hope to get into his second restaurant in Utica soon."
Smith-Hignite, the sales vice president for the Walkerly team in Ohio, relates a similar story of one Dairy Queen account that she earned after the restaurant became hyper-focused on safety. After just 1 week on the job, a 15-year-old employee was taking hot oil out to the parking lot bin after closing, tripped and sustained burns. The owner was on the phone immediately asking colleagues how they handle their fryer oil and Filta was immediately recommended. This particular Dairy Queen remains a customer today.
"Our obvious benefit is safety and reduced labor cost," says Smith-Hignite. "Restaurants in general tend to hire young, inexperienced staff, which makes sense. However, with our services, employees like these are relieved of cleaning expensive equipment and performing often dangerous tasks — and owners can rest easy."
Cleaner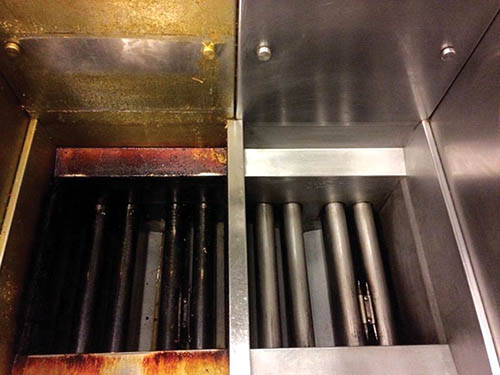 Smith-Hignite also pointed out that Dairy Queens overall take great pride in their cleanliness. With fryers often visible from the counter, a well-maintained, sparkling clean fryer presents a very positive image to the general public.
Additionally, to reduce congestion in work areas, most Dairy Queens have Filta technicians work during off hours.
"They come in before we open or after we close," says Makwana, the Pennsylvania owner. "So, they're not in the way of employees or anything. It's almost like they weren't here but our fryers are super clean."
Greener
While most Dairy Queens (most kitchens to be honest) turn to Filta to make them faster, cleaner and safer, another byproduct is that they become 'greener.' There is a tangible, positive, environmental benefit from knowing their waste oil is recycled for biodiesel. For every gallon of biodiesel put into use, Filta prevents 16 pounds of carbon dioxide from entering the atmosphere.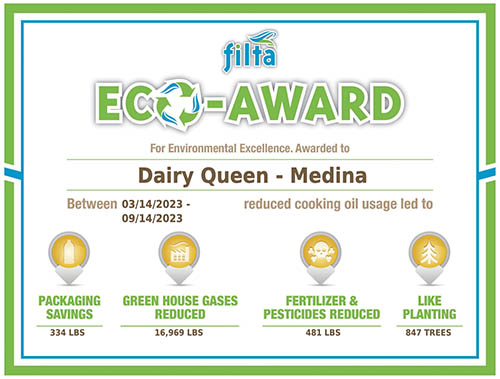 The eco-benefit is so concrete that Filta provides clients an Environmental Impact Report (EIR) that itemizes just how much oil a particular kitchen saved with the various Filta services and distills that number, equating it to a relatable impact of planting trees.
For example, in just one 6-month period, the Dairy Queen in Medina, Ohio, (Walkerly's territory where Smith-Hignite manages sales) saved 5,850 pounds of oil microfiltering with the FiltaFry service. Another 4,860 pounds was collected and recycled through FiltaBio for a total environmental impact like planting 847 trees. (The "like planting XX trees" number is a combination of packaging savings, reduced greenhouse gas emissions, reduced fertilizers and pesticides, and more for a specific time period of service.)
These tangible environmental benefits, paired with the business benefits of improved safety, speed, cleanliness and better tasting food, go far in proving to management and customers alike that Dairy Queen is managing its restaurants in the best possible — and most responsible — manner for everyone.
— Jessy Perone is a business development manager with Filta for the past 4 years. Filta Environmental Kitchen Solutions has been making commercial kitchens in North America faster, greener, safer and cleaner since 2002 and has recycled nearly 1 billion pounds of cooking oil in that time. The brand works inside single and chain restaurants, hospitals, hotels, groceries, universities, casinos, business facilities and professional/collegiate stadiums. Learn more at www.Filta.com.