— By Jason Srain —
How to use your parking lot to make a great first impression.
According to a Princeton study published by the Association for Psychological Science, first impressions are made within the first 7 seconds of meeting. That does not leave much time to showcase your business, impress customers or charm potential investors.
So what can you do to make a better first impression? You can start by fixing up your parking lot. Like long lines, dated waiting rooms and bad customer service, a poorly maintained parking lot can leave a lasting impression with your customers.
Conduct Routine Parking Lot Maintenance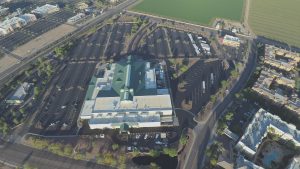 From the moment the customer drives on to your lot, he or she is forming an opinion about your business. Much like a poor user experience online, the harder it is for customers to navigate your website or frequent your business, the less likely they are to make a purchase or leave a positive review. Fortunately, there are things you can do to improve the aesthetic, safety and function of your parking lot.
Pavement Patching
The conversion funnel (a.k.a. buyers' journey) for a brick-and-mortar retail location begins as soon as they drive up. From that point on, every pothole is a snag in the customer's journey to the register.
Pavement patching eliminates these revenue roadblocks by filling the affected areas with hot or cold asphalt mix (depending on the season and/or location) and leveling the area for a smooth, effortless ride.
This means shopping carts will no longer rattle in the parking lot. Cars won't have to swerve around obstacles. Customers won't trip on uneven pathways, and you avoid the potential liability of an accident occurring on your property.
Sealcoating
95 percent of customers in a recent survey said that the exterior of a business swayed their choice on where to shop. Two-thirds of those customers said they did not visit a store because of how it looked from the street.
What's more, a North Carolina study found that 70% of first-time sales hinged on curb appeal. Part of that curb appeal relies on the aesthetic of your parking lot. If your pavement is faded, cracked and otherwise poorly-maintained, then your poor curb appeal is allowing business to slip away.
Sealcoating restores to the aesthetic of your parking lot by sealing and protecting asphalt surfaces from oxidation, moisture, fading and erosion. Thereby restoring the integrity of your parking lot, and the curb appeal of your business.
Lot Marking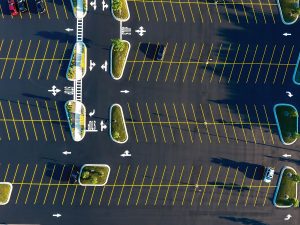 Lot marking seems like a trivial maintenance issue until potential customers arrive and can't find the entrance to the building. Beyond simple functionality, lot marking enables your business to optimize your parking lot for maximum value. In other words, lot marking makes it easier to squeeze more cars onto your lot, thus enabling more customers to frequent your business.
Don't forget about ADA compliance. Without lot marking, there is no way to create handicap spaces, or otherwise comply with the Americans with Disabilities Act, which opens your business to potential liability.
Bollards and Signs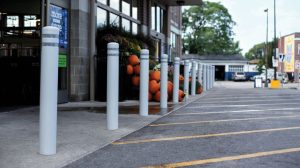 A bollard is a short, sturdy vertical barrier and the simplest way to direct the flow of traffic in a parking lot. From directing foot traffic to ensuring safety and security, bollards can keep vehicles and pedestrians from interacting in the wrong way. They are also relatively easy to install and a great way to showcase new initiatives, like curbside pickup or drive-thru.
Routine and/or Annual Maintenance Plans
Whether your parking lot requires one or all of the above-mentioned paving services, it benefits your business to maintain your parking lot on a regular basis. That said, pavement repairs, sealcoating and lot marking are labor intensive and require technical expertise to complete.
Therefore, the best way to conduct routine maintenance of your parking lot is to outsource the project to a qualified paving contractor AND sign up for an annual maintenance. Annual maintenance plans are designed to stretch your maintenance dollars and extend the life of your investment.  A good plan will be able to:
Increase the curb appeal of your business,
Extend the life of your parking lot,
Ensure safety, security and ADA compliance,
Minimize liability, and
Create a great first impression on customers, clients and investors.
Ultimately, how you choose to make a good first impression is up to you. But if you run a business, you could start by improving, repairing and maintaining your parking lot. After all, nothing says "spend your money here" better than a smooth drive to the register.
— Jaron Srain is national general manager of Bridgeview, Illinois-based Rose Paving, LLC.
classic-editor-remember:

classic-editor

bs_sponsor_advertiser_id:

109286

bs_sponsor_advertisement_id:

bs_ads_disabled:

abkw-text: