— By Bruno Hanelt —
Unlocking hidden value and difference-making savings in restaurant (re)construction projects.
Restaurant owners and operators looking to expand to new spaces are facing some structural market headwinds right now that makes completing reconstruction and buildout projects on-time and on-budget extremely challenging. The combination of inflation, steeply rising prices for construction materials, and increasingly common (and costly) supply chain disruptions can make planning and budgeting for commercial development projects an exercise in frustration.
Even in this uniquely challenging moment, however, experienced commercial construction companies can help their restaurant clients navigate these obstacles and find creative ways to adjust project designs and buildout strategies to compensate for rising materials and supply chain delays. The practice of value engineering — identifying, unlocking and leveraging hidden efficiencies and savings — can be a difference-maker throughout the restaurant construction and reconstruction process.
Now more than ever, restaurant owners and operators should familiarize themselves with the benefits of value engineering and appreciate how the right construction partner can help unlock opportunities for new savings and efficiencies that have a tremendous benefit on buildout timelines and bottom lines.
Material Differences
The simplest and most straightforward way to save money and avoid frustrating supply chain delays is to source and supply reasonable alternatives for building materials and products. Oftentimes generic or standard products are functionally and aesthetically similar (and, in some cases, indistinguishable) from higher-priced options. Construction professionals who know how to identify and deliver alternate materials can save money both because of more favorable pricing and by avoiding potentially costly delays. Awareness is half the battle, and construction professionals should be able to educate and inform their clients about the options available to them — as well as the potential benefits to the project from using materials and systems. While brand mandates or operational priorities might limit the ability to utilize different materials or systems in some cases, the good news is that restaurant owners and operators are generally becoming savvier about the costs and consequences of design and construction decisions and are (sometime by necessity) generally more flexible when it comes to signing off on different material or design alternatives.
Plumb Opportunities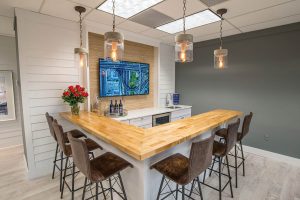 Any homeowner knows how expensive a plumbing problem can be to fix. Retail construction is no different. Running or relocating plumbing lines is a costly proposition, and that cost can be even more painful when you are building out a working commercial kitchen. Consolidating pipes and sanitary lines to minimize the need to trench through an existing concrete slab can save a staggering amount of money. Sometimes all it takes is relocating a sink or dishwasher to make that consolidation possible (without adversely impacting the functionality of the kitchen). Large industrial systems and commercial appliances are another place where one change can have an outsized financial impact. Using a different brand or model with a lower price tag or more energy-efficient profile is a great way to trim your buildout budget.
Small Changes — Big Differences
Experienced construction professionals understand that value engineering isn't always about big changes. Seemingly minor design changes can make a big difference to the bottom line. One of the best examples of that is tweaking layouts or schematics to work around existing structural features or mechanical systems that would otherwise require and expensive relocation. Changing the angle or location of an interior wall by as little as a few inches can have an outsized budgetary benefit if it means you can avoid a bulkhead or not have to relocate ductwork or a sprinkler line.
The Finish Line
Finishes and high-profile aesthetic elements are, by definition, the most visible part of a new space. Understandably, restaurant owners and operators are hesitant to change what has worked for them in the past and tend to be selective and specific when it comes to picking out their finishes. In some cases, however, alternate options can look just as good — if not better — and result in dramatic savings. Using polished concrete in lieu of a tile floor, for example, can yield an outstanding result for a small fraction of the price. Using a different lighting brand or configuration is another potentially rich source of savings. Part of value engineering is finding and presenting creative alternatives that a client might not have previously considered — or even been aware was an option.
Lasting Value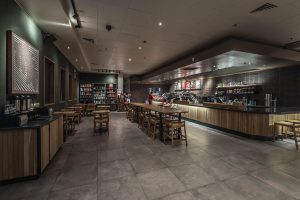 Finally, and perhaps counterintuitively, it's important to recognize that value engineering isn't just about finding ways to save money and unlock value now, but to minimize costs and preserve value in the future. Leading construction professionals who specialize in restaurant construction and design have witnessed firsthand how durability and functionality have a dramatic impact on long term value. In the uniquely demanding environment of a professional kitchen, saving a little bit of money now by making dubious design or materials decisions can cost a lot more in the future. Inadequate lining around a mop sink might be up to code but will absolutely be an expensive fix in a few years when it falls apart. And using basic epoxy over a painted concrete floor might look good now but won't last nearly as long as slightly more expensive but much more durable products. And it isn't just materials choices that will either cost or pay in the years ahead. In the wake of a pandemic that has changed the way many people eat and shop, many restaurants have recognized that their space calculations have changed: some of the space they previously utilized for indoor dining could be better repurposed in ways that will make the restaurant better able to prepare and present takeout orders. Informed by functionality considerations, these design changes could create long term value by enabling the restaurant to operate more efficiently — thereby extending the bottom-line benefits of creative value engineering well into the future.
— Bruno Hanelt is vice president of operations for S&R Commercial. A 20-year veteran of the commercial construction management industry, Hanelt brings a client-first approach to his role and works to ensure expectations for every project are met — and exceeded. Hanelt leverages his unique background in business administration and information systems to continuously improve processes and create lasting value for the firm's clients. For more information, visit www.srcommercialinc.com.
classic-editor-remember:

classic-editor

bs_sponsor_advertiser_id:

109286

bs_sponsor_advertisement_id:

bs_ads_disabled:

abkw-text:
Tagged under