— By Al Subbloie —
How one Arkansas-based IHOP operator received new equipment, lowered his energy bills and improved operations without out-out-pocket costs.
Restaurants use anywhere from five to seven times more energy per square foot than other commercial buildings, and for quick-service restaurants energy consumption can be up to 10 times more. In an industry that traditionally operates on narrow profit margins, any reduction in energy costs will dramatically improve the bottom line. As many restaurant businesses are feeling the squeeze from rising inflation and increasing labor costs, now is the time to seek out solutions to improve energy management.
Ricardo Aguilera, a long-time Golden Cakes operator of nine IHOP restaurants in Arkansas, agrees. Golden Cakes is the largest IHOP restaurant franchise organization in the state. After partnering with one of the fastest growing energy/sustainability vendors in the U.S. in May 2022, Aguilera is already benefiting from lower energy bills, improved operations and greater peace of mind about the reliability of his operations. All of these benefits come with no out-of-pocket costs for Aguilera's businesses, thanks to its vendor partner's 'Energy Efficiency as a Service' (EaaS) model that provides the upfront capital for upgrades, installs the equipment and technology and then monitors and optimizes energy efficiency performance for the duration of a long term contract.
When reflecting on what pushed him from the consideration stage to signing on, Aguilera explains, "I decided to partner with [them] because I was impressed by their large customer base of America's top restaurant brands and noticed they were ranked #2 out of the fastest growing energy companies in the country by Inc. Magazine. That had to stand for something!"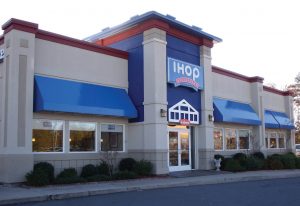 The vendor partner surveyed all of Aguilera's IHOP restaurants for energy efficiency opportunities, breaking down their total energy use into individual components to determine the ideal devices, equipment and systems for optimizing outcomes. With most of his restaurants running 24 hours combined with the hot Arkansas summers, maintaining equipment — especially air conditioners — has been an ongoing headache for Aguilera. Installing state-of-the-art, hyper-efficient HVAC systems and replacing interior and exterior lighting with LEDs was the biggest order of business.
Older, out-of-date HVAC systems can be anywhere from 30% to 40% less efficient than contemporary HVAC systems. When you consider that HVAC can be about 25% to 30% of a restaurant's energy spend, upgrading with the latest energy-efficient technology can have a huge impact on a business's bottom line.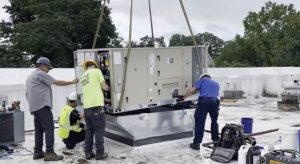 "Golden Cakes spent over $200,000 on HVAC replacement units last year. I'm happy we don't have to spend that this year. Instead, we're actually saving on our energy bills, and I love how we don't have to worry about what happens if the equipment needs maintenance for whatever reason. [Our vendor partner] has it covered," says Aguilera.
Installing LEDs in the parking lots was another game changer for Aguilera. "When you think about what replacing dozens of lighting poles entails — the number of LED lights, needing a crane for installation, working through the city bureaucracy — it's an expensive, time-consuming process. We avoided all of that by working with [our vendor partner]."
Over the course of the contract, the average capital invested by the vendor for each of the IHOP locations will be anywhere from $50,000 to $100,000. Relieved of the financial burden of installing and maintaining equipment and dealing with rising energy costs, Aguilera can redirect capital into what he considers Golden Cakes' greatest asset: its employees.
"Having to let go of so many employees during the pandemic was heartbreaking. Fortunately, we were able to keep some of our longest standing employees and have welcomed more back since then, but the experience made us all realize how important our people are. Cutting our energy costs and preserving capital now allows us to ensure our employees are well paid and happy so that they stay with us for years to come."
Another unexpected benefit for Aguilera has been the ease of billing. "I don't have to write eight different checks to various companies now — just one bill."
The vendor has evolved its billing system to automatically predict what the utility is going to charge based on a comprehensive database with different rates (varying by location, peak level, etc.). Each customer's average monthly energy usage receives a baseline calculation, which it then charges to the customer with a guaranteed energy savings discount. To further simplify accounting for its customers, the company charges at the beginning of the month — as opposed to mid-month, which is the standard for utilities.
Through working with its vendor partner, Aguilera can expect a 30% reduction in overall electricity consumption. Not only is this good for Golden Cakes' bottom line, it's good for the planet. Reducing energy consumption at each of the nine IHOP locations by 90,000 kilowatt hours averts 574 metric tons of carbon emissions annually — the equivalent of 112 homes' electricity use for 1 year, or 1,424,867 miles driven by an average gasoline-powered passenger vehicle.
For Aguilera, this is no small benefit: "I feel great about our locations being more sustainable, especially since I didn't have to pay out-of-pocket to do so!"
Thanks to a master supplier agreement between the vendor and Centralized Supply Chain Services ("CSCS"), the exclusive supply chain cooperative for the IHOP and Applebee's systems, all 3,300 member restaurants have access to its energy efficiency services through a customized program. Look out for more IHOPs serving up pancakes with a side of energy efficiency at a restaurant near you!
— Al Subbloie is founder and CEO of Budderfly, the fastest-growing Energy as a Service (EaaS) company in the U.S. Budderfly is the premier sustainability partner for businesses with repeatable footprints, such as restaurant chains, assisted living facilities, retail franchises and more. Budderfly installs, monitors and manages a combination of patented technologies, equipment upgrades and proprietary energy software for its customers at no out-of-pocket cost. Visit www.budderfly.com.
classic-editor-remember:

classic-editor

bs_sponsor_advertiser_id:

109286

bs_sponsor_advertisement_id:

bs_ads_disabled:

abkw-text: