How global beauty brand L'OCCITANE en Provence harnesses the power of nature for the power of good.
By Katie Lee
1970s Provence. When 23-year-old Olivier Baussan first started distilling rosemary essential oil to sell locally, did he dream how much the beauty and flora of his beloved Provence would inspire a global cosmetics brand? How far his sunshine-and-lavender inspiration would reach, how powerful his message of beauty derived from nature would be?
"He fell in love with Provence," says Adrien Geiger, global brand director for L'OCCITANE en Provence. "He wanted to give the world everything he discovered in Provence, especially all of the power and the beauty of nature. This is how it began."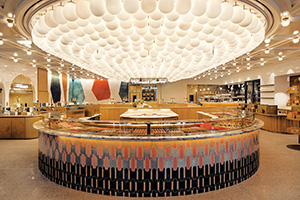 After founding L'OCCITANE en Provence in 1976, Baussan sold his company in 1992 to Austrian businessman Reinold Geiger — Adrien's father — who decided to export Provence to the world. He relocated headquarters to Geneva, Switzerland, and oversaw the brand's international expansion to more than 3,000 retail outlets in 90 countries.
Today, the natural cosmetics brand remains true to its Provençal heritage and yet, all around the world, consciously incorporates the design, culture and inspiration of the town and country in which it locates. Adrien Geiger, who joined the team in 2014, has a term for this global-yet-local feel: "glocal."
In a changing retail landscape, the company continues to 'go glocal' by opening unique flagship stores and finding new and creative ways to bring L'OCCITANE to new customers. All the while, L'OCCITANE communicates to customers not just the beauty and power of nature-based cosmetics but also the powerful message to give back to and take care of nature.
Stunning Flagships & Surprising Concept Stores, Reimagined
Located at 86 Champs Elyseés in Paris, this unique L'OCCITANE concept store opened in December 2017 and has inspired subsequent rollouts and remodels in London, Tokyo and New York.
"At 86CHAMPS we tried many new things," says Geiger. "Many of them worked, some of them didn't. It was like a living laboratory. It is deeply rooted to our [Provençal] roots, but at the same time connected to its Parisian environment. It's a 'glocal' store."
L'OCCITANE partnered with a well known local Parisian designer, Laura Gonzalez, to bring the store to life and with the award-winning world-class French pastry chef Pierre Hermé to bring his delectable confections on-site and also inspire the scents of L'OCCITANE products.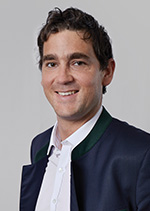 "The cooperation with Pierre Hermé has been super successful," says Geiger. "At the beginning, people couldn't understand why — why would a cosmetics brand mix with a pastry brand? But when people go there, they immediately see the connection. The partnership enables us to engage with all of the five senses, including taste."
L'OCCITANE now sells creams, soaps and fragrances that smell like Hermé's pastries. A new fragrance line, called 86, even uses some of the same ingredients found in the pastry recipe — and of course smells just as delicious. Gift baskets pair both beauty products and pastries.
Also in December 2017, a reimagined L'OCCITANE flagship store opened in London at a prestigious Regent Street location. There, a Pierre Hermé-operated café adjoins the store. Designed by a London-based architecture/design firm, the flagship seamlessly blends elements of Provence and London.
In August of this year, a newly remodeled flagship opened in the bustling district of Shibya, Tokyo, with an upgraded café also now operated by Pierre Hermé. Southeast Asia is one of the few markets in which L'OCCITANE still sees growth potential; most European and North American markets are considered mature. In North America, the company focuses on remodeling 30 to 40 existing stores per year rather than opening new stores. Last month, remodeled stores opened at Walt Whitman Shops in South Huntington, New York, and Westfield Old Orchard in Skokie, Illinois. Opening soon, after the holiday season, will be NorthPark Center in Dallas and South Coast Plaza in Costa Mesa, California.
Experience Matters
Unlike in other parts of the world where "traditional" retail still rules, customers in the U.S. crave different experiences. Stores need to be experiential, immersive, innovative. As Geiger puts it: "In the U.S., this is really where we need to surpass ourselves."
Geiger compares the idea to an art museum that rotates exhibits frequently to lure local visitors. Sure, tourists will come for the permanent exhibits, but how do you attract locals for repeat visits? L'OCCITANE's new 1,870-square-foot concept store in New York, which opened in August at 555 Fifth Ave., plays to tourists and locals alike.
"The only way is to create an exhibition of something completely new," explains Geiger. "It's the same with the store experience. How can we bring back the New Yorkers? So we have dedicated a whole area where the experience changes regularly."
Not far away is another L'OCCITANE store in Manhattan, in the Flatiron District, where the brand opened a spacious flagship in 2016. The question becomes: how do you cultivate different experiences between these two New York stores? Geiger says the Flatiron flagship is more like traditional neighborhood retail, where regular customers go for their ritual treatments such as facials and routine regimen beauty products. At Flatiron, loyal customers return for the trusted, reliable experience they have come to expect. On Fifth Avenue, however, both locals and tourists can experience — and return for — the 'wow' factors. 555 is more disruptive and will serve in particular to recruit new customers.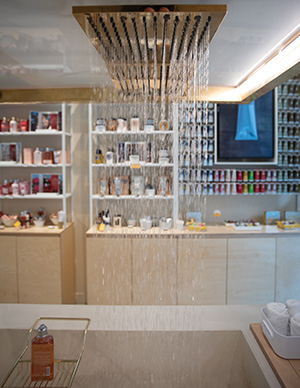 Wowing customers inside the Fifth Avenue flagship is a rain shower sink — which was first piloted successfully at the Yorkdale, Canada, flagship that opened in December 2017 — as well as an interactive skin consultation area and an enhanced fulfillment services "comptoir." There is even an area dedicated to social media, with a video live feed of the company's U.S. Instagram account, where the brand is trying to grow its presence. Shoppers can "bike through Provence" using stationary bikes against a scenic French background and augmented reality. Customers can also test the brand's first virtual reality experience, which takes them through a 360-degree hot air balloon ride though the south of France, while receiving a free, real-life hand massage with L'OCCITANE products. A curved bench underneath an olive tree rounds out the unique experience.
Popping Up, Down the Road
Speaking of unique, what better way to reach new audiences than to take your show on the road? Like bringing Broadway theater to the masses, L'OCCITANE en Provence has launched its first traveling store on wheels called "L'OcciTruck," which has been touring the U.S. this year . This spring it hit the Cherry Blossom Festival in Washington, D.C., and BeautyCon in New York. Currently, during the month of October, it is stationed as a pop-up store at The Grove in Los Angeles. Inspired by the vintage French Citröen H Van and L'OCCITANE's signature Provençal sunshine yellow, the truck features an interactive station to test and play with products as well as café-inspired seating. L'OCCITANE's travel retail team has used similar (albeit stationary) trucks in airport installations, as well as a pop-up concept café in Singapore at the Ion Orchard Mall in partnership with Janice Wong, the reputed Asian pastry chef and protégé of Pierre Hermé.
"Pop-up can play an important role in recruiting new customers," says Geiger. "Installing a temporary pop-up shop in a new retail scheme where we are unsure to commit to a long term lease enables us to test the location. We can also use pop-ups to maintain trade and customer loyalty when a store is being refurbished."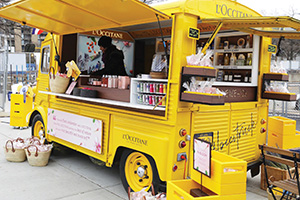 For example, L'OcciTruck stood in for the Walt Whitman Shops store on Long Island, which was temporarily closed this fall for renovations. After enjoying impressive receptions wherever it goes, the company is exploring the possibility of building a second truck.
Making a Global Impact
When Olivier Baussan founded L'OCCITANE en Provence more than four decades ago, he could not predict how important the "from nature" aspect of his beauty products would become to customers. It was simply what he believed in. When Reinold Geiger took the reins in the 1990s, he too believed in the beauty and power of nature — but he also thought that naturally and sustainably made products would gain mass appeal. As a company, L'OCCITANE had always sourced its products responsibly and practiced recycling. But today, with customers' heightened environmental awareness, the company is communicating more through its marketing and messaging.
"Nowadays we see this is something that's really important to them," Adrien Geiger says. "So we're starting to communicate. Officially starting this Christmas we are going to explain what we're doing and what we believe in. We want to use our 3,000 stores to make people aware, to show them they can have an impact and that they need to change their behavior in the way they consume."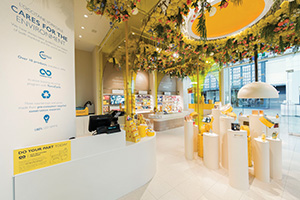 For example, L'OCCITANE will showcase and explain its recycling program, created in partnership with TerraCycle in 2014, in every store that offers it. Empty cosmetic containers (of any cosmetics brand) can be recycled inside the store. The company hopes to provide recycling facilities at all company-owned stores by 2025 (all stores in France already have them), as well as expand the program with TerraCycle to recycle non-readily recyclable material. "We want to achieve a circular economy where every material used can have a second life," says Geiger.
L'OCCITANE works with suppliers who design lighter packaging that prioritizes the use of recycled materials and aims to use 100% recycled plastics in its plastic bottles (currently 30%) by 2025.
The goal is to encourage people to recycle product packaging that might otherwise end up in our world's oceans. Encourage people to use eco-refills, which the company introduced in 2008 and use 90% less material than the original containers, representing a saving of 121 tons of material in 2017.
In addition to raising awareness about the dangers of plastic pollution, another cause dear to L'OCCITANE is protecting biodiversity. The company has been promoting organic farming in Corsica for more than 10 years through its 100% organic immortelle plantation program. Between 2010 and 2016, the company reduced its carbon intensity by 14% and aims for a 30% reduction by 2020. All factories and company-owned stores in France use 100% electricity from renewable sources. Since 2017, stores in the UK have begun transitioning to renewable electricity.
Respect for the environment has always been at the heart of L'OCCITANE en Provence. As Geiger puts it: "It's something that we've been doing all along, but we weren't telling anyone. Now, we want to tell and change the world."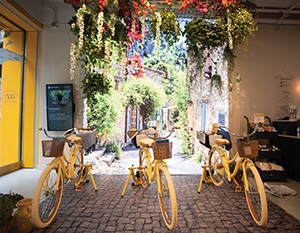 SIDEBAR:
Maintaining L'OCCITANE en Provence
R&R: What types of operational and/or typical maintenance challenges face your stores, and are they unique compared to other retailers?
In certain locations, we have aging properties (mainly in High Street locations). In some markets, such as the UK, the law expects tenants to be responsible for the upkeep of the landlord's properties. This is called "full repairing liability." So when a roof leaks or window frames become rotten, these are expensive items to repair and there is a legal expectation on the tenant to pay for this work.
We are progressively upgrading our store lighting to LED. All new and refurbished stores have LED lighting installed as standard.
While many of our maintenance issues are typical (HVAC, plumbing, electrical/lighting, cleaning, etc.), we are continuously looking to reinvent the in-store experience, and this ambition brings its own unique set of challenges.
In recent years we have added a variety of new elements to our stores including: digital screens and video walls, community and rain shower sinks, digital tables, immersion pods, VR experiences, laser engravers, fragrance clouds — and of course an authentic vintage (1970s) truck! Each one of these new experiences has to be carefully thought out, with a clear maintenance/monitoring program put in place to ensure seamless operations.
R&R: To handle such challenges, does L'OCCITANE en Provence have a corporate maintenance department in-house or do you outsource to third-party service providers?
To support our boutiques in the U.S. and Canada (where we have around 230 stores), we have a dedicated "Boutique Care" team in place, based in our New York City corporate office.
This team uses the ServiceChannel platform and a network of pre-qualified vendor partners to service our store portfolio.
R&R: By what criteria do you choose your R&M vendors?
The North America Boutique Care Team sends out an RFP on a regular basis, allowing us to easily identify and assign the most qualified vendors to ensure that we are working with the best.
Our vendors must demonstrate technical expertise and experience, be able to respond quickly and incorporate the most efficient practices to maximize the level of service to our boutiques.
The headline measure of success are cost effectiveness, quality of work and timeliness of completing the work.
— This article originally appeared as the cover story of the October 2018 issue of Retail & Restaurant Facility Business magazine. Email the editor, Katie Lee, at [email protected].