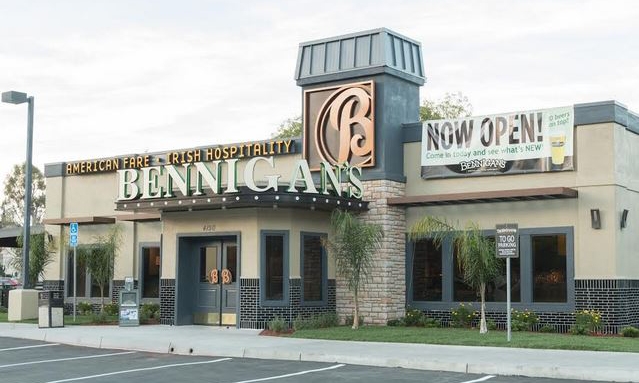 Dallas — By reestablishing the emotional connection that has existed with its fans for more than half a century, the Bennigan's brand has just wrapped up another successful year, and higher growth is projected in 2018.
Operating under the Legendary Restaurant Brands banner, Bennigan's experienced a healthy system growth of 10% in 2017* along with average unit volume (AUV) compound growth in excess of 40% over the last 3 years. The brand is poised for a robust 20% growth rate in 2018.
New Bennigan's franchised restaurants opened in the U.S. in Sacramento, Calif., and Lexington, Ky., and internationally in Qatar and Amwaj Islands, Bahrain. Additional domestic units are currently under construction for 2018 openings in Jackson, Tenn.; Monahans, Texas; Steubenville, Ohio; and Mandan, N.D.
Over the past year, Bennigan's launched new menu and introduced a new beverage menu. The company also unveiled a new Bennigan's app — now available for download. Online ordering is scheduled to launch in first quarter 2018.
"We've just completed another strong year of growth for Bennigan's, hitting on all cylinders with our food, beverages, restaurant design and iconic brand," says Paul Mangiamele, chairman and CEO of Legendary Restaurant Brands. "We know that our growth potential is exceedingly high — both domestically and overseas — and that our brightest days are just around the corner."
Legendary Restaurant Brands owns the iconic Bennigan's and Steak and Ale brands — the pioneers of casual dining — as well as the non-traditional brand, Bennigan's On The Fly. For more information, visit Bennigans.com.
SOURCE: Bennigan's
*Per its 2016 FDD Item 19, Financial Performance Representations, Bennigan's new prototype average gross revenue is $2,413,345 versus $1,662,981 for legacy restaurants.