With 18 new stores planned in 2018, Big Frog Custom T-Shirts & More is jumping into niche retail with a big splash.
By Katie Lee
It's not every day that a retail T-shirt concept is created by a group that never intended to get into the T-shirt business in the first place. Or that the group comprises former scientists who emblazoned T-shirts with nerdy yet hip sayings like "Geology Rocks." But that's just how it happened for the original startup company, Uniquely Geek, that would eventually morph into Big Frog Custom T-Shirts & More®, a Dunedin, Florida-based high-technology garment decorating retail franchise with 82 stores open in 24 states and 18 more planned in 2018.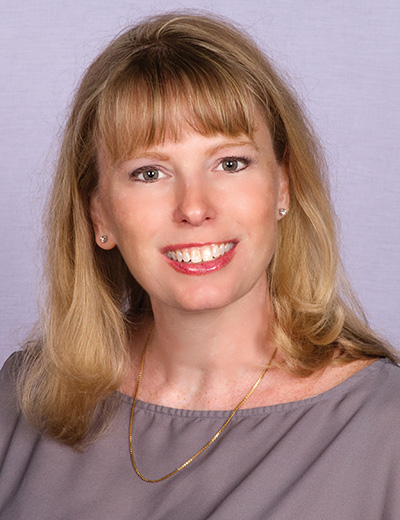 Co-founder Tina Bacon-DeFrece, Ph.D., has been in the trenches since Day 1, first with Uniquely Geek and now with Big Frog, and for all the bumps and learning curves along the way. As Bacon-DeFrece recalls, Uniquely Geek faced a daunting uphill climb in the early days when it came to stocking inventory — and the inventory lessons learned served her well with Big Frog.
"First, screen printers wouldn't call us back and had horrible reputations," she says. "Second, we didn't have the capital for thousands of styles, sizes and colors that were required for screen printing. We found a technology that allowed us to print T-shirts on demand and started that way."
Within a year, the company was "totally inundated" with custom T-shirt requests and pivoted its focus to custom T-shirt design and printing, shelving the Uniquely Geek idea. Big Frog took off from there. In nearly 10 years of franchising, the company already has awarded 100 units. Big Frog partners included Bacon-DeFrece, a chemical engineer and now Big Frog president; her husband, Ron DeFrece, vice president and chief operating officer; and Leeward Bean, an ex-scientist colleague from their days working for Ocean Optics, a scientific instrumentation company in Dunedin, Florida.
The first Big Frog store opened in 2009 in Clearwater, Florida; by 2014 the company had 50 stores. In 2017, system-wide gross revenue was up 15%, all while continuing to expand into new markets nationwide. Now with an in-house franchise development team, the company awarded almost 20 franchise agreements and opened 11 new stores throughout the past year, with nine more slated to open in first quarter 2018.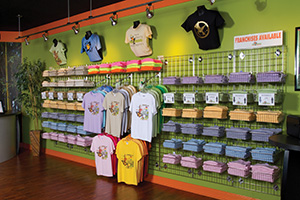 "Other than our initial private placement, we haven't had to raise any additional funds to grow Big Frog," says Bacon-DeFrece. "Essentially by franchising, we have lots of investors/franchisees who have the same vision and commitment to success that we do. The difficult part was finding those first 10 or 15 people who believed in Big Frog's potential."
Taking care of its franchisees first — and coaching them up — has played a big part in Big Frog's success. And, it's not a bad way to grow a new retail concept. "Franchising is definitely the more foolproof method to developing a retail business system," says Bacon-DeFrece. "Instead of hiring managers and incentivizing them to care about the success of a chain store, these owners are self-motivated and have a true desire to succeed."
Big Frog cannot emphasize franchisee performance enough. Each franchisee is an independent, local owner who needs the store to succeed. As another win-win revenue generator, the company emphasizes profit-and-loss statements to its franchise owners — not just to point out company revenue but to emphasize how much the franchisees themselves take home at the end of the day. During the past 4 years, Big Frog has reinvested all of its revenue in personnel, technology and programs to improve its franchise owners' profitability.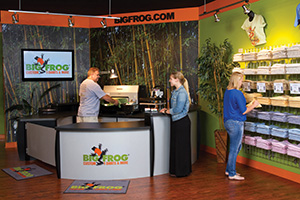 "Our coaches really focus on the owner's P&L statements and pick through areas like COGs, discounting, payroll, etc., to make sure they are maximizing their profits," Bacon-DeFrece explains. "Of course, we have strong marketing programs that they can implement to generate additional revenue as well. While we are promoting the brand at a higher level, they are boots on the ground promoting themselves and Big Frog to their local community."
In addition to being a franchisee-first business, Big Frog attributes much of its success to creating a custom product that is exactly what the customer wants. The customer helps to design the shirt, picks the style and can even watch it being printed. It's like ordering a sub sandwich — and all at a reasonable price point. Additionally, Big Frog has no barriers to purchase. If someone needs an embroidered or screen printed shirt, with most companies you have to order a minimum (large) number in bulk, or there are design charges and weeks of lead time. Big Frog has none of these.
Big Frog stores usually span 1,200 to 1,600 square feet in A- to B+ real estate locations. The company tries to avoid centers that have too many service-based businesses since, according to Bacon-DeFrece, this does not help to promote walk-in traffic.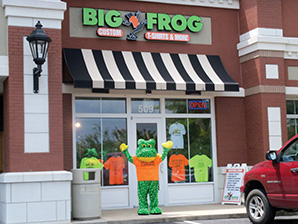 When it comes to maintaining its stores, Big Frog is fairly low-fuss. You might think its printers would cause a challenge, but Bacon-DeFrece says that isn't so. "Fortunately, the printers we use for manufacturing are very reliable," she says. "We have three certified technicians on staff to help troubleshoot, and in general all issues can be handled over the phone. If it is an extreme repair, our vendor has technicians in the field who can be dispatched. It's one of the reasons we use the printers that we do. They are very modular and it's very easy for an owner to swap out parts themselves."
The printers are also relatively eco-friendly. The inks and cartridges are water-based with no hazardous byproducts. And, the cartridges can be recycled.
That being said, doing light manufacturing does make Big Frog unique as a specialty retailer. "We certainly have different requirements including printers and heat presses; however, we have very little inventory to track in our stores," Bacon-DeFrece says. "We keep enough inventory to offer a selection of styles to choose from and enough to do a fast turnaround if someone has a last-minute order. We keep around $5,000 to $7,500 in product, which makes maintaining our stores simple."
Big Frog's strategic partners are national vendors. But, once a store gets approval, it can use local vendors in its network. "However, with that being said," Bacon-DeFrece says, "we've negotiated phenomenal deals with our national vendors that our buying power has leveraged."
Big Frog prizes a vendor's quality of product above all. A close second would be the vendor's commitment to customer service. "We require samples of their products for inspection and are made aware of any defects that may arise," Bacon-DeFrece explains. "We also want to confirm that they understand how our owners need to be treated. They are our best customer and they should be theirs as well. I don't want to neglect pricing, but we will definitely not approve a vendor that is over-priced."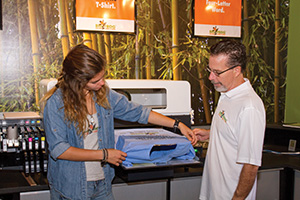 In addition to partnering with the best vendors in the business, Big Frog has worked hard to improve its operations system-wide. Technology plays a big part of that. "We are looking at new platforms for integrating much of our data including key performance indicators, production workflow, real-time inventory, digital footprint and more," Bacon-DeFrece says. "Our printing technology is at its best iteration now, and we're working with our stores that aren't using the newest printer to update them to the new technologies."
Working with the stores, in fact, is the best part of Bacon-DeFrece's day. "You can never get bored in franchising," she says, noting the constant opportunities in financials, store design, equipment, marketing and leadership that always need to be addressed. "Plus, you get to work with a huge, extended family that all has the same professional goal in mind: Big Frog's success."
As the $50 billion garment decorating industry continues to grow, Big Frog's franchise development goal for the continental U.S. is 300 stores within 5 to 7 years. During the 2018-19 timeframe, the company hopes to expand into Canada as well. Also in 2019, Bacon-DeFrece fully expects to see at least one million-dollar Big Frog store.
"Honestly, I never imagined that that much revenue could be generated from one store. I remember when we were thrilled to make $300,000 in our first store," she recalls. "I'm amazed by what our owners have accomplished, and I don't see the ceiling on what a single store can generate in revenue."
— This article originally appeared as the March 2018 cover story of Retail & Restaurant Facility Business magazine. Email the editor at [email protected].