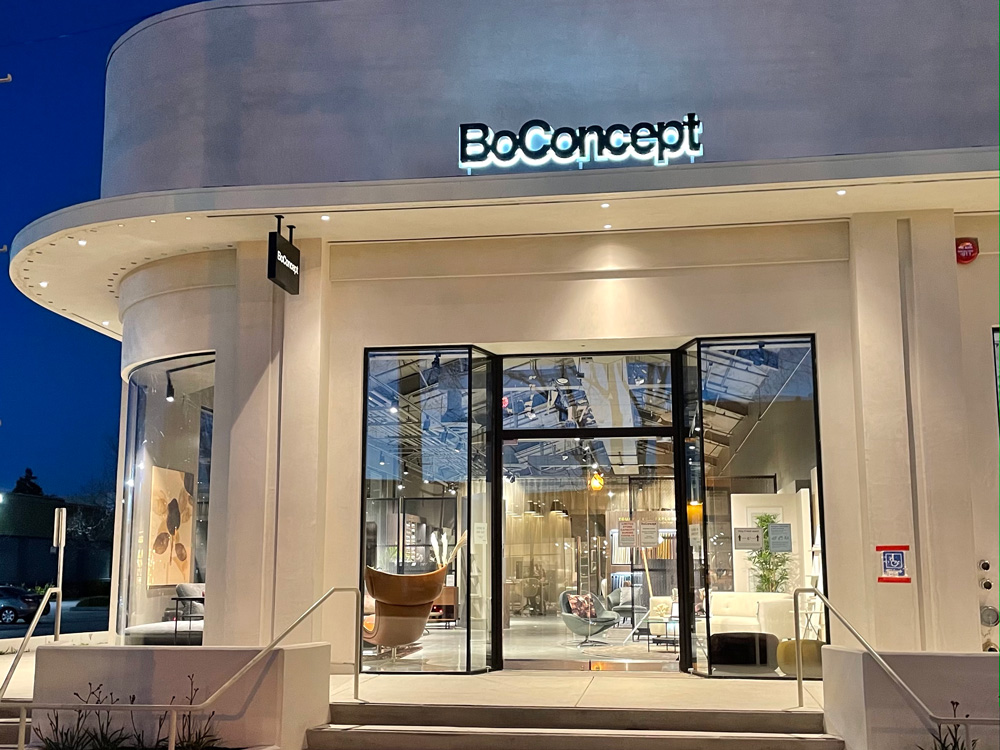 Berkeley, Calif.— Danish furniture franchise BoConcept has added a new location to its roster of functional-furniture stores around the world, but this one is different from all the others in the U.S. Helmed by multi-unit franchisees Søren and Caroline Krogh-Jensen, the new BoConcept, which opened in Berkeley, Calif., on February 11, is the franchise's first digital-experience store in the U.S.
Working with global consumer-engagement agency The Marketing Store and in-store digital-experience developers Ombori, BoConcept has developed a cutting-edge new retail experience that offers customers the best of both online and in-person shopping experiences, including: access to case studies from around the world, consultations with expert interior designers, interactive quizzes to find items that perfectly complement each customer's style preferences and the ability to view and customize items from a collection of items far too vast for any single store.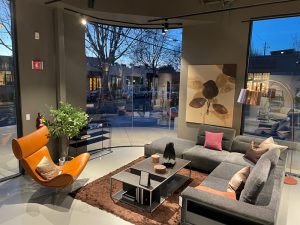 Berkeley's new digital-experience BoConcept store is the first of its kind in the U.S. and only the fifth worldwide. It is also the fifth BoConcept in California, the third owned and operated by the Krogh-Jensens, who have been with the franchise brand for 23 years.
Though their third BoConcept store introduces a new model to the U.S., Søren says the success of the store will depend on providing the same customer experience that can make or break any retail store.
"Every successful store puts people first," Søren says. "It doesn't matter where you are in the world, with retail, you have to be dedicated to providing the best possible experience for every single customer who enters your store."
The new digital-experience store is not BoConcept's first foray into e-commerce. Throughout the COVID-19 crisis, the franchise launched a variety of virtual solutions to engage with customers while showrooms were closed in markets around the world.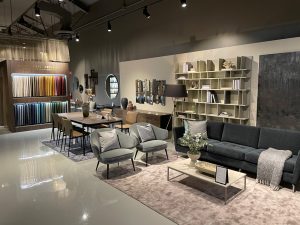 "We have been evolving rapidly over the past year to meet consumer demand," says Steen Knigge, BoConcept's director of U.S. marketing. "When the pandemic hit, we quickly launched virtual showrooms, a personalized chat feature on our website and other key pivots to make the shopping experience safe and easy for our customers. Now, we are taking that a step further, providing the benefits of our virtual experience to customers who want to shop in-store. This is our first digital-experience store in North America, and we look forward to bringing the same experience to all of our new and existing stores across the globe."
BoConcept was originally founded in Denmark in 1952 and began franchising in Paris in 1993. Today, BoConcept boasts a franchise footprint of more than 300 locations in 65 countries. The brand continues to expand the business and aims to reach 600 stores globally.
BoConcept is actively targeting the markets of Austin, Texas; Chicago; Houston; Phoenix; and Scottsdale, Ariz. For more information, visit www.boconcept.com/en-us/franchise.
BoConcept was founded in Denmark in 1952. Since opening its first franchise in Paris in 1993, BoConcept has become a global leader in the design of bold, stylish furniture, boasting nearly 300 locations in 65 countries around the world. BoConcept's 15 U.S. locations include a flagship store, which opened in December 2017 on New York City's famed Madison Avenue. For more information, visit www.boconcept.com.
SOURCE: BoConcept
classic-editor-remember:

classic-editor

abkw-text: