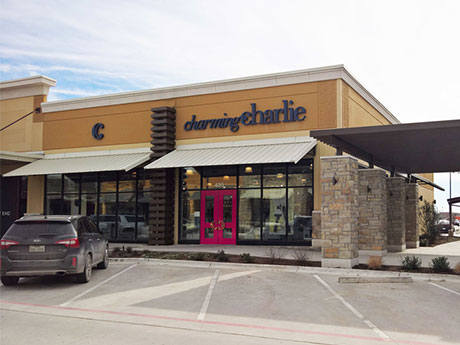 Houston — Charming Charlie, a women's fashion and beauty chain based in Houston, filed for Chapter 11 bankruptcy on July 11, 2019. It is the second time the retailer known for its colorful displays of jewelry, handbags, apparel and beauty products has filed for bankruptcy in less than 2 years. The company now plans to close all 261 of its remaining stores across 38 states.
The retailer's first filing was in December 2017, and the financial restructuring was completed the following April. However, the company continued to struggle following the reorganization and, according to the new filing, only has $6,000 in cash on hand compared to debt of $82 million.
The Charming Charlie website was not accepting e-commerce orders during the first restructuring, but had just relaunched in August 2018. As of July 12, the site was once again not accepting orders.
The stores are located almost exclusively in malls, with 125 locations in lifestyle centers, 80 in shopping malls and 50 in power centers. The remaining locations are two street stores and four outlets. Texas, Florida and California host the most brick-and-mortar locations with approximately 75 stores in total.
The first bankruptcy left THL Credit with the largest stake in the company, at 42.8% according to the new filing. The next largest owners are Sierra Income Corp. with 11.6% and Cion Investment Corp. with 10%.
In its new bankruptcy filing, CFO Alvaro Bellon suggested a variety of challenges led to the company's failure to succeed coming out of reorganization:
The retail industry's general move from brick-and-mortar sales to e-commerce.
Landlords refusing to offer lease concessions and forcing the company to keep 50 underperforming stores open.
Depressed consumer spending in the economy overall due to severe weather events in the first quarter of 2019.
Lower tax returns in 2019 due to recent tax reform measures caused shoppers to have less cash on hand, causing lower spring spending that hit "particularly hard because the reduced consumer spending roughly coincided with Mother's Day, which has historically been one of [our] most profitable holidays."
New tariffs increasing product costs, as "many of Charming Charlie's suppliers are located in Asia, particularly China. The increased tariffs have reduced Charming Charlie's already slim margins."
Poor staffing at stores coming out of the previous bankruptcy filing, followed by competitors recruiting the few remaining staffers away from the company and exacerbating the problem. "Some stores were left with a single associate for numerous hours."
The company expects going-out-of-business sales at the remaining locations to take 2 months and generate approximately $30 million. The plan calls for all stores to be closed by Aug. 31.
Charles Chanaratsopon founded Charming Charlie in 2004. At its peak before the first bankruptcy, the company operated over 390 stores in the United States, Canada, Middle East and Philippines.
Chanaratsopon was listed as No. 27 on the Forbes2016 list of richest entrepreneurs under 40, with a net worth of $450 million. According to that profile, he founded Charming Charlie as a side business to help fill out malls he was developing in Houston.
— Jeff Shaw
classic-editor-remember:

classic-editor

abkw-text: