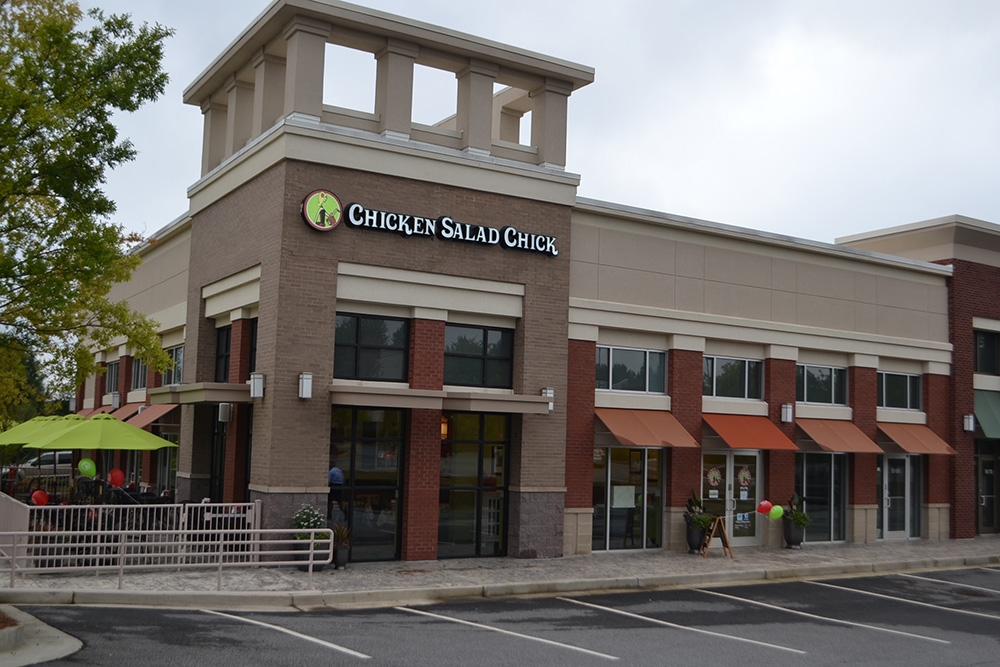 Auburn, Ala. — Chicken Salad Chick, the nation's only Southern inspired, fast-casual chicken salad restaurant concept, will open its 100th restaurant on November 8, 2018 just outside Lexington, Ky., in Nicholasville. This milestone marks the brand's first location in Kentucky and emphasizes Chicken Salad Chick's accelerated growth, with 22 new openings to date this year and an additional six slated to open by the end of 2018.
"We're so proud to be opening our 100th restaurant and to see how far the brand has come since its launch," says Scott Deviney, CEO of Chicken Salad Chick. "This is a significant achievement that wouldn't be possible without our passionate franchisees and loyal guests. We're thankful for their unwavering support and look forward to continuing the momentum as we grow Chicken Salad Chick."
The Nicholasville restaurant is owned and operated by first-time Chicken Salad Chick franchisees Vickie and John Tranter. The Tranters have an extensive background in foodservice and hospitality and have been business owners for more than two decades. Prior to franchising with Chicken Salad Chick, they owned a variety of other concepts including Fazoli's, Hampton Inn, Holiday Inn and Best Western locations throughout Virginia and Ohio, and currently own an Auntie Anne's Pretzels in Lexington.
"John and I have been in the business for a long time, and we know a good concept when we see one. I knew immediately after experiencing Chicken Salad Chick firsthand that this was a brand we had to be a part of," says Vickie Tranter. "We're so thrilled to be opening the brand's 100th location and look forward to bringing such a unique concept to the greater Lexington area."    
The Chicken Salad Chick concept was established in 2008 in Auburn, Ala., in the kitchen of Stacy Brown. She and her future husband and fellow co-founder, Kevin Brown, later opened a small takeout restaurant, which began franchising in 2012. In 2015, Eagle Merchant Partners purchased a majority stake in Chicken Salad Chick, and under the leadership of CEO Scott Deviney and team, the company now has 100 restaurants in 12 states across the Southeast.
For more information, visit http://www.chickensaladchick.com.
SOURCE: Chicken Salad Chick