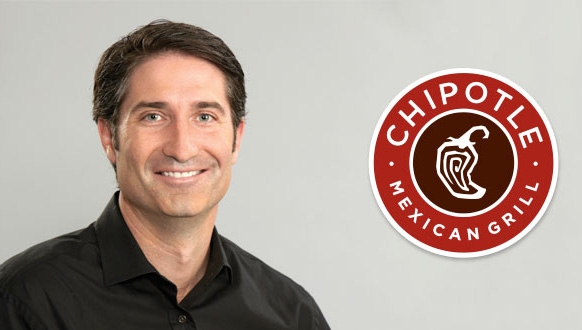 Denver — Chipotle Mexican Grill's board of directors has appointed Brian Niccol as chief executive officer and a member of the board, effective March 5, 2018. Niccol most recently served as CEO of Yum! Brands' Taco Bell division, where he was responsible for the highly successful turnaround of the business.
"Brian is a proven world-class executive, who will bring fresh energy and leadership to drive excellence across every aspect of our business," says Chipotle's chairman, CEO and founder, Steve Ells, who will become executive chairman. "His expertise in digital technologies, restaurant operations and branding make him a perfect fit for Chipotle as we seek to enhance our customer experience, drive sales growth and make our brand more relevant. The board is confident that Brian's passion and skillset ideally position him to make the bold moves needed to improve operations and take the company to the next level, all while remaining true to our purpose and the values that are essential to our customers."
Prior to joining Chipotle, Niccol was at Taco Bell from 2011 and served as CEO from January 2015 and president from 2013 to 2014. Under his leadership, he successfully repositioned Taco Bell as a lifestyle brand and successfully launched numerous product initiatives, including the new breakfast daypart, the fastest growing daypart in the industry. He transformed Taco Bell into a social media leader and revolutionized its digital approach through mobile ordering and payment across its 7,000 restaurants. He also created a people-centric innovation culture that has been recognized throughout the industry.
Prior to Taco Bell, Niccol held leadership roles at Pizza Hut, including vice president of strategy, chief marketing officer and general manager.
Chipotle opened with a single restaurant in Denver in 1993 and now operates more than 2,400 restaurants. For more information, visit www.chipotle.com.
SOURCE: Chipotle Mexican Grill
Tagged under