Energy efficiency: How operational changes impact operating budgets without sacrificing space comfort.
By Mark Barraclough
A leading self-performing HVAC preventative maintenance service provider recently teamed with industry leaders SIEMENS and Nexant to conduct an efficacy study. The study demonstrated how HVAC tune-up and efficiency can be calculated into a corresponding investment in energy efficiency for rooftop units. Whether for small retailers or big box stores, the objective was to test if preventative maintenance and regular tune-ups could save retailers money and energy by minimizing risk of equipment failure and reducing service calls, while also maximizing utility rebates in the process. The test site was a big box retailer in Austin, Texas, and testing was conducted August 2 through September 30, 2013.
Retailers have two types of end users: the customer who patronizes their retail establishment and the employees who work there every day. Both expect to be comfortable while in the store, which means maintaining an optimal temperature of 74 degrees during the warm months and 68 degrees during cooler months. For the owner and manager, internal and external customer satisfaction should be their primary goal.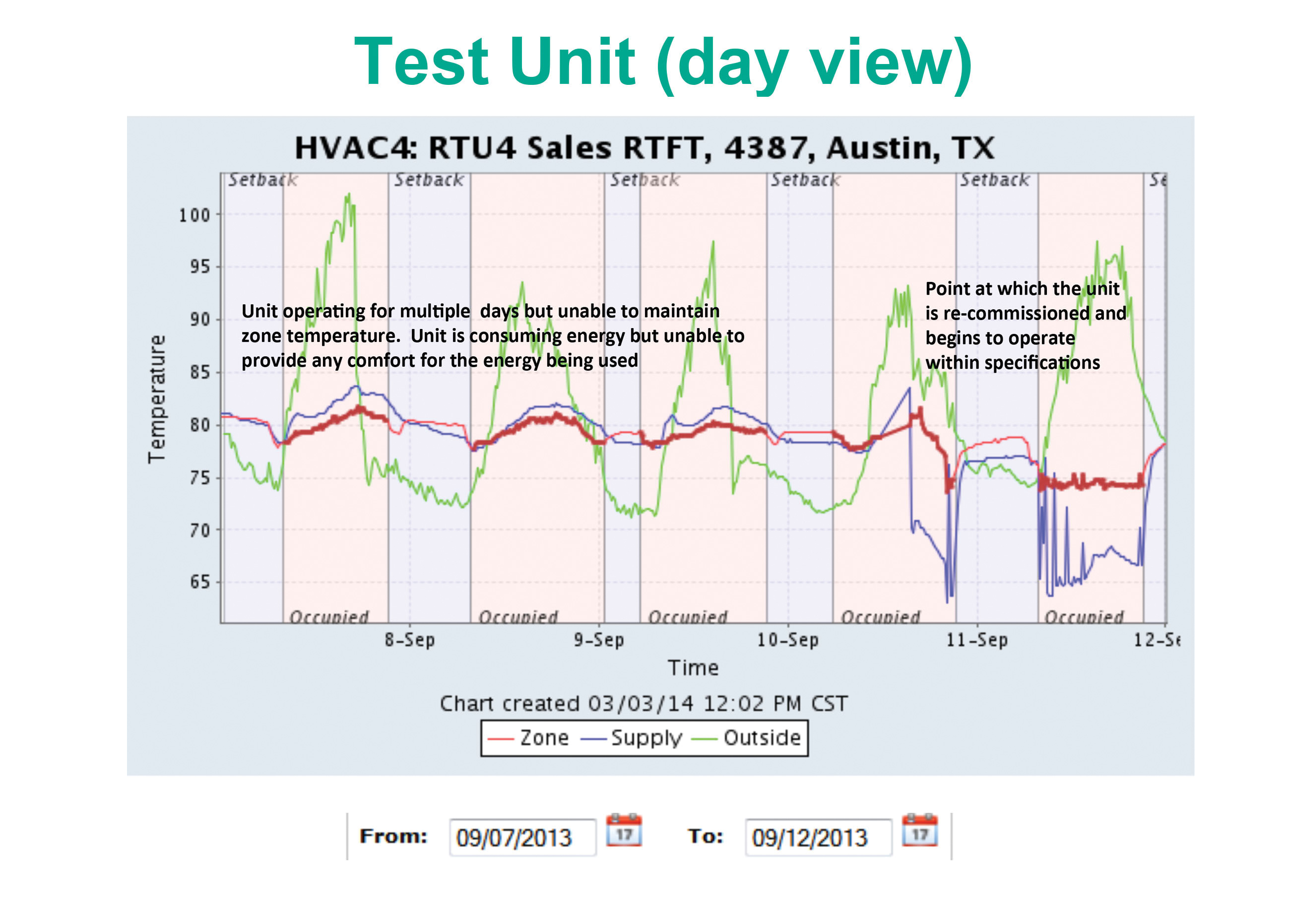 The challenge of this particular study was two-fold. First, maintaining a comfortable store environment requires proper HVAC maintenance, which often means the property manager decides between a proactive maintenance program and a reactive approach to maintaining their rooftop units. Cost to provide a quality program versus cost to respond only when repairs are needed is often the deciding factor. The second challenge was helping retailers understand that deferring preventative maintenance actually increases their overhead and their emergency service visits.
Purchasing an HVAC rooftop unit can be compared to buying an automobile. Let's face it: You purchase both to serve your needs and you hope to get the maximum life out of each, especially since each purchase requires a healthy investment and both depreciate over time. Would you purchase a car and not maintain the mechanics until an emergency occurred? Rooftop units are similar in that they are designed to provide 15 years of life — if properly maintained. Ensuring that your store has the proper PM program in place helps guarantee that you maximize the life of the unit.
Fortunately, with today's technology, HVAC equipment is much smarter. As used for purposes of the study, technicians can remotely monitor equipment with an EMS (energy management system) or with local hand-held devices such as the HVAC Service Assistant tool that more advanced HVAC technicians use today. Both tools are designed to allow remote monitoring and to more efficiently make decisions regarding servicing the units and/or replacing parts. New HVAC units are also designed more efficiently than in years past, reducing operational expenses, including energy bills and repair and maintenance (R&M).
The goal of a quality preventative maintenance program (PM) is to maintain the rooftop unit(s) at its maximum peak efficiency through periodic scheduled maintenance visits for services such as cleaning coils and checking the overall operation of the refrigerant charge and electronic components on the unit. Deferring this maintenance only defers a portion of the overall HVAC operations expense, and poorly maintained HVAC units suffer more emergency service calls. When HVAC units operate at their maximum peak efficiency, not only are customers more comfortable, monthly energy bills and service calls are also significantly reduced. For those retailers that implement a smart PM program, utility companies will reward them with energy rebates, further reducing their overhead.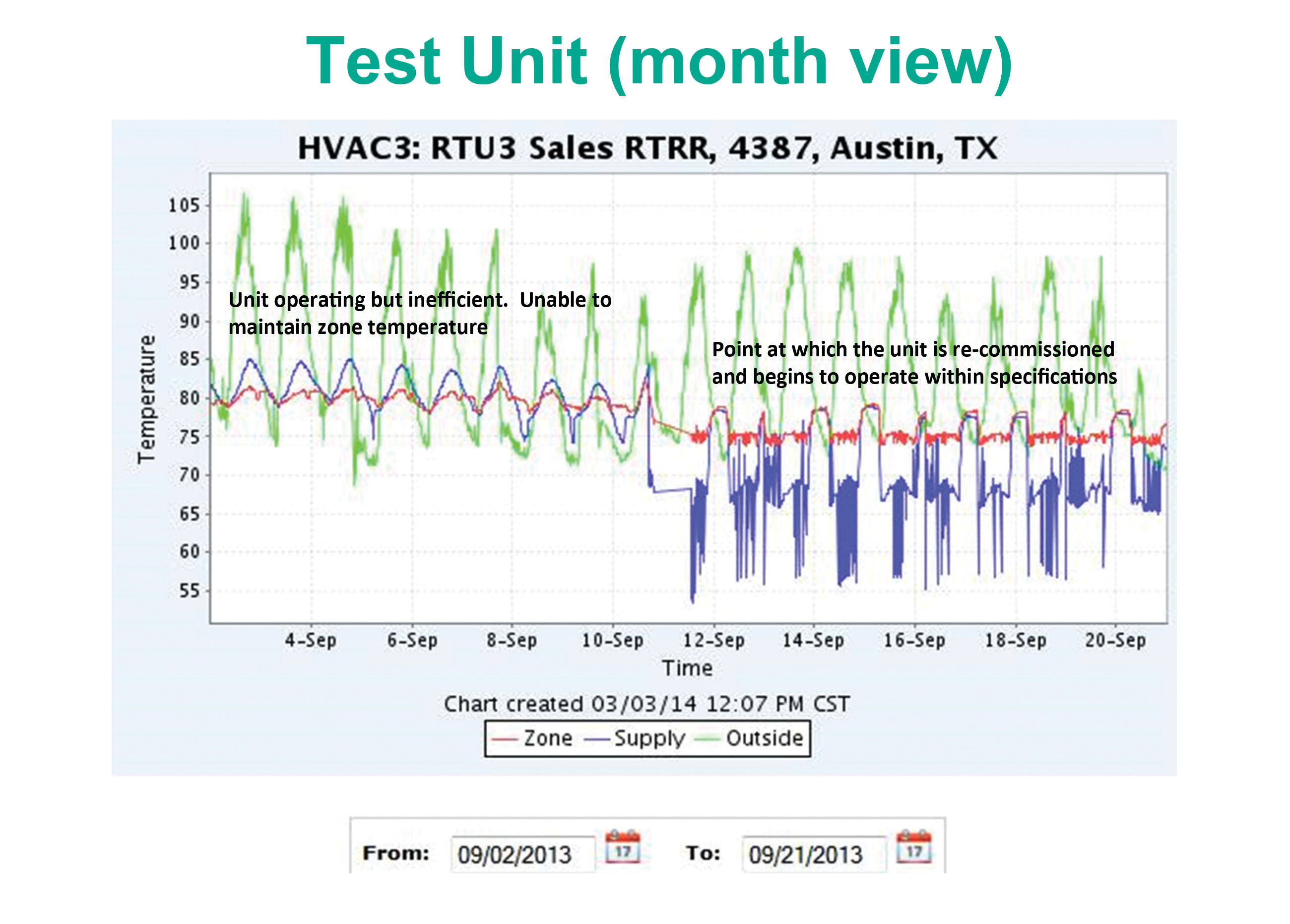 The end result cost savings between the preventative maintenance program and a reactive approach to HVAC maintenance were impressive. The rooftops units that were properly restored, maintained and cleaned over the course of 2 months, during the hottest months of the year, used less energy (kWh) and operated at peak efficiency levels as predicted, as compared to the same time last year.
The collaborative study reported significant savings during the August to September 2013 test period. Additionally, outside air temperatures (OSA) during the same timeframe in 2012 were slightly cooler than OSA in 2013, during which the PM program was being conducted. For example, in August 2012 the actual OSA ranged from 89 degrees to 107 degrees as compared to actual OSA in August 2013 ranged from 96 degrees to 107 degrees, according to AccuWeather.com.
The actual difference in energy usage as compared to the same period in 2012 was 4,251 kWh across all RTUs. Allowing a 10% weather adjustment, this site experienced 3,826 kWh savings over that period. Annualized out, it is an estimated savings of more than 35,000 kWh.
With the implementation of the preventative maintenance program, the experienced energy savings also qualified the retailer for utility company rebates. Customers and employees reported a marked difference in store temperature comfort levels, improving internal and external customer satisfaction.
— Mark Barraclough is president of Alpine Mechanical Services, LLC, a self-performing leader in commercial and retail HVAC preventative maintenance, energy efficiency and repair services in 12 states along the East Coast. Alpine now also provides subcontracted HVAC services in all states east of the Mississippi. For more information, email [email protected].