— By Garrett Fishaw —
4 ways to improve your curbside pickup and delivery services.
Curbside pickup and food delivery apps have taken the restaurant and grocery industry by storm. No longer do customers have to physically enter retail and restaurant locations to enjoy their products. Whether it's a cheeseburger from McDonald's or a week's worth of groceries from Walmart, it can be had by logging into a mobile app, clicking a couple of buttons, and voilà, it's either on the way or waiting to be picked up.
Convenience is the name of the game — and the game is buzzing. Hundreds of thousands of businesses around the country have already joined, but not all of those restaurants, retail stores or grocery stores are thriving. Not yet, anyway.
Here are four helpful ways to improve curbside pickup and delivery services:
Get On An App
Having an individual app was the move not too long ago. And for some global giants, like Amazon and Walmart, it still works. However, for the majority of businesses, that time has passed, and it is not much more cost-effective to join a popular app.
Nowadays, there are a ton of food delivery and retail pickup apps out there to fit exactly what you're looking to do, including:
Food Delivery Apps
UberEats
DoorDash
GrubHub
Seamless
Postmates
Grocery Delivery Apps
InstaCart
Shipt
PeaPod
Beelivery
GoPuff
Whether it's a mom-and-pop pizza shop or a nationally franchised grocery store, businesses are missing out on a ton of sales and opportunities by not joining (or making) an app or website for delivery or pickup services.
Structure the Staff
With any business, having a systematic structure to the staff is important. But when adding a new feature, like delivery or curbside pickup, there are some moving parts that the staff may have not dealt with before. There will need to be dedicated staff to input orders, collect/make and run orders, and manage the entire system. This can be a restructuring of the staff or, with the expected increase in sales, could be an opening to add some new faces to the team.
Select Appropriate Packaging
One of the more overlooked aspects of food and grocery delivery is the packaging. Whether it's the direct food container itself or the bags it's being delivered/picked up in, pick something that is effective, appropriate, reusable and branded properly. Customers want hot meals to stay hot, not sweaty and messy. They also want cold meals to stay cool and fresh. To ensure messes don't happen, have containers that ensure the liquids stay sealed and do not spill all over the car or customer. On top of the functionality, businesses will want to brand their boxes or bags with logos and contact information.
Designate Parking Spots with Proper Signage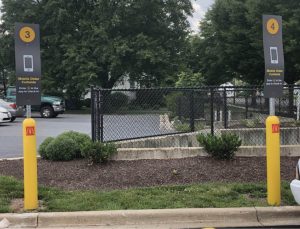 Whether customers will be visiting locations to pick up their orders or delivery drivers will be picking it up, having designated parking spots are key. These assigned spots will make it simpler for the driver to be in and out without issues. That is why it is important for the spots to be well maintained, close to the building, well lit and well-marked.
To mark the spots or loading zones, there are several options on the market:
If the business is looking for something permanent, a bollard sign system is a great fit. The steel bollard with a signpost and signage is simple to install, adds a touch of protection to your storefront, and can be designed in any color scheme imaginable to match branding needs. But not all businesses can just install bollards in their parking lots or storefronts.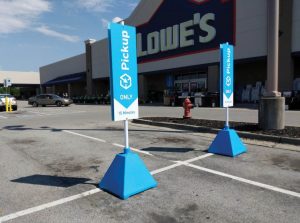 For the temporary option that can be added or removed whenever necessary, a portable plastic sign base is the perfect fit. As strong as concrete (when properly filled) but light enough to maneuver and transport for employees, the portable sign base will clearly mark designated parking spots to make courier's and customer's lives easier. The sign bases can be designed in any color to standout or match branding needs, and can be designed with custom company logos and decals to really make them pop.
Curbside pickup services continue to become more and more popular. Businesses that have fully committed to pickup services have had an advantage as customers tend to appreciate the ease of service.
— Garrett Fishaw is marketing and communications director for Ideal Shield, a minority-owned & family operated manufacturing company in Detroit that is celebrating 25 years in business throughout 2022. Email: [email protected].
classic-editor-remember:

classic-editor

bs_sponsor_advertiser_id:

109286

bs_sponsor_advertisement_id:

bs_ads_disabled:

abkw-text:
Tagged under