Papa Murphy's take 'n' bake pizza rolls out a new store prototype and plans to open approximately 100 new units a year.
By Katie Lee
Papa Murphy's doesn't claim to have invented the take 'n' bake pizza concept — but it certainly seems to have perfected it. The Vancouver, Washington-based pizza chain, whose roots date back to the 1980s and today operates approximately 1,430 units, is enjoying increasing popularity and a growth spurt — with around 100 new stores opening annually. Additionally, a new store prototype called CREATE has rolled out to accentuate the attributes of the Papa Murphy's brand while also communicating an image of quality and value.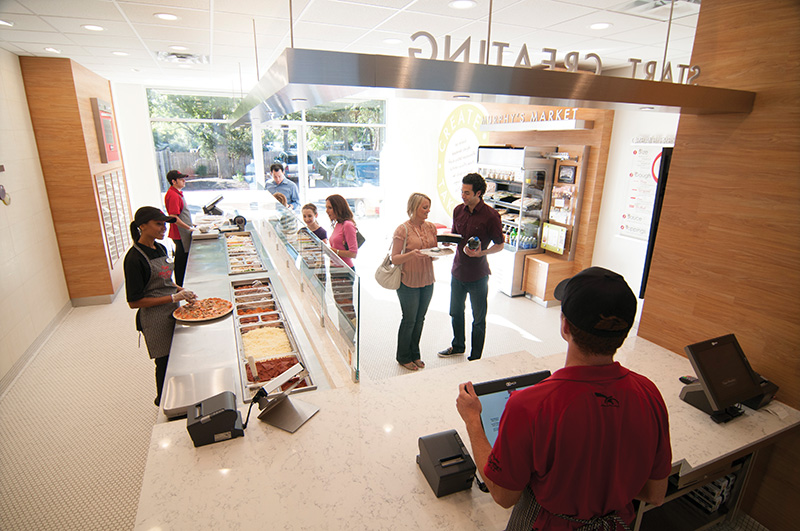 "If You Create It, It Takes 'Fresh' To A Whole New Level"
The innovative prototype was crafted by San Francisco-based Tesser, a brand strategy and retail design firm whose specialty is restaurant design. Nine months and numerous focus groups later, the CREATE pilot program launched in fall 2013. Currently, approximately 10 restaurants feature the new design, with plans calling for franchisees to open new units and remodel existing units with the new look.
"We think CREATE is a culmination of all of those things that really differentiate our brand — such as, we make fresh dough in every store daily and shred cheese from whole block mozzarella. Those are a lot of things that other chains don't do," says Kevin King, chief development officer for Papa Murphy's. "Lots of people say they're fresh, but if you create it, it takes 'fresh' to a whole new level. We customize for customers like nobody else does."
CREATE evokes not only fresh ingredients but a wide assortment of choices — the fact that you can get anything you want on your pizza. A modernized, open layout showcases the scratch-made dough prep area, hand-chopped vegetable toppings, and freshly grated whole-milk mozzarella cheese. The store flow allows customers to see their pizza being created right before their eyes. And, because customers bake the pizza at home, the final act of their creation is created at home.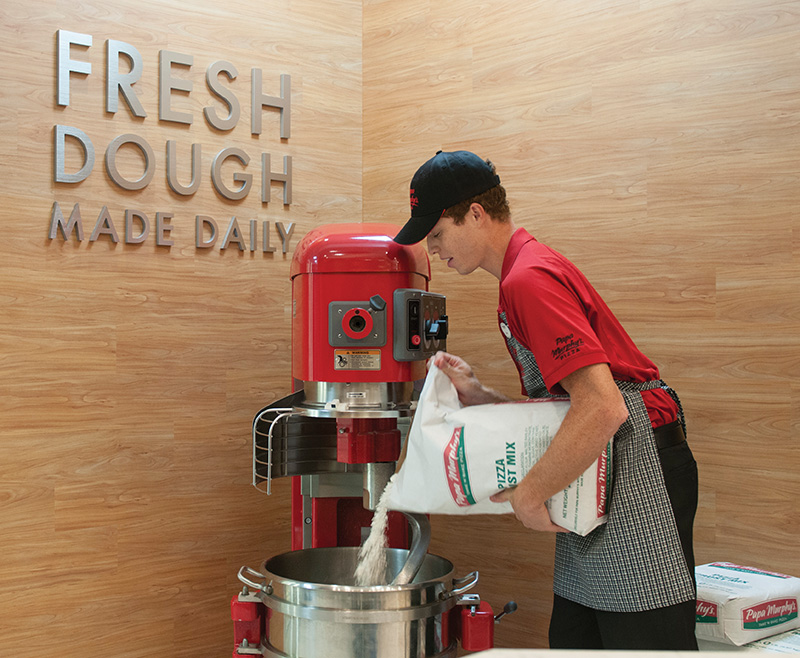 In one revolutionary change to store layout, the mixer was moved from the back of the house to the front — and has since become a focal point or centerpiece.
"We have a large Hobart mixer in all of our stores that we use to make dough and also to shred cheese, slice mushrooms, mix cookie dough — all these things," says King. "It used to be stuck in the back, but although the mixer is used early in the day and not during the rush, we noticed that it's always in great condition. People take care of it; it's like a company car. So it was natural to bring it up front."
Adds King: "We love the fact that you highlight a piece of equipment that's not a prop — it's actually used and it looks like a used piece of equipment."
Tesser and Papa Murphy's involved the operations teams and franchisees nearly every step of the way — including testing the repositioning of the mixer as the design pilot rolled out. "Operational elements were definitely a big part of making the design work," explains King. "One of our challenges was trying to create the mid-point between elements of design, operational efficiency and cost. Rather than having any one of them be the overriding [factor], we tried to find where those three places met. Operationally, it's very efficient, which is important for us and for our franchisees. It's easy to clean and long lasting. But it had to be cost-effective too. Those were the challenges that we had."
All store design materials are updated and modern. A concrete-like material covers the floor; a textured, shiny tile forms the word "CREATE" on the wall. The design showcases many elements of stainless steel, as well as wood accents.
"Vendors Help Us Do Everything We Do Better"
Papa Murphy's handles the majority of its repair and maintenance on a local, franchisee-initiated level. HVAC usually ends up being very local because so many HVAC contracts are landlord driven. "Some shopping centers have landlord-based contracts and we're typically at the mercy of them," King explains.
However, the company does partner with a few national vendors, including Hobart, who take care of the major pieces of equipment. Papa Murphy's bake line equipment, which showcases and highlights the food, is manufactured by either Wasserstrom or Randell. Mixers are made by either Hobart or Somerset. Canada-based Structural Concepts makes the grab-n-go, stainless steel cooler being used in what the company calls Murphy's Market.
Quality, price and innovation are the benchmarks each vendor — particularly equipment manufacturers — must meet. "When we look at an equipment vendor, we look at a combination of three things," King says. "What is the quality of the piece of equipment they give us? We want to buy a piece that's well made, going to last, and looks great. We also look at price of the equipment. The [third] thing we look for in a vendor is innovation. What can they bring to us?"
Adds King: "Vendors help us do everything we do better."
"Better Trade Areas, Better Markets, Better Sites"
Papa Murphy's plans to continue growing at a 6% to 8% net unit growth rate for the foreseeable future. Most growth will be franchised based, although two new company stores are planned in 2014.
Papa Murphy's is currently in 38 states. "We're strongest on the West Coast and in the Northwest across the Northern plains, but we have a broad base of stores and are growing throughout the Southwest and Southeastern United States," says King.
Typically, Papa Murphy's prefers neighborhood, grocery-anchored shopping centers. The company does have a few units located inside grocery stores and Walmart stores. The average store size is 1,400 square feet, which is almost the same scalable, flexible size as before the CREATE prototype launched.
"It's given us a nice opportunity for sales growth and it's flexible enough to be able to put into a lot of different shapes and sizes," King says.
In addition to its growth rate goals, Papa Murphy's has two key objectives. "We want to keep the cost of our investment right around where it is today, so we'll continue to work on ways to keep costs in line," says King. "[We also want to] improve store performance so our franchisees can be more profitable. Those will be the things we work on day in and day out."
According to King, store performance can be improved by better trade areas, better markets, and better sites. "We can build a store that is functional, is long lasting, and uses materials that can stand up to the challenges of working in the restaurant environment," King says.
Adds King: "I love working with franchisees and helping them start and run a business. I think that's the thing I love most about what I do. Working with owners on a day in, day out basis gives a lot of satisfaction. Also, seeing what you've created: you build a restaurant or a store and it's there for years to come."
Create it, and they will come.
[NOTE: This article originally appeared as the cover story of the August/September 2014 issue of Restaurant Facility Business magazine. Email the editor at [email protected]]
Tagged under