— By Katie Lee —
David's Bridal exists for magical moments — and puts customers front and center its new store format.
In November 2022, David's Bridal announced plans to debut a new store format systemwide, following a hugely successful soft launch of this concept earlier in the year in select locations, including Torrance, California; West Chester Township, Ohio; Lexington, Kentucky; and Cool Springs, Tennessee. The Conshohocken, Pennsylvania-based bridal retailer reopened 25 stores in 2022 and anticipates an estimated 30 new format stores will open in 2023 including 12 brand new locations.
"The soft launch of our new in-store experience was very well received," says Jim Marcum, chief executive officer of David's Bridal. "We've seen positive responses not only to the product offerings but the merchandising and the entire shopping experience end to end. This new store experience is part of a strategic effort to reimage who we are as a retailer. We carefully listened to our customers' wants and needs and responded by curating a store experience they can't get anywhere else. And in doing so, we are able to continue to serve our existing customers and reach new audiences by expanding our services and offerings."
The opening/reopening of these locations is part of a continuing commitment to update and improve David's existing store base and its physical footprint to better serve the modern customer. The process to update all 300+ stores will take time, Marcum says, and is ongoing based on the company's overall real estate strategy.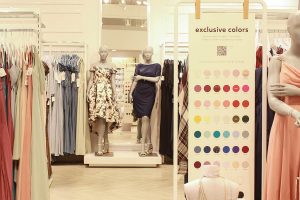 The new store layout caters to one-on-one customer experiences. The enhancements create a completely personalized and interactive shopping experience for customers, who can walk in or make an appointment to have a one-on-one shopping experience with an expertly trained stylist and/or in-house alterations artisan. Select stores will also feature new brand offerings including a customization lounge and try-on bar. The stores emphasize inclusion and carry thousands of dresses in sizes 0-30W with options for different body types, heights and skin tones.
"David's Bridal is built on the idea that everyone deserves to have the attire of their dreams regardless of style preference, shape, size or budget," Marcum says. "We believe in celebrating all life's magical moments, innovating so we are always serving her, personalizing everything so it's all done her way, designing the most luxurious dresses and, finally, kindness — so she doesn't have to worry about anything."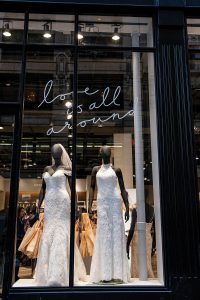 As is the trend in retail, David's continually assesses its store fleet to be sure to stay ahead of the changing needs of the modern customer. But one thing has not changed: dress shopping is always better in person. On that point, David's Bridal has always been 'experiential,' whether customers are shopping for prom, Quinceañera, graduation or wedding. Sharing the experience of shopping for life's special moments with others also makes the experience more enjoyable.
"With the pandemic and the rise of social media this need has only been inflated; people are looking for a shareable and seamless experience," Marcum says. "We wanted to enhance our store format to make her experience seamless and comprehensive."
David's new experiential store format allows customers to get the full head-to-toe experience they need for their once-in-a-lifetime event. By partnering with one of David's expert stylists they will be able to easily navigate finding a dress, accessories at the Shine & Shimmer Shop, and any alterations they may need through David's customization lounge — all in one place.
"We know shopping behaviors have evolved a bit more and we are committed to meeting [our customer] where she is," Marcum says. "We know she likes to start her journey online seeking inspiration and then she comes into the store to touch and see the product. This new store experience allows her to browse our products in the way that works for her."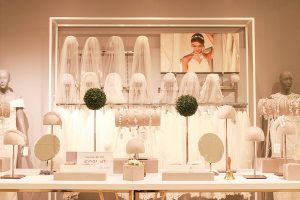 Putting a focus on 'being there' for the bride throughout her entire planning journey, David's Bridal aims to capture her attention early on with inspiration and guidance from her bridal look to the perfect bridesmaids. The Shine & Shimmer and try-on bar give customers a set space to work with their stylist to create the perfect look for their event with an expertly curated collection of merchandise. The retailer has also implemented a "life's a party" shop specifically for its junior audience to shop for the special events — big or small.
Special events extend beyond weddings, too. Now with an expanded dress selection to include prom, bridesmaids, special occasion, mother of the bride/groom, Quinceañera, and even some more casual wear, David's Bridal aims to provide its customers with every dress in their closet.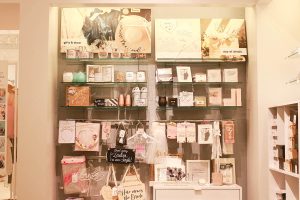 "David's Bridal is no longer just about the bride, we want to help her dress all of the women in her life for all of their special moments — from weddings to honeymoon, date night, Kentucky Derby parties, girls trips and beyond," Marcum says. "We also launched a loyalty program which incentivizes her to continue shopping with us. As a Diamond member, she receives exclusive discounts on every purchase and gifts at every level including a free honeymoon or getaway."
Due to the pandemic, many weddings were postponed for about 2 years — but now there is pent-up demand. Venue availability these days is extremely competitive, which means weddings are taking place all year long. David's Bridal has continued to see pent-up demand for dress shopping year-round, not just during certain seasons.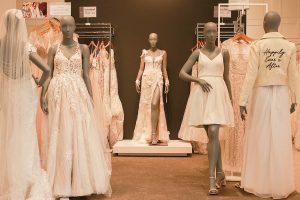 "There is no doubt that the pandemic and even emerging from the pandemic we had to pivot," Marcum says. "At our core, our commitment to our customers didn't change — we remained relentlessly focused on serving her where and however it worked for her. We certainly had to remain extremely nimble. Just about 2 weeks after we had to temporarily close our doors, we implemented virtual appointments so customers could still shop from the safety of their own home. We also offered curbside pickup for those who were still moving forward with events and needed products quickly. Once we were able to reopen our stores safely, we changed the entire appointment experience to ensure the safety of customers and staff. Many customers still opted to move forward with their events in a variety of ways; we saw a surge of micro-weddings, courthouse weddings, elopements and even backyard events. As we continued to emerge from the pandemic, we saw pent-up demand from those couples who chose to postpone combined with newly engaged couples that we typically expect."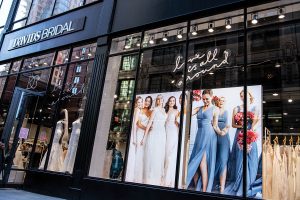 To meet this demand, David's Bridal operates a real estate strategy fully focused on locations in shopping areas where its customers are typically visiting to better reach and serve its new and existing customer base. The company has stores in in-line shopping centers, freestanding stores and even mall locations.
"We are laser-focused on continuing to grow and enhance our customers' entire shopping experience," Marcum says. "This includes having a vast and accessible retail footprint for her to browse and find 'the one.'"
Offering a variety of footprints and real estate is not without its operational challenges, however.
"The moving parts of our expansive chain are certainly a challenge," Marcum says. "Each store is a little different, in different types of retail locations and differ in format. Therefore, it's crucial we ensure the needs of each store are met from a maintenance and store experience perspective. It is crucial we support our store team members by giving them resources needed so that they can effectively and efficiently run their location."
David's Bridal has an entire team dedicated to facility maintenance across the chain. Through its own integrated facility management technology, store teams can submit service requests, track the progress of work orders, and view work order related reports. David's employs a mix of regional and local service providers powered by its FM technology system.
Keeping the stores running in fine shape — and creating magical moments for its customers along the way — is immensely gratifying, but it's David's people who matter most to Marcum.
"Every day I am heartened by the passion, care and commitment our 'Dream Makers' (a.k.a. team members) put forth," he says. "Our teams demonstrate the very best of what it means to be a part of our David's community — they show remarkable enthusiasm for our customers, they are kind and treat each other with respect, and show unwavering commitment to creating magical moments. I am grateful to be a part of an incredible team and community."
Powered by an incredible team, and with an eye toward the future, the stage is set for growth.
"We are going to continue to push our teams to reach new growth and better serve her," Marcum says. "We're rapidly expanding into categories beyond bridal. We believe the junior market is a huge opportunity for us. We've also explored Quinceañera and fragrance categories, for example. We're eager to continue disrupting the planning space. We have tons of tools in our portfolio already that help our brides plan their big day and are excited to continue growing within that space to make her planning journey easier and all in one place.
"We believe every occasion starts here."
— This article originally ran as the cover story of the December 2022/January 2023 issue of Retail & Restaurant Facility Business magazine. Email the editor, Katie Lee, at [email protected].