— By Ethan Cohen —
Serving fryers in multiple Ballast Point kitchens.
Ballast Point is an iconic name, not only in California but nationwide. The brewery is known not only for its proud and pioneering hops history, but for equally fastidious food offerings in its topnotch restaurants. Kitchens with 50- to 85-pound fryers require frequent and demanding service to keep fried food tasting delicious and kitchens running faster, greener, safer and cleaner — it was a tall task to begin servicing Ballast Point.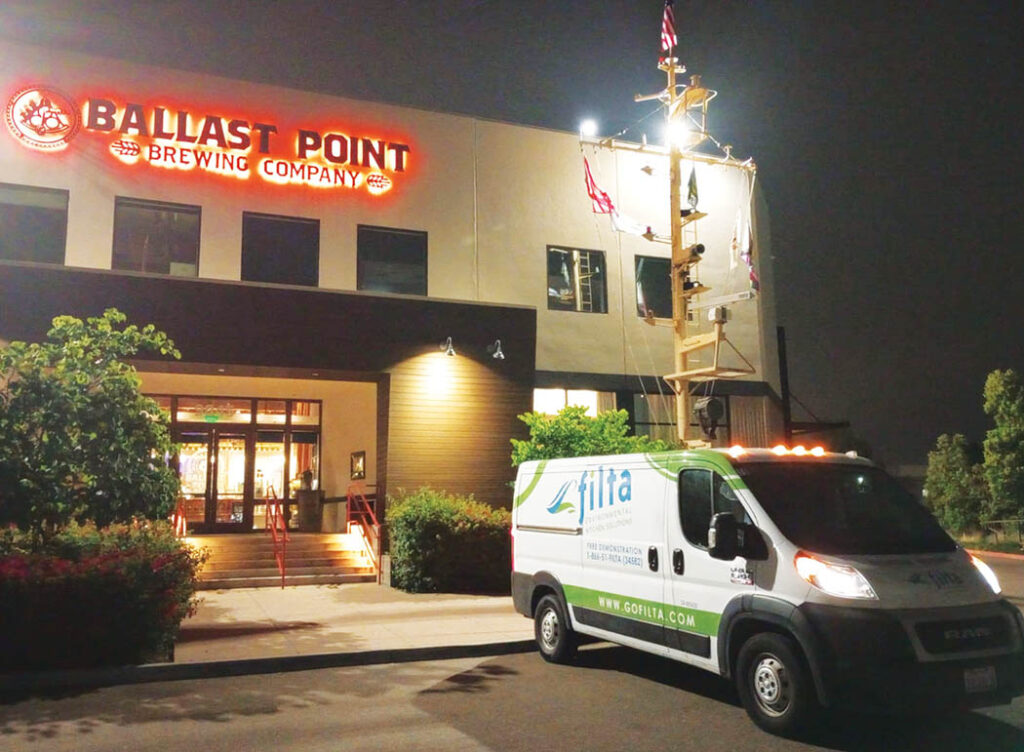 Arguably first on the ground of the craft brewing trend, Ballast Point was launched by a group of small brew masters in 1996 as Home Brew Mart in the microbrewery mecca of San Diego. Once valued at $1 billion, the brewery expanded to two San Diego locations, one in Long Beach, one in San Francisco, and another in Orange County, on the high-profile Downtown Disney campus. Each boasts high-end restaurants with full menus including truffle herb parmesan fries, house-fried chicharrones (with homemade guacamole), buttermilk-fried chicken and more.
Fryer management needed to be top quality in each of those five kitchens and the hurdles were numerous to establish service as a well-oiled machine (pun intended). There were multiple layers of opportunity to serve Ballast Point kitchens, but also multiple layers of challenges.
The Ask
Ballast Point has an emphasis on social responsibility and environmental projects, so sustainability was an important aspect in choosing a fryer management partner. Decision-makers wanted to be sure all resources, including cooking oil, were managed as wisely as possible. Microfiltration extends the life of cooking oil up to 50% so that service was obviously fiscally smart. Delivering fresh oil in refillable, reusable 5-gallon eco-jugs replaces the typical 35-pound jib with its associated cardboard and plastic going ultimately into landfills, so that was also a no-brainer, especially with California's historically strict oil bin covenants.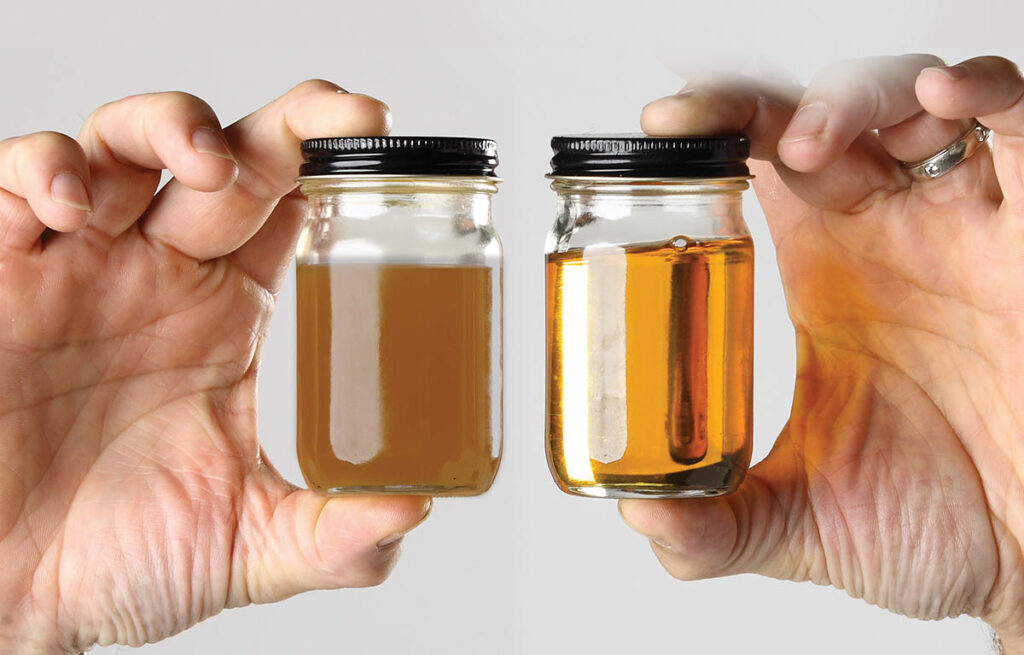 Finally, when the cooking oil reaches the end of its useful life, it was important for Ballast Point's kitchen management to know that the kitchen staff would not be exposed to the risk and liability associated with managing that used cooking oil. The FiltaBio program eliminates the need for onsite used cooking oil bins and those liabilities. Plus, it provides the peace of mind that oil is being recycled for biodiesel fuel.
In fact, in just Q2 of this year (April, May and June 2023), the Anaheim Ballast Point location at 1540 Disneyland Drive saved 763 pounds of cardboard and plastic by purchasing bulk oil through FiltaGold fresh oil delivery service, saved 4,375 pounds of oil by microfiltering with FiltaFry, and 4,575 pounds of oil was collected and recycled for biodiesel with FiltaBio service.
The Personnel
A corporate chef manages all five Ballast Point locations, and each kitchen has its own management hierarchy, including local executive chefs, sous chefs, kitchen operations personnel, as well as a variety of security and clearance protocols, both on- and off-site. The Downtown Disney location was, hands down, the most fastidiously detail oriented and mandatory requirements included providing technician names, driver's licenses, security clearances both on- and off-site, education on elevator systems, and access to loading dock and entry-level protocols.
Obviously, with multiple people come multiple personalities to juggle. Communication and timing were critical in securing the Ballast Point business, according to Todd Murray, Filta's regional sales director in San Diego and Orange County.
"It required a considerable amount of travel and study and a solid 45+ man hours to secure the business at the first location we began servicing, Miramar. We had to engage with the chefs and kitchen staff and, as we expanded to the other locations, we needed to develop relationships at each individual restaurant," says Murray. "And then, in terms of actual service, we had to tweak what was necessary for Miramar's three fryers to properly service the one in the Little Italy location, and then, when we added Downtown Disney, it was another whole new ballgame."
With the two locations in San Diego and the one in Downtown Disney running smoothly, Ballast Point wanted to add service at its Long Beach and San Francisco locations. But different franchisees owned those territories, so it required looping in and ramping up two other owners, Kathy Turner in the Los Angeles area and Adel Moradi in San Francisco.
"Individualizing service is what we do day in and day out throughout [our] corporate system," says Murray. "And, as with all our 300+ local clients, we take our partnerships seriously and value the fact that our behind-the-scenes fryer management means that when kitchen personnel get to work, they can do their job because we've already handled the fryers."
The Timing and Locations
Filta began with Ballast Point's two San Diego locations, servicing Miramar's two 65-pound fryers and one 50-pound machine three times a week 18 months ago, in February 2022. In March, service began on Little Italy's 85-pound fryer twice weekly. Anaheim's Downtown Disney came the next month, beginning three times weekly service in April for that location's one 75-pound and two 50-pound fryers.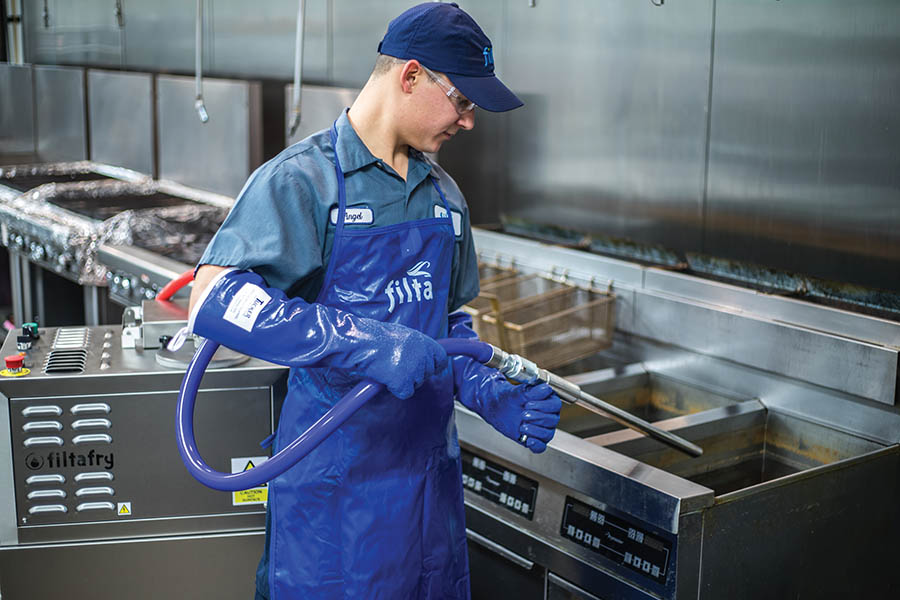 Because of security and safety protocols, all oil management services are done in the wee hours of the morning.
"For many of our clients, we work through the night so our tech teams are out of the way and not occupying the same space as chefs preparing food," Murray says. "It's a safety thing. So 3 a.m. is a pretty typical service time. We have seen everything over the years while servicing other clients, from restaurant front doors left wide open to water flooding down vent hoods during roof maintenance. Because we can be a client's eyes and ears at 3 a.m., we build relationships and are continually a trusted, preferred vendor."
Murray was instrumental as the Ballast Point business expanded to Long Beach in April of 2022 to San Francisco that fall. He served as a valued conduit to those restaurant chefs, connecting key players at the corporate and local level to facilitate building relationships with owners in those other two franchise territories.
The Results
Environmental Impact Reports show the exact impact of Ballast Point's kitchen fryer management on sustainability. The effect of last quarter's significant pounds of cardboard and plastic packaging saving, microfiltration and oil recycling at just the one Downtown Disney location was like planting 761 trees. Proprietary EIRs for all clients factor in a variety of impacts from reduced greenhouse gas emission, reduced fertilizer and pesticides, CO2 savings and more.
As they say, Ballast Point is "dedicated to the craft" at each and every one of its locations and Filta has proven to be a valued partner to keep fryers clean and manage the fryer oil, helping Ballast Point kitchens run faster, greener, safer and cleaner.
— Ethan Cohen co-owns the San Diego and Orange County territory of Filta Environmental Kitchen Solutions with Jason Sydlowski. They launched in San Diego in 2011, having grown the business from one mobile van servicing a few commercial kitchens to 20 vans serving more than 300 clients, and consistently rank in the top franchisees in the 130+ owner system.