— By Adam Walker —
As the foodservice industry changes, fire protection technology offers smarter, more scalable solutions with electric detection for complex cooking environments.
Today's commercial kitchens are evolving to meet consumer demands. Dining destinations throughout the world are seeing the rise of large-scale, multi-kitchen foodservice operations, driven by both consumers' need for convenience and an increasing desire for new and unique food experiences.
Certain types of complex kitchens have seen an especially increased demand recently with more consumers using food delivery services as part of their efforts to practice social distancing due to COVID-19. These delivery services — like Grub Hub and Uber Eats — are part of the multibillion-dollar online food delivery industry that often leverages cloud kitchens for food preparation. Cloud kitchens, also referred to as virtual kitchens and ghost kitchens, are facilities in which upwards of 50 different restaurants operate under one roof, each with their own commercial kitchens optimized for delivery-only operations.
With these developments, many complex commercial cooking environments are expanding their appliance lineups and introducing a variety of new equipment. This creates the need for flexible, scalable restaurant fire suppression systems that can intelligently protect numerous hazard zones while reducing management complexity.
Systems Evolve with Restaurants
Fire protection manufacturers are meeting these needs by offering new technology that can centrally monitor and protect multiple hazard zones. While traditional mechanical detection systems have proven reliable and easy to service, they come with inherent challenges caused by grease buildup. Some electric detection technologies on the market today can also offer the potential for scalability and smart features that allow fire protection systems to evolve as the kitchen expands.
One element in the expansion of commercial kitchens is the need to meet environmental requirements around airborne pollution and contaminants. Kitchens are increasingly required to have pollution control units (PCUs) — each with their own dedicated fire detection zone — to help clean grease, smoke and odors from exhaust airstreams. By using scalable multi-zone fire protection technology, kitchens can virtually eliminate the need to install a second independent detection system to protect the added hazard zones.
More hazard zones in kitchens requires additional monitoring. Therefore, it is helpful to have a solution for monitoring each zone's operational status. Centralized monitoring features offered by new electric detection systems allow users to track the status of multiple zones via a single interface. Real-time status updates can give operators a sense of security knowing if there is a fire event, the system will react appropriately and provide immediate notification. Some electric detection technology available today can also be used to identify alarm conditions, silence alarms, reset systems and engage cleaning mode. Certain systems even allow hoods to be cleaned individually without requiring deactivation of the entire fire protection system.
Smarter Zone Protection
As compared to other electric detection offerings today, newer electric detection technology can provide more versatile protection of multiple kitchen appliances under one hood. When two appliances such as a wood-fueled burner and an electric range are operating under the same hood, each may require a unique temperature-rated fire detector. Using innovative connector assemblies, recently developed electric restaurant detection technology provides the ability to assign different temperature ratings to individual appliances under one hood.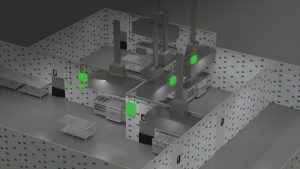 Current linear detection technologies offer a range of 155°F (68°C) to 500°F (260°C), while recent electric thermal detection can offer an expanded range up to 725°F (385°C). Because many appliances operate at different temperatures, having a detector assigned to each appliance's ambient temperature rating ensures reliable fire suppression. It also helps prevent premature activation and mitigates the risk of a fire burning out of control due to late activation from an incorrect temperature rated detector.
If a fire event does occur, the National Fire Protection Association (NFPA) states all suppression systems should discharge simultaneously in a single hazard area. However, some new configurable fire protection technology allows users to program the system and dictate which hood systems activate based on the design. Exclusions in NFPA codes and standards allow users with configurable fire systems to program the system to target the fire event and discharge the suppression agent only in the affected hazard zone(s). Isolating specific hazard zones allows other cooking zones to remain operational.
Managing Service and Maintenance
When selecting a restaurant fire suppression system, customers should not simply look for individual components that are listed or certified, but a complete solution — from detection to suppression — that has received the appropriate safety listing. This provides assurance that every part of the system will operate effectively and intelligently with other parts of the system under a variety of conditions.
Today's technology offers service and maintenance alerts with the name and contact information of the service company programmed into the system. Early notifications can also be scheduled to alert businesses prior to the service date.
In today's commercial kitchens, selecting the correct restaurant fire protection system is critical to protecting people, property and business. The most versatile and effective fire protection technology evolves with the demands of the foodservice industry. The latest solutions offer expandability, configurability and centralized monitoring of multiple hazard zones to give restaurant and kitchen owners the tools to simplify and safeguard their operations.
— Adam Walker has been with Johnson Controls for 13 years. He currently serves as the global product manager for ANSUL and PYRO-CHEM restaurant fire protection products. Walker is a member of the National Fire Protection Association (NFPA) and is a committee member for NFPA 17: Standard for Dry Chemical Extinguishing Systems, NFPA 17A: Standard for Wet Chemical Extinguishing Systems, and NFPA 96: Standard for Ventilation Control and Fire Protection of Commercial Cooking Operations.