— By Darren Waxman —
Retail has changed forever. It's time to make a pandemic pivot.
The COVID-19 pandemic has drastically changed the way American's interact, communicate, work, shop, and mingle. Social distancing has instantly become the new normal, toilet paper has become a scarcity, while Netflix and Disney+ are now considered primary needs. The spread of the coronavirus has spawned consumers to panic buy items virtually overnight, which in turn has severely disrupted supply chains and caused shortages of everyday items.
Retailers and restaurants that were not operating as a digital or e-commerce business were acutely disrupted because customers were not able to eat or shop in person and immediately began searching for the easiest way to having their basic needs met — safely!
For companies such as Costco, Uber Eats and Domino's Pizza that already were operating with an existing scalable, last-mile infrastructure, this was good news — as their businesses grew exponentially. For retailers or restaurants that only operated traditional brick-and-mortar stores, and without an e-commerce platform or last-mile partnership, it has been devastating to their bottom line.
The good news is there has never been a better opportunity to survive — and even thrive — in today's environment.
Delivery Is Now An Essential Service
With a Buy Online Deliver From Store (BODFS) model, retailers and restaurants are able to bring the store's items directly to the customer's door. Today, consumers are embracing e-commerce because they must. According to the National Retail Federation (NRF), 43% of e-commerce purchases in April were from first-time online buyers. Digital purchases may be the easiest way to safely shop, but there can be a "learning curve" for new users. With the surge of online shoppers, it is important to create a frictionless shopping experience for your customers, starting with how to order an item to when it reaches a customer's door.
Building Your Pivot
Step 1: Commit to building a clean and simple online user journey for your business. Think about both the online and the in-person experience. Your customers can be anywhere and everywhere — from outside your door, in the comfort of their own home, or anywhere in between. Simplicity is key to finding, buying and receiving items.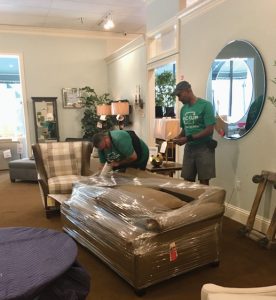 Step 2: Establish a delivery model that makes sense for your business. There are marketplaces like Uber Eats and Instacart that put your brand on a "shelf" with hundreds, even thousands, of alternatives. One upside is you will likely get more eyes on your product or brand than perhaps it would have. The downside is these types of services can take 50% or more of your revenue in costly fees.
One alternative to consider is engaging with a third-party delivery partner that your company can negotiate a flat rate, per delivery fee. This solution will help eliminate expensive and variable marketplace fees, while also maintaining control of your brand and products. Another advantage is you will have the ability to control the outcome of the user experience, by providing consistency. The downside of this option is you will be 100% responsible for driving traffic to your store or website to attract customers.
Take Action
Whether you choose one or both of these options to tackle your digital approach to survive in today's economic environment, one thing is certain: consumers will continue to shop online and companies will need to find the best way to deliver their products and goods the final mile safely and consistently.
— Darren Waxman is chief customer officer of PICKUP®, the enterprise-grade, last-mile delivery service and one of the nation's fastest growing on-demand logistics providers. The company delivers small and large goods (including assembly) — from household essentials to furniture and mattresses — in as little as 1 hour. PICKUP has partnered with leading retailers and currently operates in 51 markets, with aggressive expansion plans. For more information, visit pickupnow.com.
classic-editor-remember:

classic-editor

abkw-text: