— By John Moezzi —
What to expect in 2023 digital signage for retail and restaurants.
Another year has passed — since the pandemic started — and we continue to see an uptick in consumers in stores and restaurants. However, even for decades before the pandemic, there were debates between online and brick-and-mortar, where some think one abolishes the other, while others think they play well together. Perhaps, it's important to know what they can do for each other. Let's explore the trends for 2023 and how online and brick-and-mortar co-exist.
Retail Perspective
Digital signage within retail stores is more important than ever. Digital signage is often used by retailers to promote product and service offerings. The ability to change messaging from a centralized location in near real-time makes digital signage ideal for these use cases.
There has been a push in retail for some time to engage the consumer in an omnichannel experience. This approach aims to provide a similar experience, whether the engagement is online or in-store. This trend will continue with technologies that empower applications such as buy online/pickup in-store (BOPIS), in-store wayfinding, endless aisle, in-store product comparisons, suggestive selling, and the like.
Many consumers prefer self-service, and retailers are adapting operational practices that meld accordingly. Kiosks are central to the self-service approach. A great example of this is Dick's Sporting Goods. Dick's has implemented in-store kiosks that enable customers to scan a bar code on a shoe and quickly view current in-store inventory by size, including alternate colors. Customers can select a size and color of the shoe they would like to try for an associate to quickly deliver from the inventory room. Store associates are equipped with similar technology via handheld devices that report inventory levels by size and color and the precise location for picking the item from the inventory room.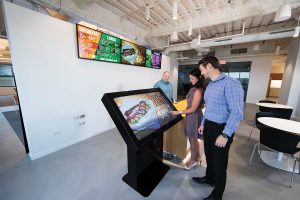 E-commerce has been gaining ground on brick-and-mortar retail sales for years. The pandemic supercharged this trend. Some think shopper habits have been changed permanently. However, I believe we will continue to see shoppers embrace omnichannel engagement, where lots of browsing and research takes place online, with in-store visits dedicated to seeing, touching and trying products. Whether the shopper ultimately purchases online or in-store should not be that important to the retailer. What is important is providing a cohesive experience for the customer across channels. Technologies such as digital signage and kiosks that enable a seamless experience for the customer between online and in-store are invaluable in meeting customer expectations.
It is the expectation of today's consumers that a retailer will engage with them in a consistent manner, whether online or in-store. The same options, availability of information, and product recommendations readily available online must also be made available in-store. Curated products coupled with data-rich and smart digital signage will raise the bar on the customer experience while leading to longer dwell times and increased sales.
Restaurant Perspective
Omnichannel approaches to serving customers are of utmost importance to restaurant operators as well. Quick-service leaders, like McDonald's, that have previously embraced this approach are doubling down on their omnichannel efforts. Digital will be increasingly important. Chipotle has introduced its digital-only restaurant called the Chipotle Digital Kitchen. There is no dining room or front service line in this concept. Customers order in advance via the company's website, the Chipotle app, or third-party delivery partners. Orders are available for third-party delivery or lobby pickup. We'll see more of these digital experiments abound, with consumers increasingly embracing convenience and frictionless transactions. With fewer front-line staff available for customer interactions, we're bound to see digital signage utilized to communicate instructions and order status.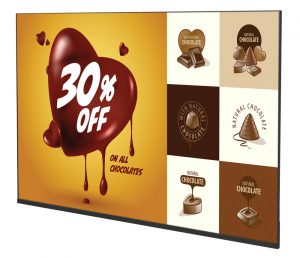 Digital signage used for menu boards and promotional content are a great step in modernizing a concept and enhancing the customer experience while being a key component of the infrastructure for digital transformation.  Digital signage can be integrated with loyalty programs to provide a medium for 1:1 marketing and personalization. When implemented effectively, personalization leads to an enhanced customer experience and loyalty.  Digital menu boards integrated with loyalty, personalization and POS systems are a very powerful combination for a larger ticket.
Self-order kiosks can also be integrated with loyalty and personalization systems to achieve the same end goal, but they also encourage consumers to spend more time browsing the menu and have led to increased sales of 10% to 15% for certain operators.  The future of digital signage in QSR includes increased relevancy through personalization and integration with loyalty programs, POS systems, kitchen production systems, suggested selling systems, etc. Self-ordering kiosks continue to grow in popularity and will move beyond touch to include mobile and conversational AI.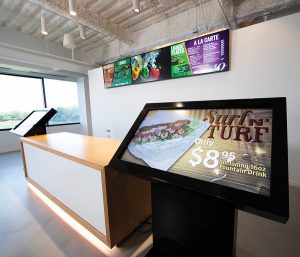 Digital signage is a great platform for suggestive selling. You're seeing this play out with major QSR operators, where a customer approaches a digital menu and scans their loyalty information from their smartphone. In real time, the customer is then presented with AI-driven suggested products based on myriad factors such as items currently being ordered, transaction history, time of day, weather, current promotions, inventory levels, etc.
Digital signage in the QSR is so much more than recreating a static menu board with animated graphics. It is a key piece of a concept's strategy for realizing digital transformation.
Looking into 2023, we will continue to see many of these trends grow and evolve. For retailers and restaurants, it's important to stay ahead of the game on these trends to provide the best customer experience and build loyalty amongst their customers.
— John Moezzi is a national account manager at Sharp/NEC, where he is focused on providing world-class display solutions to leading retail and restaurant organizations. Visit: www.sharpnecdisplays.us/about.