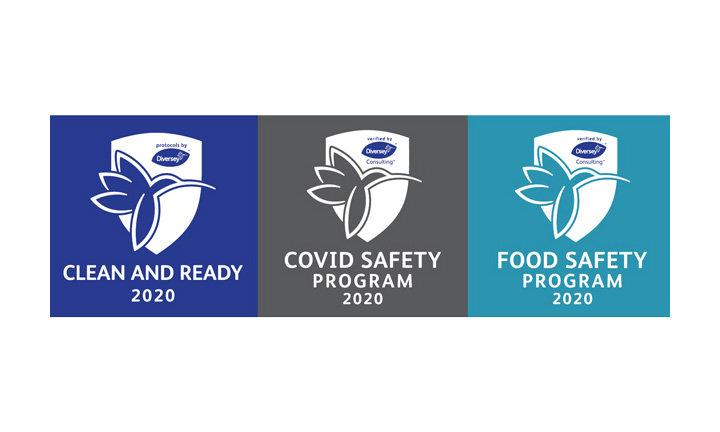 Fort Mill, S.C. — Diversey, a leading global hygiene and cleaning company, has launched its new Clean and Ready Program. The program is designed to respond to the new era of cleanliness, as facilities worldwide begin the process of reopening following the pandemic. The program will be launched globally across the full range of sectors in which Diversey operates, including: hospitality, foodservice, education, offices — specifically targeting building service contractors (BSCs) — and in retail environments.
"There is now an urgent need to convey a visible commitment to the highest standards of hygiene and cleanliness," says CEO Phil Wieland. "Our new Clean and Ready Program enables businesses to communicate their enhanced hygiene measures in a fast and easy way to ensure the confidence of staff, guests, visitors and students alike."
The Clean and Ready Program combines the acknowledged global expertise of Diversey and Diversey Consulting to provide a unique end-to-end solution. It certifies/verifies participating establishments in three key areas:
Hygiene Protocols: Diversey's hygiene guidelines are designed to help minimize the risk for guests and workers and provide the tools facilities need to be successful. This includes working with businesses to develop, train and verify Diversey's two-step cleaning and disinfection processes through the use of patented AHP technology, which delivers hospital-grade disinfection for a shorter contact time to inactivate and kill the virus.
Food Safety: The professionals on the Diversey Consulting team specialize in risk management to ensure effective food safety and outbreak preparation. This help is supported by the Diversey Hygiene Academy, a cloud-based e-learning training system, which enables customers to integrate Diversey's best-in-class knowledge into their operations as an essential step in keeping staff safe, minimizing risks to food safety and safeguarding their brand.
COVID Safety: The COVID-19 operational support program has been developed to help businesses prepare and adapt to the ongoing circumstances, and to ensure compliance with the local health authorities and government policies.
Businesses that match the stringent program requirements are allowed to display the Clean and Ready Shield. It is awarded to those facilities whose staff have properly implemented and are committed to upholding the highest levels of hygiene and cleanliness and disinfection. Once enrolled as a member of the Clean and Ready Program, businesses will undergo periodic audits that deliver a thorough and all-encompassing independent verification that they are continuing to maintain the highest level of cleaning and disinfection.
Diversey is headquartered in Fort Mill, S.C. For more information, visit www.diversey.com.
SOURCE: Diversey
classic-editor-remember:

classic-editor

abkw-text:
Tagged under