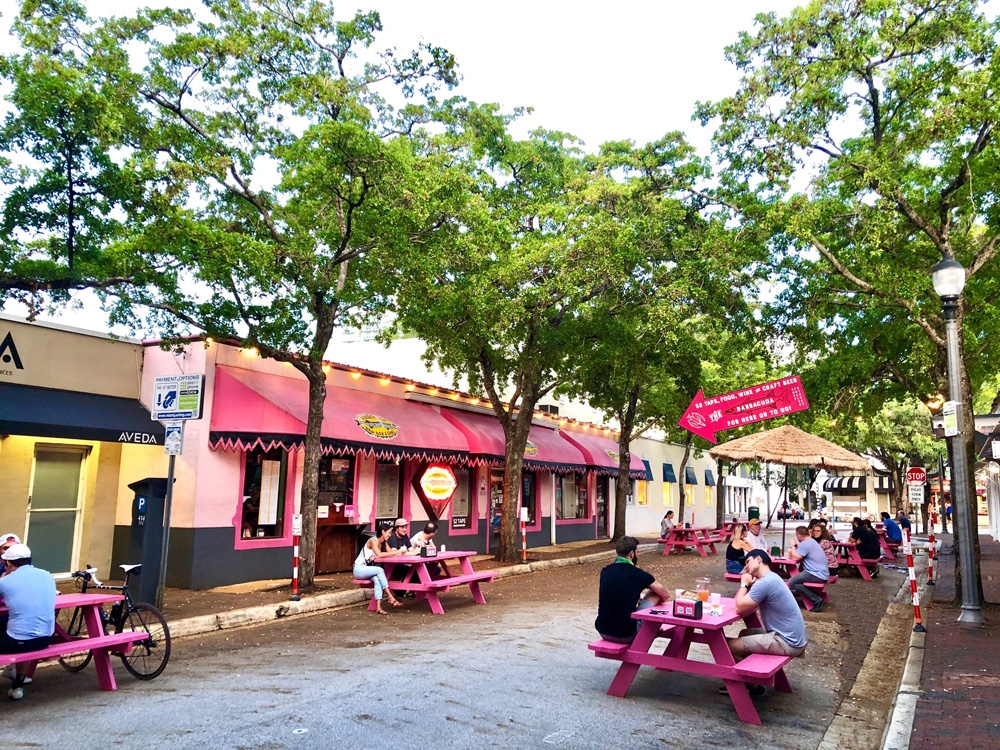 Miami — Miami, a major U.S. city that continues to experience a spike in COVID-19 cases, recently signed an emergency order limiting restaurants to outdoor dining only. To help businesses survive and keep locals safe, the City of Miami has curated a city-wide outdoor dining pilot program to allow restaurants to expand onto city streets, parking spaces and sidewalks until January 31, 2021.
Miami's Coconut Grove neighborhood has officially closed Fuller Street as part of the city-wide program — after receiving Miami's only street closure approval — and has since transformed the thoroughfare into an outdoor eatery for the Grove's beloved Barracuda Taphouse & Grill, one of the Grove's only restaurants without outdoor seating. The Coconut Grove Business Improvement District (BID) is funding a large-scale activation of Fuller Street to create a true al fresco dining experience for residents and locals, starting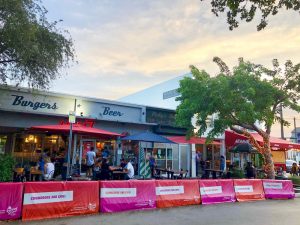 with bright pink picnic tables, tiki-inspired umbrellas and strung market lights — with a lot more to come. The Grove BID is also funding the costly buildouts, beautification and outdoor furniture needed to make the Grove's streets and parking spaces atmospheric and inviting to guests. Commodore Plaza, the Grove's "restaurant row," has branded itself "Commodore and Chill" with local favorites like Lokal and Atchana Thai taking advantage of the expansion program.
Restaurants participating in the Grove's outdoor dining program thus far include Barracuda Taphouse & Grill, Lokal, Atchana's Homegrown Thai, Le Bouchon Du Grove and Juicense, with more dining establishments signing up each day.
"When we initially met with the restauranteurs on Commodore Plaza, we proposed a street wide closure designed to allow these locations to safely increase their outdoor seating capacity," says Abigael Mahony, executive director of the Coconut Grove BID. "However, after speaking with these hospitality experts, we determined that the best way for the Grove BID to support these restaurants would be to convert adjacent parking spaces into scenic "parklets" that would offer a sense of place, give families the space needed to safely eat at their favorite establishments, and provide our restaurants with the much-needed opportunity to create additional revenue."
Adds Ken Russell, city commissioner and chairman of the Coconut Grove BID: "The restauranteurs in Coconut Grove have helped transform this neighborhood into one of the city's top dining destinations and are vital members of this community. Our goal with Coconut Grove's outdoor dining pilot program is to empower our neighborhood restaurants to take full advantage of public spaces in order to safely serve patrons. We also encourage our residents to support the local shops and restaurants that make up the lifeblood of our neighborhood."
SOURCE: City of Miami / Coconut Grove BID
classic-editor-remember:

classic-editor

abkw-text: