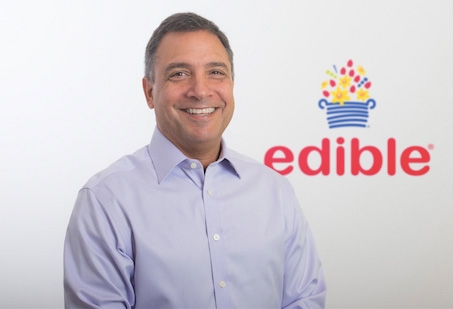 Atlanta — Edible Arrangements®, the world's largest franchisor of shops offering creatively designed fresh cut fruit arrangements and all-natural, fresh fruit snacks and dipped treats, has named QSR industry veteran Mike Rotondo its chief executive officer. Previously, he was CEO of Tropical Smoothie Cafe.
Rotondo, who brings three decades of experience growing some of the most well-known brands in the QSR industry to the newly created position, will be based in Edible's Atlanta headquarters where he will oversee all franchise operations.
Rotondo spent the last decade at Tropical Smoothie Cafe®, the last 5 years as CEO. His career spans more than 30 years in the quick-service industry and also includes key leadership roles at Wendy's International, HoneyBaked Ham and Arby's Restaurant Group.
"I've closely followed Mike's career over the past decade at Tropical Smoothie, and when the time came to bring in a CEO, I knew he would be perfect for the role," says Edible's founder, Tariq Farid, who has served as the only CEO in the company's history and will now focus on growing Edible Brands, the parent company that includes technology, supply-chain and other businesses as well as the Edible Arrangements brand. "This is an exciting time at Edible and I am confident that Mike's deep experience in QSR and gifting will bring our vision of the new Edible to life."
Rotondo says Edible's strong technology base coupled with its global footprint of stores creates an ideal positioning in today's evolving marketplace.
"With more than 1,200 locations worldwide, this is one of those rare opportunities to take what is already a beloved brand and shape a new and exciting future," Rotondo says. "Everything is in place and the timing is perfect for us to move forward with adding significant new revenue streams for our brand and our franchisees."
With more than 1,200 franchise locations open or under development worldwide, Edible Arrangements, LLC was founded in 1999 in East Haven, Conn. For more information, visit www.edible.com.
SOURCE: Edible Arrangements®
Tagged under