— By Jeremy Johnson —
How to maintain ADA compliance and avoid potential litigation: flexible signpost vs. concrete pyramid base.
The Americans with Disabilities Act (ADA) sets requirements for accessible parking spaces that businesses and municipalities must follow. Failure to comply with these regulations can result in fines and legal action. According to ADA.gov, businesses and municipalities found to be in violation of ADA regulations can face up to a $75,000 fine for the first incident and $150,000 for any additional failures to comply.
According to the California Commission on Disabled Access (CCDA) 2015 Annual Report, the top two ranking violations were: Loading Zones/Van Access and Parking Space/Lot Signage, respectively. These two alone accounted for 25% (2,403) of the total alleged violations.
In fact, according to the CCDA Annual Report, from the years 2013-2015, Parking consistently made up the highest percentage of total alleged violations out of all six location categories. Other categories included: Accessible Route and Entry, Toilet Rooms & Bathrooms, Access with Public Facility, Equipment within Public Facility, and General Alleged Violations.
The CCDA report noted above provides a snapshot of just one state in our nation, but this problem is far-reaching. A common area of ADA non-compliance in the U.S. today resides in the proper installation of ADA-compliant signposts and signage. Accessible Parking Spaces, as outlined on the ADA website, must be clearly marked with a sign that includes the international symbol of accessibility.
Additionally, the sign must be placed in a location that is clearly visible from the parking space it designates. According to the United States Access Board website, the ADA sign must be mounted on a post that is at least 60 inches above the ground.
Individual states and municipalities may also have their own sets of requirements for ADA parking, which must be considered in addition to the federal regulations. To this point, it is important to check with local authorities to ensure compliance.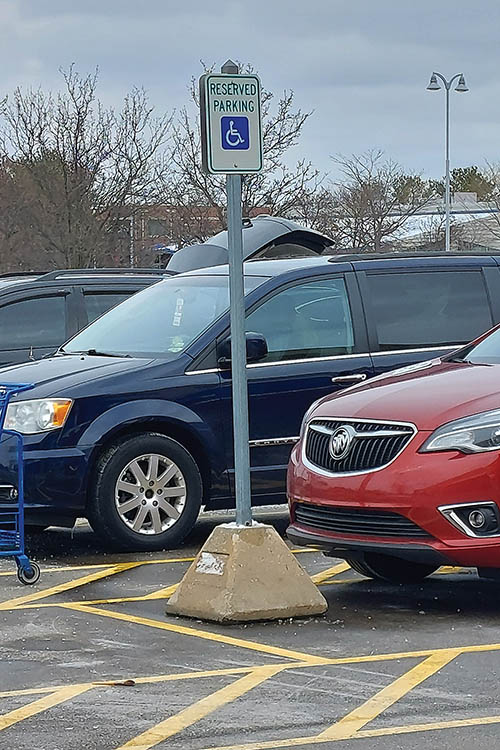 ADA parking space signposts with portable concrete pyramid bases can become problematic as they are not affixed to the parking lot surface and can be easily moved or turned. This can lead to issues such as signposts being knocked out of the parking space by a vehicle or getting turned around, so that the ADA sign is not visible. Not only can this result in non-compliance with ADA regulations and lead to potential fines, but it also creates an unsightly parking lot which could negatively affect an organization's brand image.
Tripping hazards are also a consideration when portable pyramid base posts and other objects in parking lots have been pushed into pedestrian walkways, leading to potential injuries and lawsuits. Due to premises liability law, the liability for these types of injuries (like many slip-and-fall accident cases) typically lies with the parking lot's owner. This can be evidenced in recent cases involving customers tripping over curb stops, also known as parking blocks, and being injured.
For example, in June 2019, Florida's Fifth District Court of Appeals filed an opinion in favor of the appellant, a woman named Sherrye Parker, with a premises liability claim involving the parking lot of the appellee, Shelmar Property Owners Association, Inc. While walking across the parking lot, Parker tripped over a parking block and injured herself in the fall. In this case, the wheel stop was erroneously installed in front of the walkway for entering and exiting the store.
Publicly accessible locations are meant to fall within a reasonable expectation of safety for people who utilize an area. Parker alleged that the placement of the parking stopper she tripped over breached the expected duty of care of Shelmar Property Owners and was in violation of the Florida Building Code.
While not all parking lot tripping accidents will lead to litigation, they certainly do not bode well for the customer experience. Not only will the injured person no longer frequent the store, but they will also most likely tell their friends and family members about it, post on social media, etc.
The introduction of flexible signpost and bollard systems has served to eliminate many of the issues inherent in using concrete portable pyramid bases for ADA and other types of parking.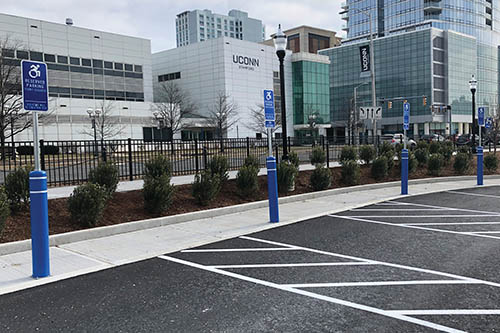 Unlike pyramid base signposts, flexible signposts and bollards are surface mounted, which helps to minimize tripping hazards and keeps the post in place when struck by a vehicle. A heavy-duty galvanized steel base with a hidden spring also allows the signpost to bend upon impact and return to an upright position, eliminating damage to vehicles and the parking lot.
Although flexible signposts must be attached to the parking lot surface versus rolled into place, installation is fast and usually can be installed with basic tools.
Flexible signpost and bollard systems available in the market today also take height requirements into consideration by offering post heights that comply with federal, state and local ADA regulations.
Beyond strictly compliance with ADA regulations and aesthetics, there are also some economic and environmental aspects to consider when comparing flexible signpost and bollard systems with concrete pyramid base signposts.
Transportation Costs Can Be Prohibitive
• Concrete pyramid base with post: Weighs around 365 lbs.; very heavy, more difficult to handle/move, higher freight costs.
• Flexible post or bollard: Includes a base; lightweight yet durable, easy to handle and install; easy to transport — fits in a pickup truck bed.
Overall Cost of Product Is More Expensive
• Concrete pyramid base with post: Product cost starts at around $400, plus additional cost of freight and lift truck to move into parking spaces.
• Flexible post or bollard: Starts at around $250 list price for product, plus installation.
Not a Sustainable Solution
• Concrete is not easily recycled and costly to transport to the landfill; concrete base must be moved into place using a lift truck, which adds to the burning of fossil fuels and greenhouse gas emissions.
• Flexible post or bollard design provides a pathway to sustainability; reduces the burning of fossil fuels and greenhouse gas emissions; helps keep difficult to recycle materials out of the landfill; and eliminates waste.
In conclusion, businesses and municipalities must take the necessary steps to ensure ADA compliance to avoid fines and provide a safe and accessible parking experience for individuals with disabilities. This includes proper signage, post height regulations and ensuring that the parking spaces are clearly marked and maintained. The installation of flexible signpost and bollard systems offers a solution that eliminates the common issues associated with concrete pyramid base signposts, such as tripping hazards and non-compliance with ADA regulations, along with several economic and environmental considerations.
— Jeremy Johnson is marketing manager of Holland, Mich.-based FlexPost Inc., which helps organizations manage traffic and keep people safe as they utilize curbside pickup, ADA, EV charging and other types of reserved parking. FlexPost® manufactures flexible signpost and bollard systems for retailers, restaurants, hospitals, universities, airports and other types of facilities. For more information, visit www.flexpostinc.com.