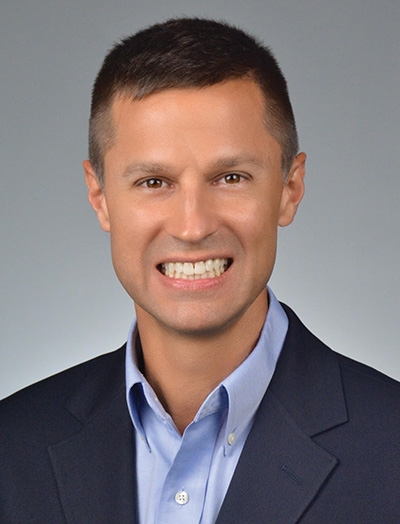 How flooring design can optimize the retail experience, while maximizing your bottom line.
By Jason Brubaker
Designing for the ultimate shopping experience begins from the ground up. Investing in high-quality, design-forward flooring provides an experience that attracts and retains consumers, benefitting customers and business owners alike. Flooring design elements, such as borders and patterns, can impact your store's visual layout and influence the flow of foot traffic. The end goal may be an inviting atmosphere with subtle, directional flow that will maximize purchasing behavior — but what retailers might not realize is that, beyond aesthetics, performance and durability of the flooring materials specified are just as vital to the overall vision.
Retail success is measured in customers, but heavy foot traffic can damage a space over time. Acrylic-infused, engineered hardwood floors offer a sustainable, high-performance option that allows management to enjoy unmatched durability, design flexibility and lower life-cycle cost. Through our experience in manufacturing flooring with durability and design in mind, here are our favorite ways to simplify the design process — keeping cost front-of-mind — when selecting flooring for your retail space.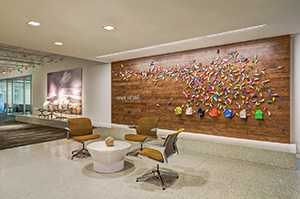 Design Flexibility: Get Creative!
A retailer's biggest task is to meet target consumers' needs by providing shoppers with an attractive space where they enjoy shopping and connect with the brand. Therefore, the strategic design of the hardwood chosen is just as important as the material itself. Real wood planks simultaneously offer the familiar, inviting warmth of real wood flooring, as well as an opportunity for unlimited creativity. Individual planks can be easily manipulated to define borders, create interest and change direction — creating a customized floor plan to perfectly suit your space. With a wide variety of color stains and patterns available, as well as innovative tools such as state-of-the-art color match technology, it's easy to get creative. No matter the style or brand, there is a custom flooring design to match. And why stop at what's beneath your feet? Some retail designers use acrylic-infused wood products on feature walls, ceilings, store displays and more.
Defining Borders, Display Areas and Direction
Flooring patterns can be used to help direct the flow of customers through a shop and draw the eye to certain merchandise displays almost imperceptibly. A simple way to achieve this clever design trick is to add a defining hardwood border around the entire space. Borders can be made of a different color stain of the same wood, or made of waterjet cuts pieced together into a more decorative band. Inlay a border a few rows in from the edge of the room and let it run all the way around the space's perimeter. From the moment they step through the door, customers will feel drawn further into the store as they follow the border.
To highlight larger, fixed areas such as display bins or counters, retail designers can change the pattern of the flooring surrounding the areas they wish to accent. For example, straight patterns alternating with herringbone add subtle contrast and depth. To further enhance the visual drama, designers can dress up the entire store with a parquet or decorative, repeating pattern. Box patterns, herringbone and other types of parquet floors create a grid or a directional flow, and can invoke a more dramatic or formal atmosphere in some instances. Deeper stains and darker borders in between sections can also ensure displays stand out.
For a more subtle option, retail designers can manipulate the direction in which planks are traditionally laid. People are accustomed to seeing hardwoods placed horizontally across a room. In installing the flooring diagonally instead, shoppers will feel naturally led to move toward specific locations. Similarly, alternating the direction of the flooring as it moves from section to section within the store is a helpful directional tool. These subtle methods for defining your space place more emphasis on the merchandise displayed in each section, and help direct in-store traffic more efficiently.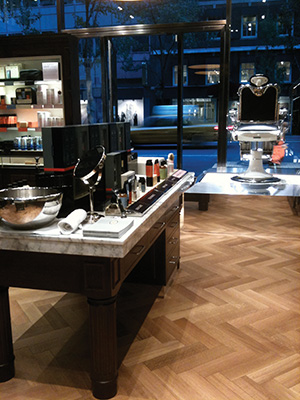 Unmatched Durability: Make Your Space Irreplaceable
From the moment customers enter a retail space, the hope is that they feel quality in every step. One of the most common questions we are asked is how our product holds up to the wear and tear of high traffic. We believe that even after multiple holiday seasons, door busting sales and rearranging displays, your flooring should continue to look as pristine as it did the day it was installed. Over time, hardwood flooring is more forgiving underfoot than tile, concrete or other hard materials. We take performance one step further, infusing hardwood with acrylic resin to be up to 300% more durable than untreated standard wood, which dramatically reduces the discoloration, scratching and denting typically seen with everyday wear and tear in standard hardwood flooring. We believe the best practice for designers is to ensure a specified product will be the last product of its kind needed in the space's lifetime. A product that lasts as long as a business benefits both the owner's bottom line and overall impact on the environment. With no need for replacement, there is no excess waste to haul away; no need to fix a problem with new adhesive; no additional carbon emissions from shipping new goods; and no cause to spend money to remove and replace with an entirely new product.
Lower Life-Cycle Cost = Greater ROI
While it's true that acrylic-infused wood flooring requires greater investment on the front end, the lower life cycle cost your customers will enjoy is well worth it for all involved — from customer to employee to owner. The success or failure of every specification made is determined long after the project is complete, and product failures can damage a store's reputation and cause a financial disaster for an owner. The true cost of a flooring failure is not just in the replacement; many stores must close while new flooring is installed, resulting in a significant loss of sales.
So why invest in acrylic-infused hardwoods? Compared to regular wood, concrete or commercial sheet vinyl, this option is engineered to be significantly less expensive to own over the lifetime of its installation. Despite higher initial investment, the material requires little maintenance and virtually no replacement.
For even greater savings, here's a tip: retailers can save up to 20% or 30% off material pricing when there is adequate volume to obtain price discounts. To pinpoint the right flooring for a project, it's important for retail designers to have open communication with product manufacturers to ensure they are getting the best pricing based on expected volumes, the most sustainably produced materials and the best options to suit the project's distinct aesthetic needs.
— Jason Brubaker is the vice president of sales and marketing with Nydree Flooring, a Forest, Virginia-based manufacturer known for producing acrylic-infused engineered wood flooring. Nydree Flooring was founded in 2001. For more information, visit www.nydreeflooring.com.