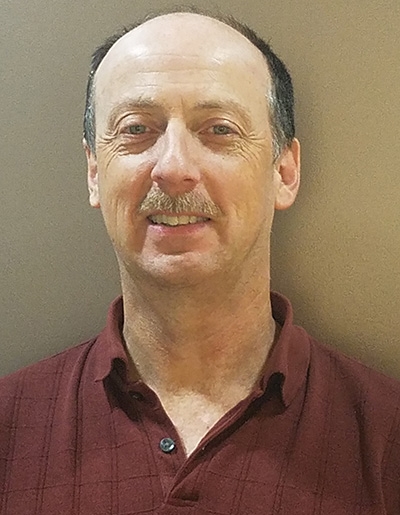 In the world of hospitality, the selection and design of kitchen area and equipment can make or break a restaurant's ultimate success.
By Jim Jewett, AIA
Many clients in the restaurant industry rely not only on their own vast experience but also that of skilled architects and kitchen consultants, who with a keen eye on emerging trends and the latest equipment, can offer solutions to almost any problem. Getting these consultants on board early is critical to any restaurant design project. Close collaboration between client, architect and kitchen consultant is the best way to reach the goals and expectations of the client.
Early coordination and decision-making will affect the overall design and result in a positive end product, that being a pleasing customer experience along with profitability for the hospitality provider. The recently completed Mitsuwa Market Place, located in the International Market Place in Waikiki, Hawaii, is one such project that came together on an extremely tight schedule thanks to that critical coordination. Nudell Architects was the Architect of Record and HW Group, Inc. served as the Interior Design Team for this exciting project.
Most restaurant design consists of these main areas — the Customer/Dining area, the Front of House and the Back of House. Mitsuwa Market Place is no different. Let's explore each of these areas in turn to see how they fit together for the most positive dining experience.
Back of House
The Back of House is where the bulk of the action is: the heat of the kitchen, the grills and the exhaust hoods — right down to the dish washing, the storage and the trash. In most cases, you will want these activities to go unnoticed by the customer; the noise, congestion of employees and food preparation all need to be segregated. A well thought out design layout will mitigate these. Considerations include switchback entrances to block views of the kitchen, installing proper insulation on the air supply, and hood ducts to reduce noise and also to protect against exhaust gases and heat.
If a restaurant is located in a mall or airport there may be requirements for additional kitchen hood exhaust filtration. Units known as PCUs (Pollution Control Units) can be as large as a small car and will need to be accommodated either on roof areas or, in the case of the Mitsuwa Market Place, the roof area was so limited that these PCUs needed to be installed within the ceiling space itself. The 10,000-square-foot Mitsuwa was fitted with four such units, providing filtration to five individual kitchens. The units' placement was a delicate matter of locating them in and around other piping and ductwork, but primarily above the kitchen areas where the noise of their operation was kept away from customer areas.
The cooking equipment itself will need to meet all governing requirements, which may include NSF (National Sanitation Foundation), UL (Underwriters Laboratories) and others. Not all kitchen equipment meets all the requirements, in particular exotic or foreign units, so care must be taken when specifying the items. Early identification of specialized pieces of equipment will save trouble down the road — as for example, a particular kitchen tenant wished to swap out a previously specified grill with a char-broiler type, with actual coals for the fuel. This change came well into construction when the kitchen exhaust hoods and PCUs were already being fabricated — the hoods and PCUs were not rated for that type of fueled equipment so another alternative needed to be selected. As mentioned earlier, a kitchen consultant with all the information and expertise at his or her fingertips, and early in the design process, can help to steer clear of these types of conflicts.
The materials used in the Back of House need to meet the strict heath code requirements for cleanability, functionality and protection against molds and pests. Health regulations state that floors, walls and ceilings shall be smooth, non-porous and easily cleanable. Fiber reinforced plastic (FRP) panels and ceramic tile do well in kitchens, as does properly prepared and painted drywall. Brick, cork and other porous materials, however, are "no-no's." The Mitsuwa Market used a combination of smooth ceramic tile in areas most visible to customers and scored FRP in the back areas to meet the health code requirements. Kitchen equipment shall be either mounted on legs or casters so that they can be easily cleaned beneath and around. Equipment that does not have these legs would need to be caulked with silicone to the wall and floor to eliminate gaps where food and debris can hide. Proper functionality in the Back of House includes proper lighting levels — typically 50-foot candles at the working surfaces are required. Health inspectors will often review the kitchen with a light meter, so be careful to illuminate all areas properly — sometimes shadows created by taller equipment against a work surface are enough to reduce the required light level (this is not always picked up on an engineer's photometric analysis). Light fixtures also need to be protected and shatter-proof for obvious reasons when placed above food preparation or cooking areas. Finally, protection against mold and pests involves providing proper water proofing and non-organic materials in walls and floors; waterproofing layers along with cementitious board along the lower portions of walls is ideal. The finish layer's floor and wall tile shall be provided with a code required coved tile base, allowing for a smooth transition and easy-to-clean surfaces. The coved portion can be either part of the tile base itself, or it can be a pre-finished metal trim that is installed at the floor/wall transition.
Other Back of House considerations include provisions for water heating, water filtration and other utilities. These items need to be designed into the kitchen area and not left to nooks and crannies of the space after the fact. The size of the equipment — whether it be electrical panel boards, water heaters or mechanical units — will grow in size from design to construction. There is often little room to fit these items in comfortably once they arrive on-site, so it's best to research the equipment well during design, to provide ample dedicated space for them, and then to review the equipment with the consultants. Early design sketches will not always provide adequate space for these utility items, so the architect must be ready to make the appropriate accommodations.
Front of House
Let's move now to the Front of House. This is the area of interaction between the customer and the hospitality employees, where food preparation is completed, where transactions are handled and where the customer will be most impressed with the quality of the service and of the restaurant. Here, there is a mingling of kitchen equipment and design expression lending to the overall atmosphere of the restaurant. The Mitsuwa Market Place design incorporated a variety of materials, lighting and details in this co-mingled integration zone. Color and textural experiences were the hallmark of the design elements, from the natural wood millwork surfaces to the rich textured gypsum wall panels that were illuminated with light and shadow play from above. Because this interaction zone incorporated kitchen equipment, the equipment needed to be clean, attractive stainless steel and backed with walls of ceramic tile. Stainless steel impresses customers because of its clean appearance.
Customer/Dining Area
Lastly, the Customer/Dining area presents the best showcase for the realization of the restaurant's design elements. For the Mitsuwa Market Place, this was an entirely new design concept, so the space provided a veritable playground for expression of the designer's concept. Again, colors, textures and lighting come into play in this mixture of specialized food market and dining area. Incorporating five individual tenant kitchen areas, a retail market area and a dining area that overlooks the vibrant Waikiki streetscape below, the Market Place design is a feast for the senses — visually dynamic and with the scent of freshly prepared foods.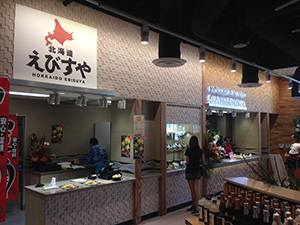 The kitchen areas are somewhat visible to the customer and, as mentioned, the materials used can be both sanitary and aesthetically pleasing at the same time. Front display counters and refrigerated cases were selected with a mix of stainless and powder coated, colored materials. Kitchen hoods that are exposed to view are also stainless steel and shrouded in part with the more vibrant finishes, such as tile or textured drywall panels.
The dynamic and vibrant interaction between kitchen equipment, materials, design and customer is no accident. It stems from deliberate and early collaboration between the forces of client, architect/designer and kitchen consultant along with a host of other team members working toward the goal of providing excellent environment, food and service to the customers.
— Jim Jewett is a project architect and AIA member with 25 years experience designing a wide range of projects, from retail to restaurants and automotive. Jewett works at Nudell Architects in Farmington Hills, Michigan. Nudell Architects recently celebrated its 40th Anniversary. For more information, visit www.nudellarchitects.com.
Tagged under