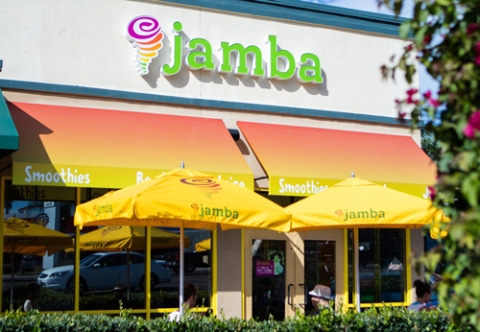 Atlanta and Frisco, Texas — Focus Brands Inc. (FBI) and Jamba, Inc. have entered into a definitive merger agreement under which FBI will acquire Jamba for approximately $200 million.
"Benefiting from an extremely loyal customer base and strong franchise operators, Jamba Juice is one of the category leaders in the fast growing smoothie and juice category," says Steve DeSutter, CEO of Focus Brands Inc. "We are excited to welcome Jamba Juice with such an iconic heritage into our family of well known and highly loved 'fan favorite' brands."
Adds Dave Pace, CEO of Jamba, Inc.: "We are delighted to have reached this agreement with Focus Brands and are confident that it will result in a positive outcome for our guests, our franchisees and our employees. Over the last few years, we have worked hard to strengthen our foundation and reposition this iconic brand for the future. Partnering with Focus Brands will allow us to build on this work and further accelerate the company's growth."
The transaction is expected to close during third quarter 2018 and will be funded by FBI using cash on hand and available borrowing capacity under its existing credit facilities. Following the close of the transaction, Jamba will be a privately held subsidiary of FBI and will continue to be operated as an independent brand.
Focus Brands is majority owned by affiliates of Roark, an Atlanta-based private equity firm.
North Point Advisors LLC is serving as financial advisor and DLA Piper LLP is serving as legal counsel to Jamba. Paul, Weiss, Rifkind, Wharton & Garrison LLP is serving as legal counsel to FBI.
Atlanta-based Focus Brands Inc., through its affiliate brands, is the franchisor and operator of more than 5,000 restaurants, cafes, ice cream shops and bakeries in the United States, the District of Columbia, Puerto Rico and over 50 foreign countries under the brand names Carvel®, Cinnabon®, Schlotzsky's®, Moe's Southwest Grill®, Auntie Anne's® and McAlister's Deli®, as well as Seattle's Best Coffee® on certain military bases and in certain international markets. For more information, visit www.focusbrands.com.
Jamba, Inc., through its wholly-owned subsidiary, Jamba Juice Company, is a global healthy lifestyle brand with more than 800 locations worldwide. For more information, visit www.jambajuice.com.
Roark focuses on investing in franchised and multi-unit businesses in the retail, restaurant, consumer and business services sectors. For more information, visit www.roarkcapital.com.
SOURCE: Focus Brands, Inc. & Jamba, Inc.