— By Shaw Hergenrather —
Are you ready for a Texas-sized deep freeze? Nine ways restaurants and retailers can prepare for and mitigate winter disasters.
Winter is coming. Even if truly cold weather rarely hits your part of the country, the season is rapidly approaching, and, as we all learned from the catastrophic power grid failure in Texas last winter, freezing temperatures can strike anywhere.
With a costly fall-out in excess of $130 billion, people across the country — including everyone on my team — watched in horror as the worst-case scenario unfolded:
Rolling blackouts.
Insufficient power for life-saving efforts.
Shortages of essential items like food, gas and water.
Inches of water from burst pipes in homes and buildings.
Frozen waterfalls in building hallways and stairwells.
Restaurants, retailers and other commercial facilities cannot control the power grid or the weather. However, many found themselves asking: "Could we have done anything differently to protect our livelihoods?"
Although every building has different construction and insulation realities, from a life protection and critical systems perspective, there are absolutely winter disaster preparations that teams in every state should make to minimize the ensuing destruction — whether or not you're likely to experience a deep freeze.
Freeze Damage Doesn't Have to be Texas Sized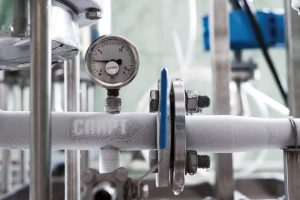 It doesn't take a colossal winter disaster to create catastrophic damage to your fire sprinkler system and, in turn, to your building. What's more, we've seen it all.
A few years ago, a restaurant from a major retail chain called us in after a deep freeze that led to their valve room freezing. They ultimately suffered over $20,000 in lost revenue and food spoilage, not to mention at least that much in damage repairs.
Unfortunately, it was entirely avoidable. Here's what happened:
The valve room had a fully operational heater installed about halfway up the wall. However, the room also had access doors in the roof, and unfortunately for this restaurant, there were no sensors on the doors to ensure they were closed OR temperature sensors in the room. When winter temps hit, the access doors weren't properly closed, and even though the heater was cranking, all that hot air escaped through the roof instead of working to heat the entire room, including the main fire sprinkler pipe below it.
The 4-inch water vertical water pipe in the room froze a few feet below where the heater was installed — it looked like a Hulk Smash — and water started pouring out when things warmed back up. Everything in the restaurant was damaged, including drywall, studs, subflooring and joists — not to mention appliances and dining room tables and chairs.
We worked with that restaurant to install IoT sensors on exterior openings and a heat sensor to make sure that doors and windows latch and the heat remains well above freezing. For them, it was an expensive lesson, but one that retail and restaurant owners everywhere can learn from and — hopefully — prevent.
The Unique Needs of Restaurants and Retailers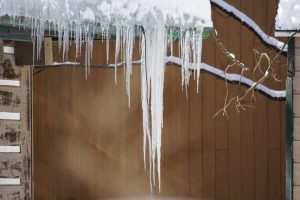 Over the last two decades, my team has worked with all kinds of companies, from data centers and hospitals to restaurants and retailers. Because of the nature of restaurants and retailers, you rarely have a facilities team on the clock; unlike mission-critical facilities, the bulk of managing your building falls to your onsite management, whose primary role is not facilities management. As a result, the best fail-safe for you when it comes to protecting your business from a winter freeze will be systems automation and IoT sensors. The reality is that by removing the biggest challenges of the human element — like triggering an alert if doors or windows aren't properly latched — you can focus on your entire mission, which is to serve food or sell products and, most importantly, bring in money.
The Best Defense is a Good Offense
My team and I frequently consult with facility managers around the country on all aspects of fire protection and critical systems management. When the topic of winter preparedness comes up, which it does often this time of the year, these are the most common points we stress when it comes to winter preparedness:
Perform regular inspections and maintenance of critical and life safety systems to ensure they're in full working order.
Preventative maintenance makes good sense no matter what because you want your systems ready if and when you ever need them.
Install IoT sensors at critical areas that trigger alerts when things aren't working quite right.
What are IoT sensors? They're sensors that track when something in your system isn't running optimally — you can set the parameters so that any time things aren't within range, the sensor alerts you or your vendor. The restaurant above now has sensors to ensure their valve room temperature remains above freezing and sensors that make sure any doors or windows are properly closed and not letting in cold air.  Another example might be sensors that ensure your compressor is not kicking on too often (which would indicate a leak).
Visually inspect your dry system pipes to identify sagging pipe sections.
These sections are most likely to collect condensation, freeze and break, so identifying potential problems and performing any repairs before they damage your system is the best way to minimize damage.
Perform winterization maintenance in the fall.
Every fall, you'll want to drain any and all low points where condensation forms due to summer humidity. You'll also want to drain auxiliary drains and drum drips as well, so if temperatures drop, your system is less likely to freeze and break.
Eliminate the possibility of water getting into your dry fire protection system.
Regular air generators use normal air, which comes with a dose of humidity. And with the heating, cooling and heating that goes on, that humidity turns into condensation. By installing a nitrogen generator as a preventative measure, you can prevent a ton of water-related problems.
Install battery or generator backups.
Regardless of the weather, it's a good idea to have a backup plan to ensure the continuity of critical systems. Be sure to perform regular maintenance and inspections to ensure sufficient battery charge or generator fuel, and do a quick check-up when you know winter weather is coming.
Build a relationship with your service provider.
No matter what, it's a good idea to build a relationship with your service provider. Check in with them regularly and get on a regular maintenance schedule to ensure that your systems perform at their best.
Ask about a priority response clause.
If your building is in any way mission-critical, or you anticipate something coming up, consider asking your vendor about a priority response clause in your service agreement. This ensures that if something does go wrong, you'll be at the top of the list for repairs and maintenance.
Ask your vendor about their preparedness.
A simple question like, "Based on what you know or see of our environment, do you have sufficient spare parts on hand?" can help you understand if your vendor really is equipped to help you in a worst-case scenario.
How to Create a Worst-Case Scenario Plan
Some things are simply out of anyone's control, and in this instance, it's best to have a worst-case scenario plan so that your team knows what to do if there's a power failure, a deep freeze and no backup power.
Your local AHJ (Authority Having Jurisdiction) — frequently city, county or state governments — or your insurance company may have guidance or even specific requirements for how this should work.
Ultimately it boils down to training your team members on what to do in the case of system impairment, documenting the process and then following through on everything to the letter. We recommend using a lock-out tag-out system to turn off the water and make sure it drains where it's supposed to and not in your lobby. Then let the authorities know to create a two-way communication between your management team and the AHJ. And document every conversation and notification for tracking purposes.
The Bottom Line: Being Proactive Reduces the Need to be Reactive
Knowledge is power here. By devoting time upfront to perform inspections and install sensors, you can identify potential issues and remedy them before they cause expensive problems. I can't stress enough the importance of planning ahead to reduce the likelihood of experiencing significant freeze damage.
So if you haven't gotten on your vendor's calendar for inspections, the time is now. Everyone is busy, and you want to be sure you're working to build that relationship now instead of calling around in a panic in the case of a true emergency.
We always hope the worst doesn't happen, but being prepared with a plan can make the difference between a speedy return to normal operations and waiting weeks, months or longer for full mitigation and repairs. Enlisting the help of a professional fire protection systems contractor and taking the time to prepare before a potential problem arises saves you more than the costly damage repairs.  In addition to avoiding expensive repairs and inventory losses, you may also see your insurance costs go down. And then, there's the biggest benefit of all: the peace of mind that comes from being prepared.
— Shaw Hergenrather is president of Cornet, Inc., a Virginia-based company specializing in fire protection systems management. He consults with brands across the country and oversees every aspect of critical and life safety systems from design-build to inspection, maintenance and IoT monitoring to ensure critical systems are ready when needed. You can learn at www.cornet-fps.com.
classic-editor-remember:

classic-editor

abkw-text:
Tagged under