Golden Corral unveils its new look, called Gateway, which debuted in Greensboro, North Carolina, in December 2017.
By David Conklin
Golden Corral recently introduced a dramatic new look and design to its restaurants that will greatly enhance the customer experience and increase its operational efficiency. The new building prototype, called Gateway, debuted in Greensboro, North Carolina, in December 2017 when the existing restaurant was torn down and rebuilt under the new design.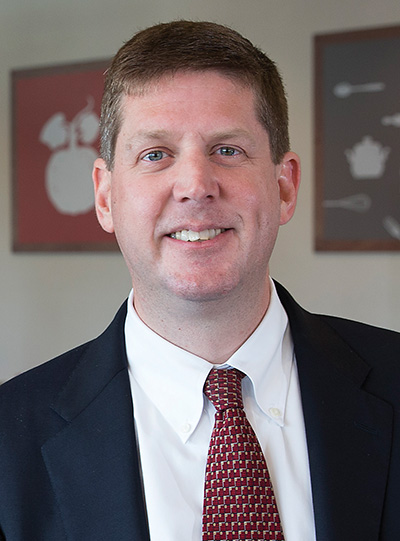 The new building design creates a warm and contemporary appearance while giving guests more space in the dining room. Visitors will immediately notice sophisticated exterior features such as stacked stone towers, metal canopies and wood trellises. Details like wood-toned ceilings, a stacked stone fireplace, stone finishes on the food bar tops and tiled walls in the buffet area accentuate the interior of the restaurant. While we believe our guests will love these design enhancements, there are many other efficiency and design features to the restaurant that people may not notice but are just as important.
Several years ago, Golden Corral sought a new restaurant design that would provide a greater efficiency of its space, both for staff in the back of the house and customers in the dining room. It came at a time in which our margins were decreasing as a result of growing labor costs in the current building design. We also recognized many of our competitors were raising the bar on their facilities, and Golden Corral wanted to enhance the overall dining experience for our guests.
We created a new prototype design team consisting of members of senior management and franchise owners, and developed partnerships with an industrial engineering consulting firm, Profitality, and an architecture firm, Cincinnati-based FRCH Design Worldwide. After 2 years of studies and testing, we designed a new restaurant prototype that is more attractive and comfortable for our guests and more efficient for its operators and staff.
Kitchen
Profitality conducted several extensive time-motion studies of Golden Corral's key operations, and determined a high level of movement and labor due in large part to an inefficient kitchen layout and placement of equipment and workstations. In the new design, the food preparation space is now concentrated at one end of the building. Employees can now share duties, move easily from one prep area to another and operate with greater productivity.
In addition to the adjusted layout, Golden Corral also made changes to some of the equipment being used. Rather than operating a single-use oven like a chicken rotisserie, we have installed smokers that can handle multiple products at the same time. In creating a more efficient use of the space, the redesigned kitchen is almost 1,000 square feet smaller than the previous layout.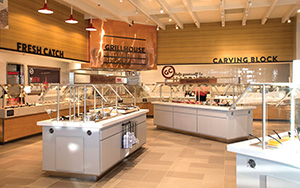 Buffet Area
One detail of Golden Corral's new prototype that guests will immediately notice are the reduced views into the kitchen from the buffet area. This change was a deliberate strategy to hide some of the more functional aspects of the operations, while still creating "cooking theaters" to display visually appealing menu items in areas such as a carving station, smokehouse and cake decorating preparation.
The layouts of the buffet stations have been updated in the new building design. Previously, the food stations gave guests access from one side and extended most of the length of the restaurant. The new prototype features a combination of single-sided bars as well as freestanding "scatter bars," which give customers 360-degree access around the station. The perimeter of the service area will have the bakery, hot bars, grill house and carving stations, with scatter bars in the open that will serve hot food as well as the cold bars for salads.
"Golden Corral's new restaurant design will increase the operational efficiency throughout the building," says Juan Martinez, the principal and founder of Profitality. "We've worked with them to create greater use of the space in the back of the house while significantly reducing its square footage. The space saved will go to the dining room and buffet area, giving guests more room to enjoy their meal and a better traffic flow to get their food."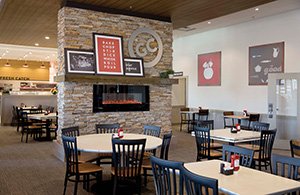 Dining Room
One of the areas where Golden Corral's guests gave us the most feedback in recent years is that they often said the dining rooms felt too tight and uncomfortable. We worked with the architectural firm FRCH to develop several ways to address this issue, starting by adding nearly 1,000 square feet to the room and increasing the space between the tables.
We wanted to create a different appearance for the dining room in the new model and give it the feel of home. Large, oversized windows were added to increase natural lighting and make the space feel more open. One of the new key design elements is a two-sided stacked stone fireplace in the middle of the dining room. This addition provides an inviting and visually appealing feature while also breaking up the room into smaller, cozier spaces.
Another way in which we divided the space in the dining room area is the addition of a large server station that will be able to accommodate bus carts. This will enable the servers to quickly clear the tables and spend more time on the floor and provide a greater level of service to our guests. It is part of an overall strategy by Golden Corral to enhance the dining experience for our customers.
This approach can be seen as soon as people step foot into the newly designed restaurant, which features an open and inviting entrance. Unlike the previous design, which included a wall of self-serve beverage stations, drinks will now be delivered by servers to guest tables. While providing better sight lines and increased hospitality, this change will also reduce waiting times in line and get customers to their seats quicker. A separate lane for to-go orders was also added to provide greater convenience for customers who place carry-out orders to bypass the regular check-in lines.
"One of the major goals we were able to accomplish from the design perspective for the new restaurant prototype was to increase comfort for Golden Corral's guests and make better use of the building's space," says Aaron Ruef, director of specialty retail design for FRCH. "The new design showcases an inviting and residential appearance while also incorporating a more efficient layout."
In addition to being more operationally efficient, Golden Corral's new building design will be much more energy-efficient as well. We have installed LED lighting throughout the building and added Low E glass windows to help block UV rays and control radiant heat. Rooftops will feature economizers, which sense the exterior air temperature and can use outside air for interior cooling under certain conditions. Each building will include additional insulation and utilize tankless water heaters and variable frequency drive motors on hoods and HVAC units that decrease the flow of air when not in use. All of these measures help save on both energy and maintenance costs for the restaurant.
In addition to the Greensboro restaurant that opened last December featuring the new design, major reimages incorporating the new prototype were recently completed in existing locations in San Antonio and Humble, Texas. We are currently studying the Greensboro location to see what elements of the design works best and what can be adjusted in future versions. Gateway/Greensboro design components will start to be incorporated in our new restaurants in 2018 as well as at least four pre-existing locations. We believe these changes will help shape the future for Golden Corral and its guests for many years to come.
— David Conklin is the senior vice president of development for Golden Corral, the nation's largest grill-buffet franchise with nearly 500 restaurants in 42 states. Email the author at [email protected]