How Planet Fitness trimmed $450,000 from its energy bill in 12 months.
By Alan Buell
Some energy-efficiency projects have unintended consequences. Our quest to lower our energy bills led us to push energy management into the cloud and, along the way, discover that some of our HVAC maintenance contractors were not toeing the line.
When I joined Planet Fitness as director of construction for the corporate office, I assumed responsibility for 58 fitness centers around the U.S. I immediately began applying my experience in driving energy-efficiency projects to see what savings could be attained at this national fitness center chain.
I started with the easy stuff: lighting. Most locations had been fitted with metal-halide high-bay fixtures — an excellent candidate for an LED lighting upgrade. Within 1 year, more than half of the locations were upgraded to LED lighting. This initial project reduced energy costs associated with lighting by 50%. But the savings were patchy: Some clubs saw their energy bill decrease, while for others, the energy bills actually went up. That's when I realized it was time to take a closer look at the energy consumption of our HVAC systems.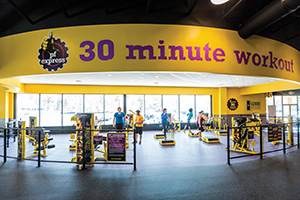 For many commercial businesses, the HVAC system can easily represent the majority of its monthly energy bill. Most of our Planet Fitness locations have four or more roof-mounted HVAC units, each controlled by its own zone thermostat. Exactly how a club's thermostats were set was entirely at the discretion of the club's local management — often in response to members' requests. The result: a wide range of temperatures throughout a club, and the potential for costly fluctuations as employees tinkered with thermostats in an effort to accommodate individual desires.
Pushing Climate Control Into the Cloud
Clearly, a more centralized approach could eliminate these variations and deliver overall energy savings. But beyond energy consumption, we wanted a system that could also synchronize and optimize the operation of all HVAC units at a location to reduce the maximum consumption at any one time. A review of our energy bills revealed a glaring problem that became the focus of our project: demand charges.
Some locations have 10 HVAC units, and since they were all programmed to operate independently, we often had situations where several HVAC units were running full tilt simultaneously. The local energy company of course recorded this peak load and then hit us with demand charges based on that maximum energy use. To reduce these demand charges, we needed a system that would intelligently allow any given HVAC unit to operate at maximum cooling if needed, and then determine which of the other units could be idled during that time to ensure we never exceeded a specific peak load.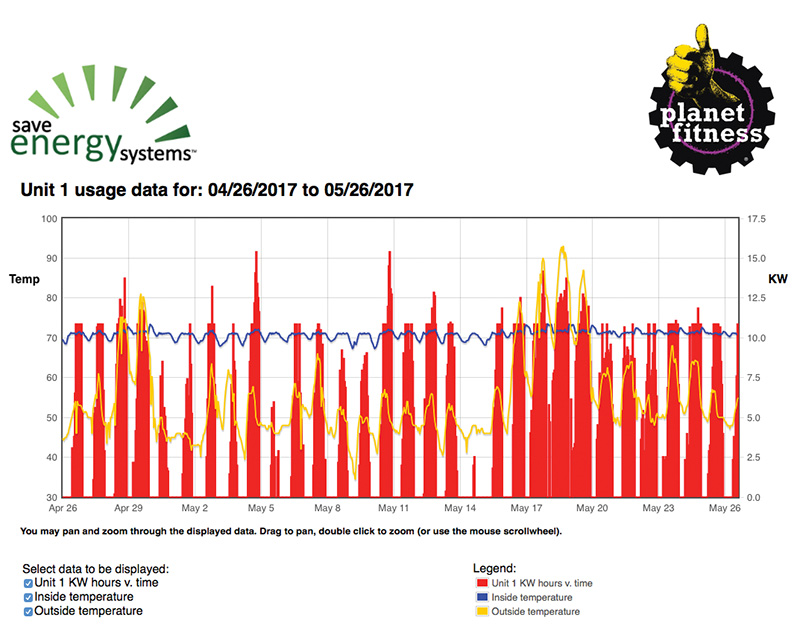 Save Energy Systems, an energy management company based in Massachusetts, responded to our RFP with a proposal that specifically targeted demand charges. Its centralized HVAC energy management system features a device called the Demand-Limiting Controller (DLC). Designed for small to medium-size businesses such as health clubs, auto dealers, retailers, offices and distribution/logistics warehouses, the DLC is an intelligent, networked system that enables precise control of any HVAC system. By installing the DLC as part of a simple retrofit, we can employ the same energy-saving techniques used by big corporations to tame their HVAC systems.
Save Energy Systems provides a web portal that displays the real-time state of each club's HVAC units, with the ability to modify settings remotely. We can easily log in to any location from a standard browser and scan that club's HVAC dashboard to see the current set point and temperature for each zone, the current operational state of each HVAC compressor, and even the current temperatures within the ductwork (this indicates whether each HVAC unit really is cooling effectively).   
As a proof of concept, several Planet Fitness locations were equipped with the Save Energy Systems retrofit, which included networked thermostats, a range of new sensors, and a management unit that connects to the Internet. At these locations, we saw an instant reduction in energy usage of between 15% and 20%, with some clubs seeing as much as 25% to 30%. These immediate gains encouraged us to press ahead with a national retrofit of 57 locations at the pace of two or three retrofits per week.
Improved System Visibility Reveals Issues With Maintenance and Hardware
Often, when the Save Energy Systems team went onsite to upgrade a club's HVAC, they found long-standing maintenance issues that were compounding a club's energy costs: HVAC compressors that had been disconnected, different HVAC units locked in a heating-cooling battle for supremacy, clogged inlet vents and zone thermostats set incorrectly. In some cases, there were indications that the local contractor had been doing a poor job, which resulted in the reassessment of many local HVAC maintenance contracts.
In addition, visibility into the inner workings of a club's HVAC system provided by the Save Energy Systems dashboard uncovered deeper technical issues that were reducing the efficiency of the HVAC systems at that location, such as low refrigerant levels or incorrectly configured ductwork. These technical issues had to be addressed before we could proceed with our HVAC management work. Furthermore, the Save Energy Systems survey of all our HVAC equipment revealed the need to replace many aging compressors and other components, and to plan for replacement of others in the near term. These were significant capital expenses that had to be brought to management for consideration, as they were not part of the original plan nor budget scope.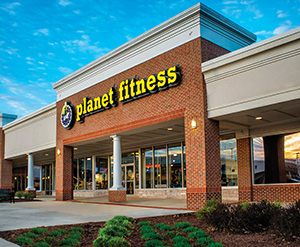 Improvements in Both Member Satisfaction and Bottom-Line Financials
By the end of 2016 the majority of the retrofits were completed. The combination of the DLC HVAC energy management systems and the LED lighting upgrades reduced our overall energy bill by more than $450,000. The savings have continued during 2017, and we continue to see a downward quarter-on-quarter trend line for overall energy usage.
In addition to the significant energy savings, reduced carbon footprint and reduced energy bills, we've boosted member satisfaction. One truism about HVAC is that if your customers aren't commenting on it, your internal climate is likely perfect. Club managers are reporting that members' complaints about HVAC are significantly down compared to before the retrofit. This is good for our brand's reputation and good for our bottom line.
SIDEBAR:
Planning a Successful HVAC Control Retrofit
There are many issues to consider when assessing an HVAC energy management system (HEMS). These include:
Where are the costs coming from: use or demand charges?
Are the thermostats/sensors at the right location?
Should a large unit be zoned to provide different temperatures for different area uses?
What are the occupant priorities: comfort or energy savings?
How much comfort can realistically be traded for energy savings?
What are your financial priorities: control or cost savings?
What is the anticipated ROI?
Are there local utility incentives available?
Who will be managing/monitoring the system?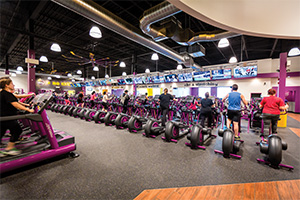 SIDEBAR:
Project Management Considerations
When you start the installation, you'll find a lot of systems need to be repaired and replaced, so you will need to budget for this with both maintenance and capital expenditures. You want to avoid identifying what needs fixing and then find you cannot afford it!
Document all your assets before you start with your energy-efficiency contractor, so you have a good idea of what's out there and how old it is.
Your IT folks may be a little wary of new IoT HVAC devices being installed on the network, so make sure invite them to connect with the HVAC upgrade team well before hardware is being installed so they can ensure security procedures are followed.
Establish your energy baseline well ahead of project start so you can demonstrate actual ROI and energy savings.
— Alan Buell is director of construction at Planet Fitness World Headquarters, based in Newington, New Hampshire. His 25-year career in facilities maintenance and construction includes roles at Timberland, HP and Apollo Computer. This article originally appeared as the cover story of the October 2017 issue of Retail & Restaurant Facility Business. Email Editor Katie Lee at katie@francemediainc.com.