Dallas-based MUTTS Canine Cantina brings a unique concept to unique real estate spaces.
— By Katie Lee —
Imagine the coolest dog park and the coolest dog-friendly restaurant — together in one place. Like a beer garden with your dog. Or a dog park with adult beverages. Then, imagine no more because it actually exists.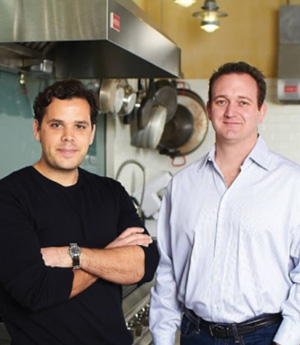 MUTTS Canine Cantina is an innovative new concept from Dallas-based FreeRange Concepts, led by co-founders Kyle Noonan (left) and Josh Sepkowitz (right), with two locations in Dallas and Fort Worth, Texas. With over 100 franchisee inquiries knocking on the door, MUTTS Canine Cantina is close to signing its first multi-unit development deals.
"This is a fun concept from top to bottom, just by the nature of the dogs and food and drinks," says Noonan. "It took us a number of years to get it where we feel like it's perfected, but now we're here and we're ready to blow this thing out of the water."
Simply put, it's a great idea. "Honestly, we didn't do a whole lot of analysis before jumping into it," says Sepkowitz. "We were both dog lovers, Kyle and I, and we figured people would like to have a beer and be with their dogs. The theory was, let's take someone's passion — which is their animal — and add in a food and beverage component."
Thus, the first membership-based dog park and bar and restaurant was born. The concept includes two off-leash dog parks — for large and small dogs — with an open-air bar between them, accessible from both parks, as well as a patio/cantina (separate from the dog parks) where people can eat, drink and socialize with their pups on-leash. 'Bark rangers' make periodic rounds to clean up dog waste and ensure water stations and bathing tubs are full and clean. Dog owners can lounge on Adirondack chairs in the park or on the patio and walk up to the bar to order a local craft beer or a frozen 'barkarita.' Dogs, too, have their own menu, with 'pupsicles' — frozen beef broth on a dog treat — being the most drooled-over item. While the cantina and patio are open to all, the dog parks are accessible only to monthly or annual members or to those who pay approximately $6 for a day pass.
Of course, dogs aren't the only ones socializing at MUTTS. While young singles living in nearby apartments make up a large part of their audience, MUTTS also attracts couples, families, retirees and even people without dogs. "We really hit all of the categories, but the one common denominator is that everyone loves dogs," Noonan says.
He adds: "One of the most interesting things that we didn't anticipate: MUTTS has become almost like a singles market. Dogs, it turns out, are great icebreakers. There have been a lot of love connections made at MUTTS; it really provides a sense of community. The second fun surprise is community groups forming on their own — fellow Golden Retriever owners might meet every Thursday, or something like that. These groups are forming because dogs are a great uniter of people."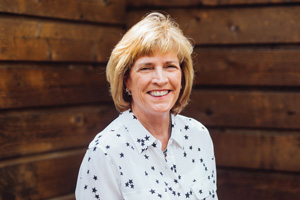 MUTTS hosts dog-friendly events about once a month, including outdoor family movie nights, group yoga in the dog park, doggie birthday parties, and photo shoots of your dog with Santa and the Easter Bunny. The potential for marketing and merchandising "has a lot of legs," as Michelle Boggs (right), the company's managing partner and director of franchising, puts it, starting with the company's tag line: "Come. Sit. Stay." There are 'Yappy Hour' specials and dog 'pawties.' "It's so MUTTS fun!" The pun potential, it seems, is endless.
The fact is, MUTTS essentially created its own category of 'eatertainment,' a term used by shopping center owners to reinvent centers and lure consumers back to brick-and-mortar. Sort of like experiential retail but with restaurants, eatertainment refers to a dining destination that's about more than just the food, or food you could order through Uber Eats — it's about the experience. For you and your four-legged friend. The concept is also unique (and desirable to landlords) because it can fit into any odd-shaped or under-utilized tract of land. Three-fourths of an acre, no matter how weirdly shaped, is all that's needed. An urban oasis, if you will.
"Our original location is right in the middle of Uptown Dallas, and then our second location in Fort Worth is not as urban, it's more of a drive-to, but we're having fabulous success in both instances," says Sepkowitz. "In Fort Worth, the developer called us and said, 'Listen, I really like the MUTTS concept. We have a triangle that's right on the Trinity River that we're not sure what to do with. Can you put together a plan to utilize that space?' We did, and it's been great. Being able to take advantage of spaces a developer isn't sure what to do with benefits us and benefits developers."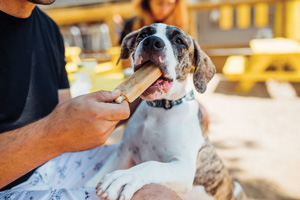 The second location, which opened in Fort Worth in October 2018, serves as the company's latest 'MUTTS 2.0' prototype. In a departure from the Dallas location, the new Fort Worth MUTTS features a front-forward, street-facing patio so that patrons, even without dogs, feel invited to come in and enjoy a great meal — the patio is no longer hidden from street view. The new Fort Worth location also includes shade canopies over some of the outdoor park and cantina. Designed by Frey-Moss Structures, a Conyers, Georgia-based firm that specializes in modular building construction, a turnkey model was just what MUTTS needed to keep costs down and scale the concept in preparation for franchise growth.
"What I found out from Kyle and Josh was trying to build a build-to-suit building which isn't that big was a pretty expensive endeavor because not many general contractors wanted to touch it. Because it just wasn't that big of a project for them, they overpriced it," says Boggs.
Frey-Moss took a different approach. "Essentially, they build everything in a warehouse," Boggs explains. "In our case, we have a food module, a kitchen module and a bar module. They literally build it, put it together, completely assemble it — HVAC, bathrooms, walk-in cooler, vent-a-hood — and then they have it state-stamped according to which state it's going to. So it's actually a piece of equipment that's already approved. Then they take it apart, truck it to the location and put everything together in a couple days."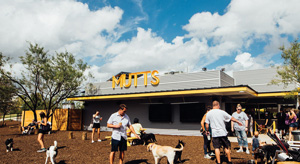 MUTTS is being franchised by Fransmart, the world's largest franchise developer, whose founder and CEO Dan Rowe was a friend of Boggs.' Rowe, who helped grow brands such as Qdoba Mexican Grill and Five Guys Burgers & Fries from infancy to national names, immediately liked the MUTTS concept — and the creative brainpower behind it.
Six years earlier, Noonan and Sepkowitz founded FreeRange Concepts, which has disrupted the industry in innovative ways. FreeRange's pioneering Texas restaurants include The Rustic, a music and event space venue + bar and restaurant, with locations in Dallas, Houston and San Antonio; Bowl & Barrel, an upscale bowling alley and bar, also with locations in Dallas, Houston and San Antonio; and The General Public, with neighborhood eateries in San Antonio and Houston. The most scalable of FreeRange's concepts is MUTTS Canine Cantina.
In addition to the no-fuss installation of pre-manufactured modules used in construction, MUTTS further improves its economies of scale by including, in each franchise agreement, negotiated contracts with national vendors, such as CBRE for real estate; Trimark for kitchen equipment; Sysco for food supply; Starpower for audio/visual equipment; Fastsigns for signage; Ima/Waldman Insurance; and various IT vendors for point-of-sale, surveillance, labor and accounting.
"To the extent that we possibly can, we have created a kit for the franchisees," says Boggs. "That way, they don't have to figure it out."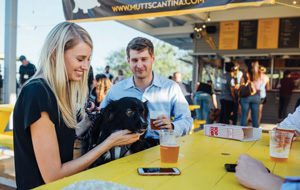 Similar to Frey-Moss offering building templates and fixture options from which franchisees can choose, so does MUTTS' signage vendor, Fastsigns. The company has built an online catalog of all the signage a franchisee would need, depending on the shape and size of the particular lot, its fencing, etc. "A franchisee can go online and literally choose a sign from a drop-down menu," she says. "Every turn we've taken, we've tried to make it easy for franchisees."
MUTTS plans to franchise outside of Texas and even outside the Sunbelt states in the near future.
Although it's a weather-dependent concept, Boggs sees potential in all weather. "When you have an outdoor facility, even with a cover over it like the new MUTTS, you can't really enclose it and serve food with pets," she says. "But I think there's an opportunity to take this to the top 40 markets in the country and not just limit it to the Sunbelt states. It's been really, really surprising to see a lot of interest from multi-unit developers [including Amazon HQ2 developer JBG]. That's even before, really, turning Dan loose because of course that's his secret sauce: going to large, multi-unit developers that have many franchises already. So far, so good. I think we're going to uncover every stone and figure out how to make the cold-weather states work in an indoor-outdoor environment. Of course with Dan's knowledge and contacts in the industry, we think it's a plan that's just starting to come together."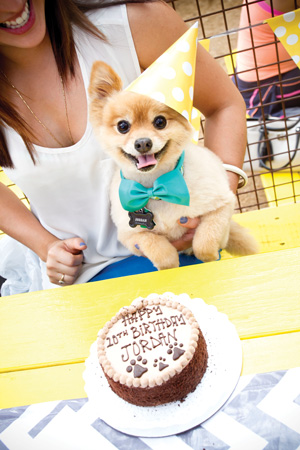 Adds Noonan: "We started MUTTS from the beginning as our most scalable concept. Because we created its own category and we were first to market, it posed a really unique opportunity for growth: to be the national name in this category. Just tapping into the fact that people love their pets — people spend a lot of money on their dogs (at least I do!). We were tapping into something that people love, were passionate about, willing to spend money on, and we were the first to market and really the only one of its kind. We felt like from the get-go, this was our growth opportunity. We're really excited about it. The thoughts from initial franchisees have confirmed our thesis.
"We plan on being top dogs in the industry," Noonan continues. "Come join the pack."
— This article originally was published as the February 2019 cover story of Retail & Restaurant Facility Business magazine. Email the editor, Katie Lee, at [email protected].
abkw-text: