Restroom at rowdy sports pub gets a new look with durable, affordable HDPE partitions.
By Rob Donlon
Over 20 years, the Hal Smith Group, headquartered in Norman, Oklahoma, has grown from a few burger joints to nearly 60 restaurants under 14 separately-themed concepts. Serving thousands daily across seven Midwestern states, each location provides top-notch service and food ranging from high-end steaks and burgers to Mexican, seafood and everything in between.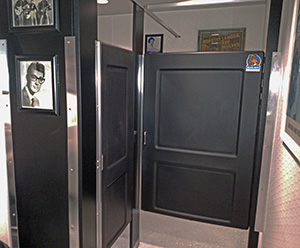 Several locations recently went through upgrades to reduce maintenance and repairs and create a cleaner, more contemporary look and feel. Featuring the "Big Lou Cheeseburger as America's best," Louie's is a chain of American-fare grill and pub serving mid-priced food and beverages in a casual atmosphere. The neighborhood restaurant is a great place to unwind with friends and family in front of flat screens playing your favorite sports. The other chain of pubs is known as The Garage, a fun place with more than 15 TVs showing favorite old movies or sports. Skeeball, pinball and video games also accent an atmosphere drenched in a hodgepodge of eclectic décor.
"Both restaurants are local hotspots in their cities," says Kevin Mendel, project manager at Construction Building Specialties, Inc., which for nearly 50 years has specialized in the installation of commercial doors and hardware in Oklahoma and surrounding states. "They are great for socializing and having a good time, but, the sports crowd can get rowdy." He said this was especially true for the Louie's in Norman, Oklahoma, across from the University of Oklahoma Sooners' football stadium.
"Management was in here after game days to order for metal bathroom partitions parts that were either badly damaged or ripped from their hinges," says Mendel. "It became a Monday morning ritual during the course of the season."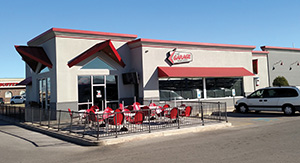 That was until Mendel recommended HDPE restroom partitions at each location. Unlike metal, HDPE partitions are impermeable to moisture, will never rust or need painting, do not delaminate and are built to resist mildew, odors, corrosion and dents, saving the added costs of maintenance. They are also very hygienic and resist bacteria more than other materials.
"They work beautifully," says Mendel. "Since the new partitions were installed in the Louie's location, their maintenance time and costs have gone way down. It's amazing how these partitions absorb the punishment, while the others just buckle under. Everyone from management to workers to customers are very impressed with the new partitions."
As a result, the Hal Smith Group has since installed HDPE partitions with a black finish in 15 separate Louie's and The Garage restaurants located throughout the local area including Oklahoma City, Moore, Norman, Stillwater and Tulsa. The company has also specified HDPE partitions for use in the new construction of these bar and grills.
"We really love the product because it's proven to be ultra-durable," says Brandon Kistler, general manager of the Hal Smith Restaurant Group. "The partitions really held up well in all of our locations and are easy to clean. In fact, they are so low maintenance, we don't even think about them anymore, which is a tremendous relief after having had so many problems in the past."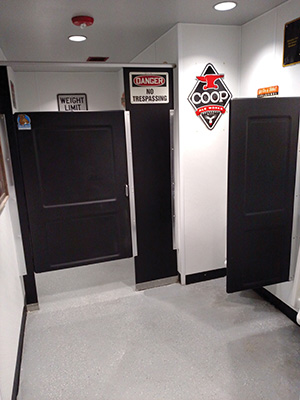 Kistler also mentions that as a further test case for their rugged durability, one Louie's location has a pool hall next to the restaurant. "They share the same set of restrooms and the stalls used to take quite a beating. Those days ended when the new HDPE partitions were installed," he says.
HDPE partitions are specially engineered for price-conscious customers looking to combine the easy installation of plastic partitions with the ability to create unique, attractive interior spaces and achieve fully-customized appearances. They can be floor-mounted and overhead braced, ceiling hung and/or purchased in floor-to-ceiling configurations.
"The HDPE partitions are great for restaurant and foodservice facilities," says Mendel. "They're durable, affordable and look great in every application."
— Rob Donlon is vice president of sales & marketing for Scranton Products, a division of The Azek Company. In his role, he has helped to develop Scranton Products into the leading manufacturer of HDPE partitions & lockers. Visit www.scrantonproducts.com.