— Interview with Justin Reese —
Ghirardelli Chocolate Company enters its 170th year with major renovation plans for its iconic Ghirardelli Square flagship locations in San Francisco.
As experiential retail returns across the country, an elevated experience like no other is currently undergoing a makeover at Ghirardelli Chocolate's historic shops in San Francisco. The three flagship locations — the Ghirardelli Chocolate Experience Store, the Original Ghirardelli Ice Cream and Chocolate Shop, and Ghirardelli On-the-Go — will undergo phased renovations this spring and summer.
R&R: Before we discuss the flagship renovations, how many Ghirardelli Chocolate shops are currently in operation worldwide? And in the U.S.? Did any new stores open in 2021, and what are your new store goals for 2022?
Justin Reese: We have 19 stores operating throughout the U.S., with our most recent addition coming in October 2021 when we opened our newest Factory Store in Tracy, California.
R&R: Please describe each the individual flagship spaces — the Ghirardelli Chocolate Experience Store, the Original Ghirardelli Ice Cream and Chocolate Shop, and Ghirardelli On-The-Go — and what is involved in each phase of the renovation.
Reese: Each flagship location offers a deliciously unique experience.
The Ghirardelli Chocolate Experience Store is a chocolate lover's dream. It's home to the world's largest Pick & Mix, with the widest selection of Ghirardelli Squares available anywhere. On any given day, we have 20 everyday flavors plus additional seasonal flavors for guests to choose from. In addition to the widest selection of Ghirardelli chocolates, the new store will have a new chocolatier station alongside the Ghirardelli fountain classics, including our World-Famous Hot Fudge Sundae and a variety of sundaes, shakes, hot cocoas and more. There are also breathtaking views of San Francisco Bay. Our renovation will also elevate the guest experience through blending digital and physical elements of the store and introducing even more ways to personalize your favorite assortment of Ghirardelli squares.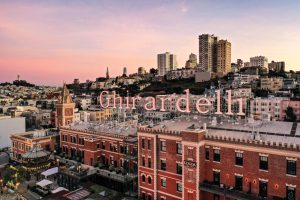 Visitors can memorialize their visit to Ghirardelli Square with a picture under the iconic arched Ghirardelli sign, discover how Ghirardelli Chocolate is made with the self-guided tour of the historic chocolate making equipment on display, and enjoy a deep dive into the history of Ghirardelli artifacts. Guests can also enjoy fresh hot fudge handmade daily on-site.
Ghirardelli On-The-Go allows visitors to find their favorite Ghirardelli treats quickly and conveniently take them along as they explore San Francisco. While the exterior of Ghirardelli's flagship locations will retain its classic charm, the interiors will undergo a design refresh led by San Francisco design firm, Eight Inc., elevating not only the aesthetic but the guest experience as well.
R&R: Tell me how the renovated spaces will give locals and visitors a full sensory experience? How does the new refresh put the guest experience front and center?
Reese: The restoration will bring truly unique touchpoints to each of the spaces. Guests can expect an elevated service experience when they visit the flagship stores at Ghirardelli Square. The Ghirardelli Chocolate Experience Store, which is set to be completed in May 2022, will provide guests access to each and every flavor of square on offer through Ghirardelli's largest ever Pick & Mix. The new Pick & Mix will also be a one-of-a-kind experience blending digital and physical elements, introducing even more ways to personalize your favorite assortment of Ghirardelli squares.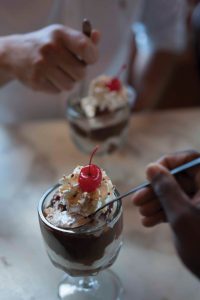 The Original Ice Cream and Chocolate Shop will bring the making of fountain shop favorites front and center, where guests will have a full sensory experience. The store will feature a new chocolatier station to celebrate the craft of chocolate and delight guests with the tastes and aromas of fresh chocolate, waffle cones and hot fudge. The space will be adorned with details like custom hand-crafted tiles in Ghirardelli's signature royal blue from Bay Area-based Heath Ceramics and retro advertising from throughout the company's storied history.
R&R: The renovations are to be completed in three phases over two years and will not disrupt the day-to-day experience at Ghirardelli Square, correct? How are you managing that aspect of the project?
Reese: Carrying out the renovation in phases allows us to only close one space at a time. And to supplement our offerings at Ghirardelli Square during construction, we are offering a pop-up shop, so the guest experience is essentially unaffected. Guests are still able to experience three shops and get a taste of their favorite Ghirardelli chocolate squares or sundaes as they would normally, pre-renovation.
R&R: Will additional retail outlets with the Ghirardelli name undergo similar renovations?
Reese: Ghirardelli Square will always include unique designs to deliver a differentiated experience and honor the home of our brand, but we do envision taking the best design elements of the remodel and carrying these features across our store base.
R&R: Tell me about your partnership with Eight, Inc. Is this your first time working with them? What drew you them as a designer?
Reese: Known for designing the iconic Apple Stores, Eight, Inc. is globally recognized as an innovative design firm that creates groundbreaking experience for brands all over the world. This is what drew us to the firm. We both believe in providing an elevated and exceptional guest experience, which makes them the perfect partner for our grand renovation!
R&R: Ghirardelli was famously founded in San Francisco and is one of the oldest names in American chocolate. Please tell me about the history of the company — celebrating its 170th year — and how its founding principles still guide the company today.
Reese: Ghirardelli was founded in 1852 by Domingo Ghirardelli in San Francisco as one of the first chocolate companies in the U.S. The company originated as a confectionary shop, Ghirardely & Girard, which eventually became the modern-day Ghirardelli Chocolate Company. In 1893, the company needed more space, so it bought the Pioneer Woolen Building on San Francisco's northern waterfront — the present site of Ghirardelli Square. Soon after, the company moved its manufacturing to this site, filling the air with its sweet chocolate aroma. Ghirardelli Square transitioned to a modern specialty shopping center in 1962, offering one of the first large gathering spaces in San Francisco while still retaining its exceptional Victorian qualities. In 1965, San Francisco declared Ghirardelli Square an official city landmark and in 1982, Ghirardelli Square received National Historic Register status.
For decades, city visitors and locals alike have flocked to Ghirardelli Square to enjoy one of San Francisco's signature desserts, Ghirardelli's signature Hot Fudge Sundae, aligning with Ghirardelli's mission of providing a great experience for all its guests.
The company has its roots in innovation from Domingo's chocolate creations that date back to the Gold Rush and currently to our commitment to innovation as we redesign our flagship locations in San Francisco.
R&R: How did Ghirardelli handle the height of the pandemic and store closures? How did you pivot and adapt?
Reese: At the height of the pandemic, our owned retail stores were of course significantly impaired, particularly as we primarily operate in high-traffic, premium tourism destinations such as Ghirardelli Square, Disneyland, Disney Springs in Orlando, the Magnificent Mile in Chicago, etc. During this time, we were fortunately well positioned to pivot to a digital focus, particularly via our own direct-to-consumer site, Ghirardelli.com.
R&R: How has the pandemic affected how people shop and where their priorities are now? Do you feel people are hungry for unique experiences now, more than ever?
Reese: The diversity of the Ghirardelli portfolio has been so important over the past 2 years.  When our owned retail stores were operating far below historical traffic levels, our consumer-packaged baking business, where we hold a strong market share position, benefited significantly from consumers baking at home at levels not seen in a generation. Equally, our packaged consumer chocolate business benefited from increased trips into the traditional mass, grocery, and club channels. We were ahead of the digital curve and well positioned to succeed with the increased adoption of digital in the food category.
From a retail store standpoint, we are super happy to now see consumers rekindling their desire for dining out, traveling, and seeking authentic and unique experiences. The timing feels really good as we plan to reopen the renovated the Ghirardelli Chocolate Experience store in May.
R&R: What do you enjoy most about your job on a daily basis?
Reese: My favorite part is being able to work with a brand that has such a rich past but also places a focus on innovation and being future forward.
R&R: What are some of your future goals you've set for your team?
Reese: The Ghirardelli Retail team is super focused on bringing to life our brand purpose to "Make Life a Bite Better." While the past 2 years have brought more difficulty than we could have imagined, we remain focused on delivering profitable, brand-building growth over the long term, just as we have done for the past 170 years. No commentary on the team would be complete without acknowledging the resilience and commitment it has taken to succeed throughout the global pandemic. It will be one of the great honors of my career to have been part of this retail team over the past 2 years and I eagerly await our brighter future — which soon accelerates with the opening of the first Ghirardelli Square store this summer.
— This article originally was published as the cover story of the March 2022 issue of Retail & Restaurant Facility Business magazine. Email the editor, Katie Lee, at [email protected].
classic-editor-remember:

classic-editor

bs_sponsor_advertiser_id:

104384

bs_sponsor_advertisement_id:

bs_ads_disabled:

abkw-text: