— By Greg Houck —
How emerging mixed-use trends can translate to long term success.
Mixed-use projects have a retail problem. Too often, incorporating retail spaces into a mixed-use project is straightforward and static: a single complimentary demand driver, such as a high-rise multifamily with convenient ground-floor grocer. With this approach, the residential component may subsidize a portion of revenues for the tenant, but most often it isn't sufficient enough and local demand has not been fully understood.
Over the past several years there has been many exciting innovations surrounding mixed-use concepts, with developers creating creative, holistic environments to live, work and play.
The most successful new mixed-use projects include several different product types and amenities that complement each other, producing synergy and creating a unique experience.
Below are some emerging trends that have staying power in mixed-use centers and provide insight into how developers/owners can strategically incorporate them into their own projects:
Next-Level Outdoor Amenity Spaces Must Be Programmed with Intention
Think gigantic, explorable sculptures; functional treehouses to gather and dine within; interactive art installations; and elements of delight, discovery and Instagram-worthiness.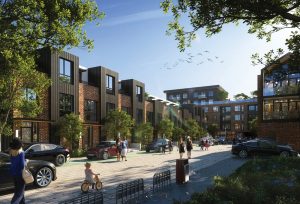 Larger developments around the world have been pushing creativity in open, outdoor amenity spaces at mixed-use centers over the past several years.
Owners and developers of projects of all sizes are recognizing the benefits of deeper investment in making these spaces highly attractive and unique, further driven by a new appreciation for the outdoors and safe socialization due to the pandemic.
Beautifully landscaped and well-appointed outdoor spaces will bring traffic to retailers and attract tenants of all kinds as they provide more interesting environments to eat, socialize, work out, etc.
Since these areas are typically non-leasable and do not drive direct revenue, there should be more critical thought given to these amenity spaces than the surrounding architecture.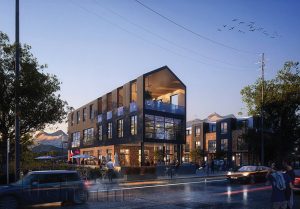 If mixed-use owners and operators are committed to active, intentional design and programing of these spaces — taking into account the overall branding of the center, desired tenant mix and the offering to the local community — they can ultimately attract higher rents and increase value, justifying the expenditure.
Consideration must also be given to how these open amenity spaces can interact with other trends to maximize the appeal and investment.
Food hall concepts invite guests to choose between several different environments to enjoy their various meals, rather than going to a single point at the center to eat. Friends can order from different eateries and have their food delivered via GPS while they relax and enjoy conversation.
These outdoor spaces should play into this overarching idea of crafting a customizable journey within a visit to a mixed-use center, with enriching experiences beyond simply shopping and dining.
A Meaningful Offering to the Local Community
Today's consumers have seemingly limitless options when it comes to meeting everything from their essential needs to their desires for entertainment and socialization — and these options are often as close as their fingertips.
To draw people to a mixed-use center, uses must be unique and cater directly to the hyper-local community's demands. For example, we work closely with stakeholders to determine what these demands are, and how they can be implemented in ways that make sense and in environments where people feel safe and relaxed.
Every component of a center — from the amenity spaces, tenants, walkways, and the overall design — must have a meaningful offering and purpose within the communities they are located to achieve success.
The key is looking beyond the site and identifying the 'stories' in the community that tie into the 'stories' of the mixed-use development, which can then serve as the foundation of ideation and organization of unique experiences for the project. In this process, we then can incorporate culture, history and demographics — and create alignment with community desires and needs.
One trend that we've observed that utilizes and elevates an established local story is the sports arena as a social 'anchor tenant' for a mixed-use destination.
For example, The Battery Atlanta features curated retail, hospitality and entertainment experiences unique to the market, all centering around its location adjacent to Truist Park, the home of the Atlanta Braves. Despite the lack of direct traffic from baseball games, the new development has performed exceptionally well during the pandemic due to its positioning as a local social and cultural hub, and has seen further success as games with in-person fans have resumed.
Adaptability is Key for Long Term Success
The pace of change when it comes to consumer expectations from retail and mixed-use centers is only speeding up.
So, while stakeholders must consider creating spaces that serve and enhance communities and are positioned to leverage current trends, they must also anticipate the additional changes in need and demand in the long (and perhaps not-so-long) term.
Implementing strategic, adaptable designs during development or redevelopment now could be crucial to survival within the next decade and beyond.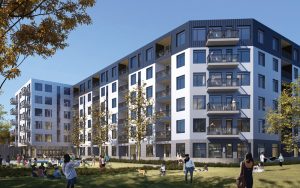 In the COVID-19 environment, people are already looking for more variety and flexibility surrounding how they gather. Many tenants and owners are exploring  ways to create spaces both intimate and open and outdoor amenities that are adaptable to different climates.
Taking a longer-term view, the health of a center will depend on its ability to adjust to serve varying tenant and guest needs through the creation of experience minded spaces that can be easily adapted for a variety of uses.
Ideally, architecture will be as easy to change as a stage set. Architects and designers are already achieving durable, adaptable façades through new modularization techniques.
Ultimately, designs should be crafted to expand and contract as markets and needs fluctuate over time.
Developing a project with a mix of uses and amenity spaces that are aligned with emerging trends, as well as an overall concept that makes sense to the story of a local community, will be key for success for these centers and their retail tenants.
Owners and operators with the foresight to leverage convenient and attractive design aspects will be positioned to continue to create synergy and draw demand for years to come.
— Greg Houck is an associate principal and director of new work at Cuningham, a firm providing integrated design services, including architecture, interior design, urban de-sign and landscape architecture, for a diverse mix of client and project types. Founded in 1968, Cuningham has offices in Denver, Las Vegas, Los Angeles, Minneapolis, Phoenix and San Diego. For more information, visit www.cuningham.com.