— Interview with Eric Shomof —
After a slowdown in franchising due to the pandemic, Los Angeles-based The Dolly Llama views 2022 as the "year of growth."
The Dolly Llama is synonymous with L.A. It's funky and hip and Instagrammable…sports a really cool name…and offers a cool, unique vibe — and even cooler desserts. With delectable culinary influences that range from France and Belgium to Hong Kong, the one-of-a-kind concept can't be pinned down to any one region — even in L.A. This year, The Dolly Llama has 35 locations in the franchise development stage with 10 opening before year end. Retail & Restaurant Facility Business recently interviewed Co-Founder Eric Shomof about the company's plans for growth.
R&R: The Dolly Llama has 4 locations open currently — including 3 corporate locations in the L.A. area — and several franchise agreements in the development stage. How many new units do you expect to open this year?
Eric Shomof: We expect to open about 10 new units this year, which are planned for Northern California, Nevada, Florida and Texas. It's all very exciting!
R&R: The Dolly Llama started franchising in late 2019…..just a few months before the COVID-19 pandemic upended everything. How has the company persevered during these setbacks and continue to grow?
Shomof: There is no doubt that the pandemic caused restaurants across the country to shift their way of serving guests. We were lucky enough to have already been working with delivery apps before the pandemic hit, and most of our business quickly shifted from in-person ordering to these online apps. We saw a growing demand for midnight/late-night desserts a few months before the pandemic hit and started working to sign up with services like Doordash, Uber Eats, GrubHub and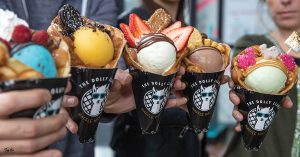 Postmates. The Dolly Llama packaged items a la carte in separate containers to keep the ice cream cold and waffles warm, which also allowed customers to create their waffle concoctions at home, a factor that many guests enjoyed. Even with 3 locations across L.A., fans love the convenience of ordering their desserts from home, and ice cream pints and OG Waffle boxes were a huge hit during the peak of the pandemic and are still going strong today! When COVID initially hit, franchising efforts were set back, as there was much uncertainty at the time. However, with our strategy of utilizing third-party delivery and capitalizing on late-night sales, we found relief, matched the demand, stayed open until midnight 7 days a week — which, in turn, caught the eyes of potential franchisees.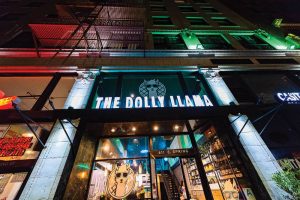 R&R: Tell me about the 3 different prototypes available to franchisees. Were these diverse models already in the works pre-pandemic, and how has The Dolly Llama benefited from the different options as we emerge from the pandemic? Consumers want to see a variety of ways to interact with restaurant brands now, from in-person to on-the-go to mobile pickup/delivery. It seems your models cater well to that.
Shomof: Since our recent franchising push, we've signed 35 deals with our first franchisee open in Dallas. As more locations open brick-and-mortar shops, our guests will see these other two models (kiosk and mobile trailer) being added in those communities.
R&R: Who did you work with on the design of your restaurants? Outsourced third-party or do you have an in-house design team?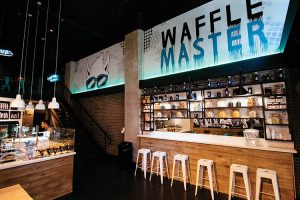 Shomof: We have a very creative in-house design team that comes up with all of the aesthetics and branding The Dolly Llama is known for.
R&R: Please describe the hip, fun vibe of a Dolly Llama location. And how it got its name!
Shomof: Each location is meant to be social media friendly and interactive. We want all customers to enjoy their experience here — from young children to older adults. The Dolly Llama has stood out amongst competitors due to its unique ice cream creations but also because of the memorable design features within the exterior and interior of the shop. Upon walking into any Dolly Llama location, guests are greeted by the iconic llama logo mounted to the wall and unparalleled aesthetic flair with creative backdrops perfect for any insta-worthy foodie pic or video. We aim to mirror these distinctive and fun design elements into all future stores.
The Dolly Llama actually got its name from a real llama living on a farm in the South of France that was frequented by one of the founders, Samuel Baroux.
R&R: Your menu is very unique, with European influences and inspired by Hong Kong's iconic Bubble Waffle…. Please give us a taste of what The Dolly Llama offers.
Shomof: The brand prides itself on offering authentic European flavors and techniques, such as Belgian waffles using traditional methods, and the Hong Kong Bubble Waffle prepared with a special batter that produces a unique crispy and custard-like texture. The two unique waffle styles — OG Liege Waffle and Bubble Waffle — are the base of the interactive menu of 'Top Picks' waffle and ice cream desserts, ice cream waffle sandwiches, and a 'Build Your Own' menu, where customers are encouraged to "go nuts'' with unlimited toppings resulting in endless flavor possibilities and combinations. Signature Shakes are another over-the-top brand staple. In order to create this unique menu, chef and restaurateur Samuel Baroux sent two of his France-based chefs to Belgium to become waffle masters and ensure that The Dolly Llama's waffles would reign supreme.
R&R: Tell me how The Dolly Llama adapted during the dining room shutdowns. How did you pivot?
Shomof: We were successfully able to pivot to doing many takeout orders and were able to include outdoor dining at some of our locations. We also relied heavily on third-party delivery partners such as DoorDash, Uber Eats, Grub Hub and Postmates for helping us capitalize on late-night sales.
R&R: What changes have you made when it comes to employee and customer safety and sanitation?
Shomof: We've always gone above and beyond for our customers to make sure that our restaurants are always clean and well maintained. Over the pandemic, we stepped up our practices further to maintain the safety of our customers and staff.
R&R: Tell me a little about the history of the company and why 2022 — your fifth anniversary — promises to be a big year.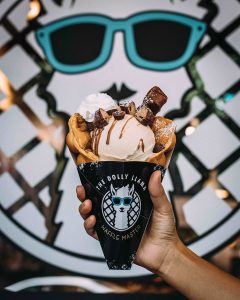 Shomof: The Dolly Llama opened in 2017 with the goal of bringing back nostalgia and joy to the customer experience. I founded this concept with a strong background in real estate and branding along with my good friend and European entrepreneur and restaurateur, Samuel Baroux, who wanted to bring his passion for food and dessert to the states. After 5 years under our belt, and with a couple of them being during a pandemic, we are very proud to have four locations open and 25 franchises signed and in the works. We've dubbed 2022 as the year of growth and with locations on their way across five states, we're motivated to continue our efforts to further expand throughout the country. While the details of our fifth anniversary are still in the works, we're excited to celebrate with our guests soon!
R&R: What kind of feedback are you getting from your first franchise location, which opened in late May 2022 in Dallas?
Shomof: So far, it's going really well! The locals seem to have fallen in love with The Dolly Llama already. Of course, there are always some kinks to work out, but we couldn't be happier with this new location! Being in the growing Uptown location in Dallas, it's a prime spot for a new business and we're excited to be bringing these unique dessert creations to Dallas locals and travelers.
R&R: Which pandemic-era changes in the restaurant world do you anticipate lasting even past the present crisis?
Shomof: I think these online ordering apps and large amount of take-out orders are here to stay. I anticipate customers will continue to embrace getting their food delivered, rather than going out to eat.
R&R: Describe how The Dolly Llama handles repair and maintenance. Do you have an in-house maintenance department or do you rely on vendors? Or do franchisees handle R&M individually?
Shomof: The Dolly Llama mostly relies on vendors for repair and maintenance. Franchisees also handle R&M individually. For the large appliances (e.g., freezer) or the waffle makers, if there is an issue, the team will work with a local service company.
R&R: Do you use local or national vendors? Why?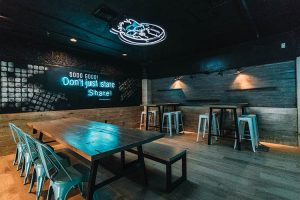 Shomof: The Dolly Llama uses both local and national vendors including the national restaurant supplier, webrestaurantstore. Franchisees and corporate locations are also encouraged to visit local vendors (being that many of the toppings and sauces are cereals, nuts, cookies, fruit and other basic materials).
R&R: What do you enjoy most about your job day to day?
Shomof: I enjoy being a part of a growing and thriving business that helps provide jobs and brings happiness to people.
R&R: What goals have you set for your team, short term and long? How many units do you hope to have open within the next 5-10 years?
Shomof: I come from a growth-oriented perspective. My team knows that if they work hard and have the potential, they will continue to grow as the company expands. In the next 5-10 years, the sky is the limit, but obviously continuing to franchise The Dolly Llama across the country is our immediate goal and we see that being a major driver for expansion over the next few years. We will continue to take it one store at a time and keep reaching for the stars!
EDITOR'S NOTE: This article originally published as the July 2022 cover story of Retail & Restaurant Facility Business magazine. For more information on this or future cover stories, please email the editor, Katie Lee, at [email protected].