— By Katie Lee —
Even during a pandemic, Jersey Mike's continues to grow and evolve — adding 200 stores this year and fully funding the ongoing retrofits of its 1,800+ locations.
Ten years ago, Retail & Restaurant Facility Business first featured Jersey Mike's on its cover. At the time, the iconic sub sandwich chain, which launched in 1956 in Point Pleasant, New Jersey, had 450 stores open and under development in 29 states. One short decade later? Jersey Mike's is just getting started. The company has more than 1,800 locations in 48 states and is on track to open 200 new units this year (during a global pandemic, no less); 250 in 2021; and then at least 300 a year going forward. With sales expected to reach $2 billion next year, Jersey Mike's is also making headlines with its recent commitment of $150 million to fully fund retrofits for all stores, which are expected to be complete by next summer.
"We'll have done over 1,800 units total in less than a year and a half," says CEO Peter Cancro. "It's unheard of to get that done."
Also unheard of is a franchise company paying to retrofit its restaurants, rather than placing the financial responsibility on individual franchisees. But when Jersey Mike's is footing the bill, it makes the entire process faster and more efficient. Even as the pandemic hit, renovations continued apace.
"We actually have not stopped any of our plans for 2020," Cancro says. "We had to slow down with the pandemic, when it first came out, because they were not allowing new construction. But the retrofits continued because it was existing space and actually only two to three contractors."
The most recent retrofits prior to these took place starting in 2009; moving forward, Cancro expects the company to refresh its look every 7 or so years. Jersey Mike's expects to see a 15% sales boost from the current retrofits. "You have to keep evolving — you can't be stale, you've got to stay fresh," he says.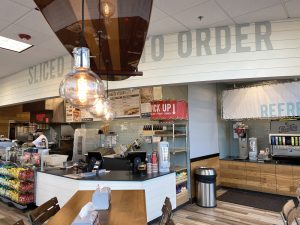 In addition to new exterior signage and interior improvements such as new floors, tables, chairs, tile and wall graphics, the biggest change to Jersey Mike's will be its new back line counter, positioned behind the main sandwich prep counter. Here, online and third-party delivery orders will be prepared separate from the main counter, so that customers who are dining in-store don't have to wait in line behind online orders. Lucky for Jersey Mike's, the addition of a back line counter was planned even before COVID-19 brought a surge in digital sales.
"Of course, now all of that online ordering and third-party delivery has doubled and tripled, so if we didn't have it planned before, we certainly would have now," Cancro says, adding that digital transactions that previously comprised maybe 15% of Jersey Mike's business have now jumped to 40-50% of the business. Post-COVID, he expects those numbers to fall off a bit, but like most restaurateurs he knows the digital sales channel, overall, is here to stay.
Jersey Mike's has handled the increased demand for online orders in stride. The company had already finished a new, award-winning online ordering app in June 2019, and it already had its own point-of-sale software in place. Jersey Mike's is also uniquely positioned for takeout and pickup orders.
Explains Cancro: "People asked me, 'What are you going to do differently?' And I said, 'Well, we're mostly takeout, mostly orders to pick up, so really we're just doing what we've always done."
Jersey Mike's also sees an advantage when it comes to social distancing inside its stores. With only 12 or so employees working onsite per store — versus 30-40 in a typical fast food restaurant — team members can be spaced well apart. "With minimal people working behind the counter, wearing the mask, with the plastic [partitions] up, it's been a safe, good environment for employees," says Cancro, who adds that tables have been placed in front of the main ordering counter so that customers have to stay back at least 8 feet.
Philanthropy is another core part of Jersey Mike's foundation that was already in place; the pandemic brought it to the forefront even more. Beginning in March and April, all of Jersey Mike's franchisee owners joined together and committed to communities in need. According to Cancro, since March, Jersey Mike's has given away as many as 4 million subs: to first responders, hospitals and food banks. The company also works in partnership with Feeding America. During one weekend this spring, Jersey Mike's donated 20% of its non-discounted proceeds to fund approximately 22 million meals for those in need.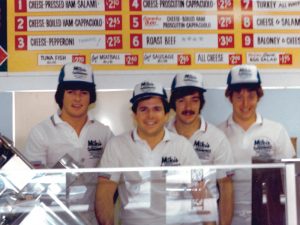 Cancro's personal mission to make a difference in people's lives dates back to high school when he himself was on the receiving end of a sports opportunity made possible by donations from local restaurateurs in the community. Bob Hoffman of Hoffman's Ice Cream and Jack Baker of The Lobster Shanty gave to community first aid organizations, to schools, and to school athletics programs.
The idea of giving back was fresh in Cancro's mind when he decided, at age 17, to buy the sub shop he'd been working in for 3-4 years along the Jersey Shore. Called Mike's Subs, the store went up for sale in 1975. At the suggestion of his mother and with financial backing from his youth football coach, who was also a banker, the high school senior took a leap and purchased the whole business. Instead of going on to play football at the University of North Carolina, as many had hoped, Cancro became the fourth owner of Mike's Subs at age 17. And he's never looked back.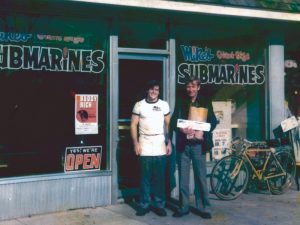 Just as Coach Rod Smith invested in him, all those years ago, Cancro plans to invest in his franchisees. Help lift up team members who may want to own their own store. "We're willing as a company to set you up, to sign the lease, put up all the money — about $400,000 — turnkey, and then you get to use your experience, your Master's degree in the submarine sandwich business that you have, and run your own business," he says. "We care about raising people up. We're signing deals now across the country; we hope to do 25 in the next year and go to 50 and then 100 deals a year. I had a shot, I had an opportunity — we want to give that opportunity to the people working in our business."
Cancro knows what it's like to be in their shoes, to be the guy slicing subs behind the counter. "I still love going in, getting back on the grill or on the slicer," Cancro says. "Some of my best friendships today are from people I met from behind the counter. That's the type of business it is — it's relationships. Now I would say I'm like the head coach. I'm really trying to rally the troops for growth."
Jersey Mike's expects to finish this year with 1,830 stores and reach more than 2,000 stores by September 2021, along with $2 billion in sales. Eighty percent of Jersey Mike's new growth is by existing franchisees. "I love the fact that we're going to try to get 100 deals a year from existing dynamic people," Cancro says.
From understanding what it means to be given a chance to own your own business to knowing what it's like to work behind the counter himself ("I'm still the fastest slicer, of course!"), Peter Cancro is not your average restaurant CEO. His life story and nearly 50-year history with Jersey Mike's, along with his passion for philanthropy, have created a unique company culture whose bedrock is lifting others up alongside yourself and making a difference in people's lives — all fine qualities that we need, in abundance, during these challenging times.
— This article was originally published as the cover story of the September 2020 issue of Retail & Restaurant Facility Business magazine.
classic-editor-remember:

classic-editor

abkw-text:
Tagged under