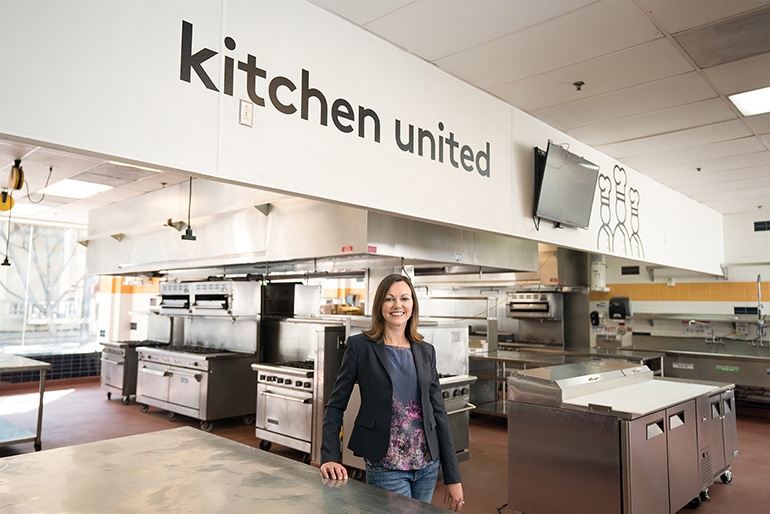 Los Angeles — Kitchen United, a Los Angeles-based virtual restaurant provider, is opening its next kitchen center in Chicago's River North neighborhood — its first location outside of California. Kitchen United will work with restaurant partners to begin move-in in mid-December, and will start serving Chicago consumers in January.
"River North has an extremely high demand for food delivery, catering and pickup services," says Jim Collins, CEO of Kitchen United. "Restaurants in the area are stressed by the new business and the new facility will cater to both the in-place community, as well as bringing new dining options into the area to meet rising consumer demand."
With this launch, Kitchen United is offering national, regional and local restaurant chains a value-driven, low-risk opportunity to offload busy and disruptive off-premise operations, or find entry into the Chicago market. Kitchen United already has commitments from several large restaurant chains that will be moving into the facility, and expects that this location will be fully subscribed by the time it starts serving consumers in early 2019.
Kitchen United's "kitchen centers" are facilities that can house 10-20 restaurants with commercial kitchens optimized specifically for the catering, delivery and takeout marketplace. The company creates turnkey solutions for restaurants and positions its kitchen facilities in areas where demand is high and the local restaurant infrastructure is strained by the influx of non-traditional business.
Kitchen United's core business serves local, regional and national chains, but the company reserves space in each facility to enable restaurant and foodservice entrepreneurs an opportunity to start or expand their business and River North will provide space for this purpose as well.
"Changes in consumer preference are dramatically shaping the food landscape across the country," says Meredith Sandland (pictured), chief operating officer of Kitchen United and former chief development officer of Taco Bell. "Our facilities are designed to empower local and national restaurants to meet the demand for more off-premise dining options in their most relevant target markets. We're thrilled to bring our next kitchen center to life in Chicago."
Chicago is the second market for Kitchen United's shared kitchen spaces and the company has aggressive growth plans for the year ahead. In 2019, the company is slated to open new facilities in Los Angeles, Atlanta, Columbus, Ohio, Phoenix, Seattle, Denver and New York City. As a data-driven organization, Kitchen United identifies the most promising locations for its kitchen centers by aggregating insights on demographics, income levels and cuisine-specific demand as well as drive time, traffic patterns and other data. The company also provides its restaurant partners opt-in consumer and operational data to tailor their businesses and menus to better meet local consumer demand and run more efficiently.
For more information, visit www.kitchenunited.com.
SOURCE: Kitchen United