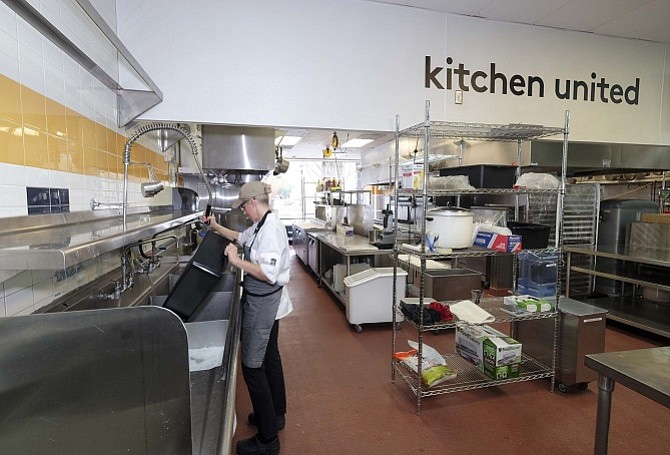 Los Angeles — Kitchen United, the virtual restaurant center for innovative brands building off-premise through pickup and delivery, has signed lease agreements for kitchen centers in Columbus, Ohio, and Atlanta. Both locations are expected to open spring 2019 and are part of the company's significant national expansion plan aimed to support the dramatic, consumer driven shift toward off-premise food consumption.
With off-premise sales estimated to climb to 70% to 80% of annual restaurant industry growth by 2023, Kitchen United offers restaurant concepts the opportunity to utilize commercial kitchen spaces to grow revenue by expanding their off-premise delivery, pickup and catering business. Kitchen United's kitchen space helps restaurant operators streamline off-premise pickup and delivery without disrupting dine-in customers and allows brands to enter new markets without the costly buildout of a new restaurant. The company also provides its restaurant partners with consumer and operational insights in order to customize their business to best meet local demand, improve productivity and drive increased revenue.
Located in Grandview Heights, the Columbus Kitchen Center is near the redeveloped Grandview Yard and close to major thoroughfares, downtown Columbus, The Ohio State University and the dense inner suburbs of Grandview Heights and Upper Arlington. The centralized location eases access and drive times for customers and third-party delivery drivers alike.
"Our goal at Kitchen United is to help restaurants effectively and efficiently capitalize on growing consumer demand and increase revenue either by entering a new market or neighborhood in a cost-effective way or by easing the operational challenge created by consumers who want to be anywhere but inside the restaurant," says Jim Collins, chief executive officer of Kitchen United. "Our Grandview Heights location provides easy access to the suburbs as well as downtown, allowing delivery service providers and pickup customers a quick and convenient spot to collect their meals."
Located in a high-growth area of Atlanta, the West Midtown Kitchen Center will be inside a newly redeveloped creative office, where restaurant partners will be an amenity to office workers. The location offers access to the Georgia Institute of Technology via side streets, enabling drivers to avoid freeway traffic, therefore reducing estimated delivery times.
"West Midtown is an up-and-coming Millennial hotspot with high residential growth and office space, as well as a variety of trending restaurants and shops," says Meredith Sandland, chief operating officer for Kitchen United. "In close proximity to Georgia Tech, this location offers restaurants not only the ability to respond to customer demand but also create deeper brand connections with a key demographic that has made known their delivery and pickup preferences."
Kitchen United takes a data driven approach to identify the most promising locations for its kitchen centers, aggregating insights on demographics, income levels and cuisine-specific demand, as well as drive time, traffic patterns and other data. The company expects to open 15 additional locations in the coming year in markets including Los Angeles, Phoenix, Seattle, Denver and New York City. Kitchen United currently has kitchen centers open in Pasadena, Calif., and River North in Chicago.
Kitchen United is a GV-backed virtual kitchen company that provides restaurant operators with a value-driven, low-risk way to enter into new markets, grow revenue through off-premise dining and expand delivery areas by removing barriers such as capital or technology expertise. Each Kitchen United kitchen center is home to approximately 10 to 20 restaurant partners who leverage the company's expertise to grow their business. For more information, visit: www.kitchenunited.com.
SOURCE: Kitchen United
Tagged under