Atlanta — Krystal Restaurants LLC, the original home of the slider in the South, has hired seasoned restaurant and hospitality leader Jermaine Walker is its new vice president of operations. The legacy brand has been undergoing aggressive growth plans, having opened its first international location last year and continues on this trajectory with a new restaurant that opened in Alabama last month and more on the way.
"I am honored to join Krystal and be part of their expansion efforts," says Walker. "I've spent my career supporting companies in their growth and putting the right teams in place to help achieve various brands' goals. This is a very exciting time for Krystal and I am delighted to be part of its evolution!"
In his new role, Walker will be focused on building solid crews through recruitment, in addition to designing new processes to further improve quality, increase productivity and boost profitability. He will also work with key department heads to improve efficiencies in operations.
Walker has an in-depth understanding of the food and beverage space through his impressive career. His most recent endeavor was vice president of operations for Slutty Vegan, an Atlanta-based burger brand. He joined Slutty Vegan to help set the brand on a course toward global recognition.
Walker also spent nearly 10 years with GPS Hospitality, a franchisee of Burger King, Popeyes and Pizza Hut with close to 500 restaurants across 13 states. He worked alongside founder Tom Garrett in 2012 to set the course for GPS to become a billion-dollar company.
He also served as director of operations for TGI Fridays, where he oversaw the $5 million Camp Creek Parkway (Atlanta area) restaurant, while also assisting with the hiring of 500 new team members for multi-unit openings within a 7-month period.
For more than 14 years, Walker served as area director for Arby's, the second largest sandwich restaurant brand in the world. One of his career highlights includes opening the first and only Arby's/Wendy's dual concept in the world.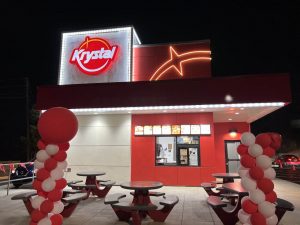 Headquartered in Atlanta, Krystal Restaurants LLC is the original quick-service restaurant chain in the South. Krystal hamburgers have been served fresh and hot off the grill on the iconic square bun since 1932. Krystal is now in 10 states with nearly 300 restaurants. For more information, visit www.Krystal.com.
SOURCE: Krystal Restaurants LLC